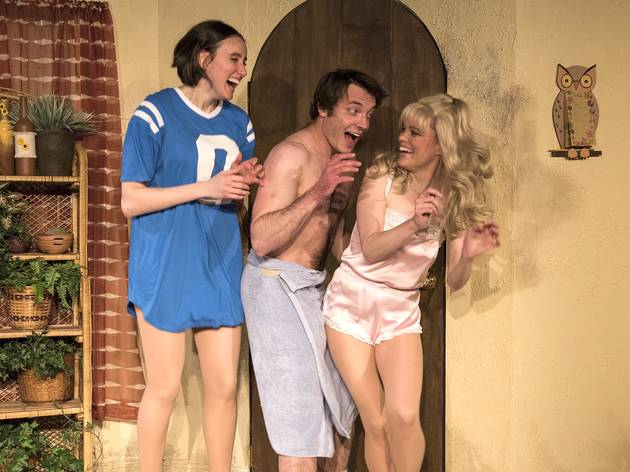 1/8
Photograph: Michael Brosilow
3C
2/8
Photograph: Michael Brosilow
3C
3/8
Photograph: Michael Brosilow
3C
4/8
Photograph: Michael Brosilow
3C
5/8
Photograph: Michael Brosilow
3C
6/8
Photograph: Michael Brosilow
3C
7/8
Photograph: Michael Brosilow
3C
8/8
Photograph: Michael Brosilow
3C
David Adjmi's riff on a cheesy TV sitcom finally gets a Chicago airing, and the disco-drenched, darkly satiric product is hardly nostalgic.
Finally disentangled from legal limbo following its Off Broadway premiere in 2012, David Adjmi's dark riff on the '70s sitcom Three's Company gets a Chicago outing. We can side with the judge who ended the sitcom rights holders' copyright claim: Despite Adjmi's use of the basic elements of that door-slamming double-entendre fest, no one would confuse 3C with the TV show. The playwright takes the building blocks of the sitcom—three swinging-single roommates, the male one pretends to be gay to mollify the nosy landlords—and darkens the corners with intimations of post-Vietnam PTSD, sex panic and, in place of the foppish innuendo that spanned several seasons in the original, a truly toxic and terrorizing thread of homophobia and self-loathing.
Shade Murray's production for A Red Orchid retains an admirable sense of play in the face of Adjmi's heavily underlined undercurrents. (In one of the script's jumble of non sequiturs, the three roommates play an extended psychological parlor game in which they actually repeat the word "undercurrents" a dozen or so times, in case we aren't getting it.) Despite the series of physical pratfalls required of Brad, the play's Jack Tripper analogue, Nick Mikula has some of the production's most nuanced discoveries. Others in the cast don't find much more than Adjmi has provided on the page—shriekingly broad and increasingly tasteless episodes of awkwardness for its own sake.
Adjmi's other major production in Chicago so far, Marie Antoinette at Steppenwolf, remains one of my favorite experiences of recent seasons. With 3C, though, he's stretched a sketchy premise into a repetitive, manic 90 minutes that offers plenty of discomfort but little insight.
A Red Orchid Theatre. By David Adjmi. Directed by Shade Murray. With Nick Mikula, Christina Gorman, Sigrid Sutter, Jennifer Engstrom, Lawrence Grimm, Steve Haggard. Running time: 1hr 30mins; no intermission.