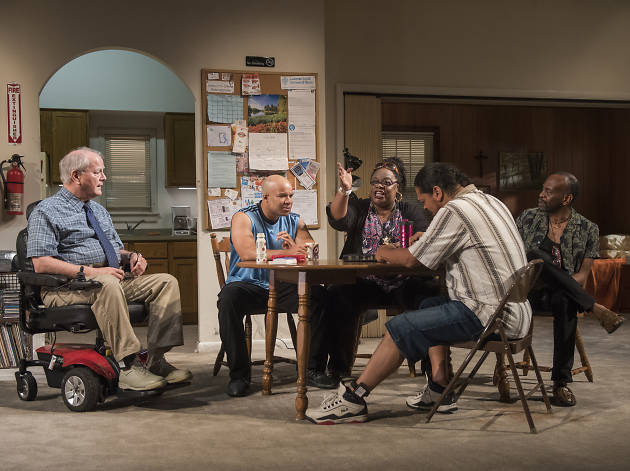 Time Out says
In rendering a verdict on Bruce Norris's Downstate, let's consider its functions. As an acting showcase, the play is exactly what you'd hope for in a coproduction of Steppenwolf and the U.K.'s National Theatre. As a generator of uncomfortable laughs and an occasional knowing "hmm," it does fine. But as an effort to say something, it's mostly a dud. The provocative Norris, who won a Pulitzer Prize for Clybourne Park, writes great dialogue, but his moralizing is so strangely counterweighted that it goes wildly off course.
Directed by Pam MacKinnon, the play concerns four convicted pedophiles in a group home in downstate Illinois: the amiable, wheelchair-bound Fred (Francis Guinan); the nervous bible-spouting Felix (Eddie Torres); the sultry and quick-witted Dee (K. Todd Freeman); and the hot-headed statutory offender Gio (Glenn Davis). Todd Rosenthal's photorealistically drab set is like a long, rectangular terrarium, with ceilings to seal off any chance of escape.
Gifted with the best lines and the least shame, Freeman's Dee is the most charming of the bunch, while Guinan's Fred is so guileless—his favorite phrase is "oh golly"—that he's almost impossible not to like. But not for everyone: Downstate begins with one of Fred's victims, Andy (Tim Hopper), trying to finally confront him. After beating a hasty retreat and leaving his phone behind, Andy returns in Act Two to finish his quest for justice, this time without his smarmy wife (Matilda Ziegler, doing what she can with an unfair part).
The meat of Act One is a meeting with the men's parole officer, Ivy (Cecilia Noble), that includes a lengthy, excruciating investigation of Felix's recent whereabouts. In a play built on contrarianism, this scene between Noble and Torres is founded on something sturdier: contradiction. Felix's despair and the possibly overzealous restrictions on these men's lives are allowed to rest uncomfortably alongside his terrible crimes, while Noble's Ivy is a combination of protector, inquisitor and weary house mother.
It's when the focus returns to Andy, Fred and Dee in the play's second half that Norris begins to falter. Hopper's wonderfully Chekhovian performance, which bundles conflicting drives and emotions, is mostly lost in the service of Norris's scattershot approach. (Freeman's superb work in these scenes is somewhat wasted, too; he too often seems like Norris's mouthpiece.) Promising subjects—cycles of abuse, the fallibility of memory, the penalties for sex crimes versus those for violent ones—are tossed aside to make room for a look at the identity politics of being a survivor. Audience members who have endured sexual abuse may find the play triggering; even those who haven't may walk out in a rage.
The zero-sum schema of Norris's play seems to assume a finite pool of empathy, as though any acknowledgment of one group's humanity must entail a corresponding decrease for another's, and in order to create compassion for these abusive men it must drain compassion from their victims. Even if humanity's supply of empathy comes with a cap, it surely contains a great deal more than Downstate would have you believe.
Steppenwolf Theatre. By Bruce Norris. Directed by Pam MacKinnon. With Glenn Davis, K. Todd Freeman, Tim Hopper, Francis Guinan, Cecilia Noble, Eddie Torres, Aimee Lou Wood, Matilda Ziegler, Elyakeem Avraham, Maura Kidwell, Nate Whelden. Running time: 2hrs 20mins. One intermission.
Details
Users say