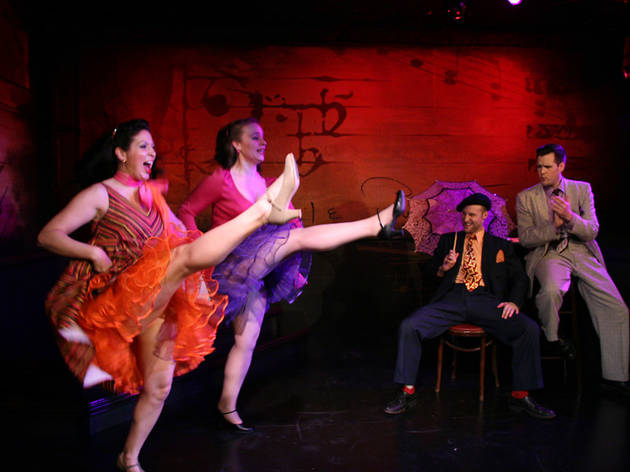 Theo Ubique's new revue of Cole Porter tunes, assembled by director Fred Anzevino and music director and arranger Aaron Benham, amply highlights the Anything Goes and Kiss Me, Kate composer's range and gift for lyrical wordplay. The duo dutifully includes well-known standards like "Too Darn Hot," "You're the Top" and "It's De-Lovely" while also weaving in a few lesser-known numbers, such as "The Physician" and "Experiment," both from 1933's Nymph Errant, and the unapologetically Orientalist "Come to the Supermarket (in Old Peking)," written for a 1958 TV version of Aladdin but better known for appearing on Barbra Streisand's debut album.

Benham's arrangements get an impressive level of variety out of three musicians (he leads on piano, with a bassist and percussionist rounding out the onstage band), and he finds some interesting counterpoints in interlacing songs, turning "Let's Do It" and "Let's Not Talk About Love" into a tug-of-war for a trio and mashing up "It's Bad for Me," "You Do Something to Me" and "I've Got You Under My Skin" into a climactic medley for Christopher Logan, the standout among the show's quartet of young performers. Particularly in his execution of David Heimann's exuberant choreography, Logan's performance bears a Danny Kaye–like quality.

All four cast members are in fine voice; each song or medley is an individual pleasure. Those who like their revues with a through line, however, won't find one in A Cole Porter Songbook. The actors' personas reset to zero between each number, and the flow of songs can be inelegant: A static staging of the Roy Rogers tune "Don't Fence Me In," for instance, sits awkwardly between a long medley of six Parisian numbers ("C'Est Magnifique," "Ca, C'est L'amour," "Allez-Vous-En" et al.) and a combo of sexy comic ditties "Experiment" and "Let's Misbehave." Jarring transitions aside, though, this is a fine opportunity to brush up your Porter.