A Little Night Music at Writers' Theatre | Theater review
Writers' goes for a waltz with Sondheim and Wheeler's 1973 work.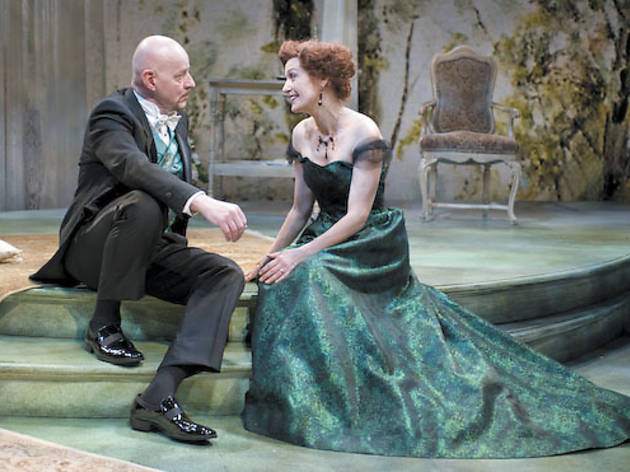 The summer night smiles three times, the wise, retired courtesan Madame Armfeldt (Deanna Dunagan) tells her granddaughter (Shannon Corey). "But why does it smile, Grandmother?" Fredrika asks. "At the follies of human beings, of course," the grande dame replies. The follies over which she presides are particularly broad in William Brown's revival at Writers' Theatre. As Fredrika's mother, actress-of-a-certain-age Desiree Armfeldt, Shannon Cochran suggests a woman who's grown used to playing to the back of the house even when she's offstage. She's such a force through much of the play that her resigned, tender "Send in the Clowns" moment with once-and-future lover Fredrik (Jonathan Weir) comes as a striking contrast.
Brown's attempts to downscale Wheeler and Sondheim's grand, enchanting weekend in the country are mostly successful. The director eliminates the lieder-singer quintet, giving its choral duties to doubling cast members or, in some cases, to the main characters (with the result of some occasional lyrical confusion), while a five-piece band, working from new orchestrations by Malcolm Ruhl, fills the intimate space nicely. Among the supporting cast, knife-sharp Tiffany Scott stands out as the cynical, long-suffering wife of Desiree's brutish lover Carl-Magnus (Brandon Dahlquist). Dunagan takes an unexpected tack with the usually brusque Madame Armfeldt, trading cynicism for beguilement; she seems perpetually on the verge of a smile herself.