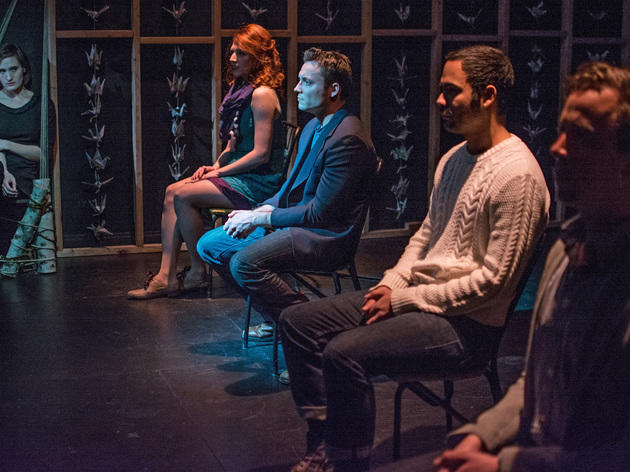 1/8
Photograph: Ryan Bourque
Scottie Caldwell, Mallory Nees, Nick Mikula, Ruben Adorno and Will Von Vogt in A Map of Virtue at Cor Theatre
2/8
Photograph: Ryan Bourque
Scottie Caldwell in A Map of Virtue at Cor Theatre
3/8
Photograph: Ryan Bourque
Adam Benjamin and Eleni Pappageorge in A Map of Virtue at Cor Theatre
4/8
Photograph: Ryan Bourque
Eleni Pappageorge, Nick Mikula, Scottie Caldwell, Mallory Nees and Will Von Vogt in A Map of Virtue at Cor Theatre
5/8
Photograph: Ryan Bourque
Will Von Vogt and Eleni Pappageorge in A Map of Virtue at Cor Theatre
6/8
Photograph: Ryan Bourque
Adam Benjamin and Scottie Caldwell in A Map of Virtue at Cor Theatre
7/8
Photograph: Ryan Bourque
Will Von Vogt and Scottie Caldwell in A Map of Virtue at Cor Theatre
8/8
Photograph: Ryan Bourque
Will Von Vogt, Mallory Nees and Nick Mikula in A Map of Virtue at Cor Theatre
A rich, affecting guide to the capricious cartography of human connection
Erin Courtney's thoroughly intriguing 2012 play, receiving its Chicago premiere in an impeccably staged, richly acted Cor Theatre production, achieves something remarkable in its balance between the formal and the random. A Map of Virtue shows a fascination with form in its careful (and carefully pointed out) attention to symmetry, as well as its characters' references to tightly constructed poetic forms like the terzanelle.

Yet it employs these schematics with a not unwelcome amount of fancy, as in the handing over of narration to a small bird statuette that changes hands among multiple characters in the course of the story (played with compelling avian precision by Scottie Caldwell). And in portraying the series of unlikely events that leads strangers Mark (Will Von Vogt) and Sarah (Mallory Nees) to friendship—and eventually, along with Sarah's husband Nate (Nick Mikula), to an unexpected and harrowing experience in the play's middle third—it depicts how the most seemingly chance occurrences can most heavily shape our lives.

Tosha Fowler's atmospheric staging deftly navigates Courtney's narrative quirks, hopping from Caldwell's captivating bird narrator to brutal scenes of realism to confessional-style direct address monologues with ease. Tierra G. Novy's set design and Eric J. Vigo's lighting make the most of the largely blank space. And with finely tuned performances, Von Vogt, Nees, Mikula and Ruben Adorno (in a smaller role as Mark's loyal boyfriend) craft nuanced, deeply affecting relationships. (Eleni Pappageorge and Adam Benjamin, as the keys to the middle act's big twist, have a harder row to hoe credulity-wise but perform admirably as well.) A Map of Virtue makes a haunting, occasionally breathtaking guide to the capricious cartography of human connection.
Cor Theater at Rivendell Theatre. By Erin Courtney. Directed by Tosha Fowler. With Scottie Caldwell, Mallory Nees, Will Von Vogt, Nick Mikula, Ruben Adorno, Eleni Pappageorge, Adam Benjamin. Running time: 1hr 20mins; no intermission.