A Midsummer Night's Dream at Chicago Shakespeare Theater | Theater review
Sigmund Freud watches over Gary Griffin's interpretation of Dream.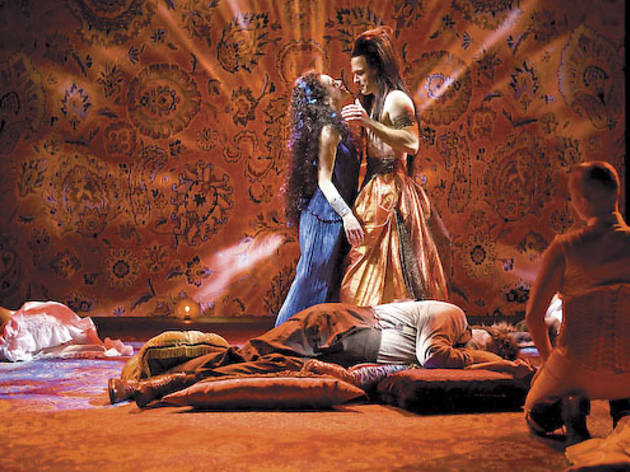 You can't accuse Gary Griffin's busy but entertaining production of Shakespeare's comedy of being subtle. Indeed, the prologue begins with a giant projection of Sigmund Freud, gazing down at us patronizingly from the rear wall of the stage as Puck (Elizabeth Ledo in male drag) chomps a giant cigar. Later, as the young lovers enter the fairies' forest, an image of Freud's The Interpretation of Dreams hovers over the scene.
Cigars aside, there's little in Griffin's staging to suggest a psychosexual interpretation. The foolish mortals' romantic notions are still manipulated by the whims of fairy king Oberon (Timothy Edward Kane, gleefully channeling SNL's Stefon) and his servant Puck (Ledo, rocking a shaved head and stuffed crotch). Griffin shuffles the script to elevate the importance of the rude mechanicals, giving Quince (Tim Kazurinsky), Bottom (Ron Orbach) and pals the opening scene; kicking off with the comic relief seems an odd choice. Only after the goofballs parcel out roles in Pyramus and Thisbe do we come to the court of Theseus and Hippolyta, decked out in buttoned-up threads that suggest Edwardian England—call it A Midsummer Night's Downton.
Once we enter the forest, Griffin's production comes to lush life. Mike Tutaj's projections of magnified textures and swirling lights suggest the magic at hand, while Titania's fairies—played by the same actors who portray the mechanicals—sport striped pajamas and gaudy headdresses worthy of Priscilla, Queen of the Desert. The lovers amusingly break out of their restraints under the influence of fairy magic, and Griffin finds some inspired bits, as when Puck slyly undresses them one by one while he puts them to sleep. If the production doesn't exactly innovate, well, sometimes a Dream is just a Dream.