A Twist of Water at Route 66 Theatre Company | Theater review
Caitlin Montanye Parrish's rich and compelling new play sets a nontraditional family's struggle to rebuild against Chicago's own resilient history.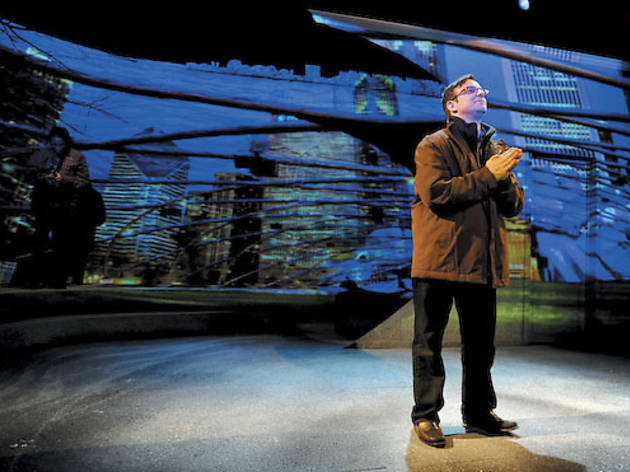 With Chicago and its resilient history as the backdrop, this smart, affecting new play centers on one family's struggle to redefine itself in a tragedy's aftermath. Still recovering from his husband's death in a car accident a year ago, high-school history teacher Noah (Tovar) tries to rebuild his rocky relationship with their adopted African-American teenage daughter, Jira (Pearson), while grappling with her desire to find her birth mother. Sure, this is a nontraditional family—and refreshingly, that's fairly incidental.
Add in Noah's new romance with Liam (Alex Hugh Brown), Jira's young English teacher and Noah's coworker, and the play by former TOC contributor Parrish (director Weiss also gets a cocreator credit) could easily turn melodramatic or farcical. But it doesn't. Above all, A Twist of Water is sincere. Genuine laughs are earned with some great one-liners (mostly given to Alex Hugh Brown, whose timing is spot-on) and truth-born comedy; Weiss's agile direction is apparent in this solid ensemble's deft navigation of a broad emotional spectrum. When Jira and her birth mother (the well-cast Lili-Anne Brown) finally meet, in an incredibly moving scene, the result doesn't fulfill Jira's hopes. Pearson's heartbreak is palpable; the nuance with which Tovar responds makes his almost more so.
There is perhaps an overemphasis on Chicago itself; Noah recounts the city's history in interstitial segments of narration. Despite beautiful use of projections (by John Boesche) on Stephen H. Carmody's aptly fluid set during these lessons, drawing parallels to a larger picture becomes increasingly unnecessary. Parrish's characters and story are rich enough on their own. This is compelling work, well worth sitting through a bit of history.