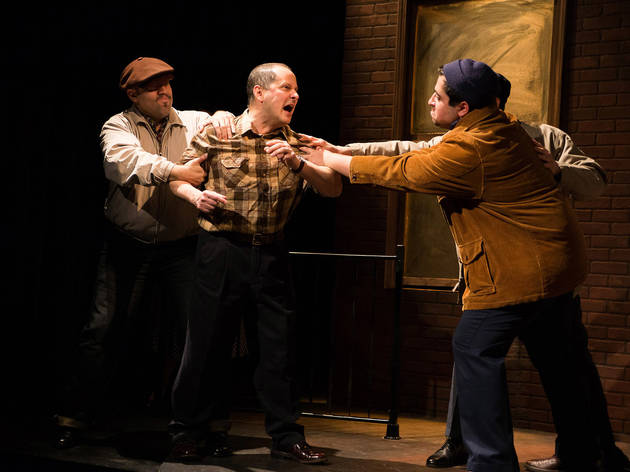 1/5
Photograph: Javier Maisonet
Joel Maisonet (Lipari), Ramon Camín (Eddie) and Todd Garcia (Louis) in A View from the Bridge at Teatro Vista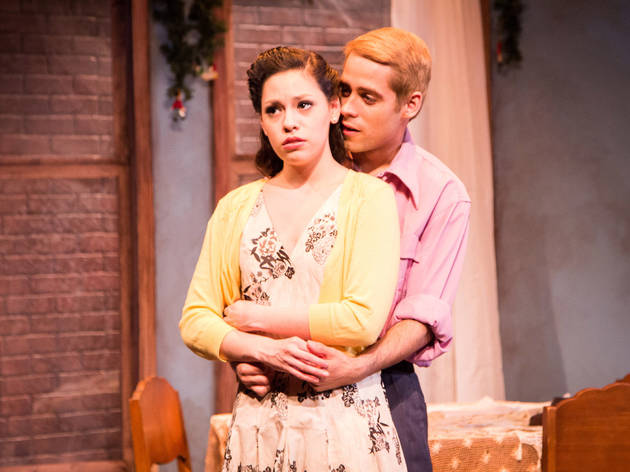 2/5
Photograph: Joel Maisonet
Ayssette Muñoz (Catherine) and Tommy Rivera-Vega (Rodolpho) in A View from the Bridge at Teatro Vista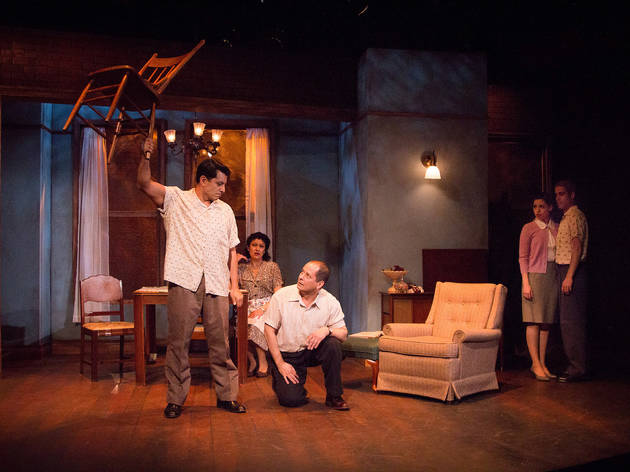 3/5
Photograph: Joel Maisonet
Eddie Diaz (Marco), Sandra Marquez (Beatrice), Ramon Camín (Eddie), Ayssette Muñoz (Catherine) and Tommy Rivera-Vega (Rodolpho) in A View from the Bridge at Teatro Vista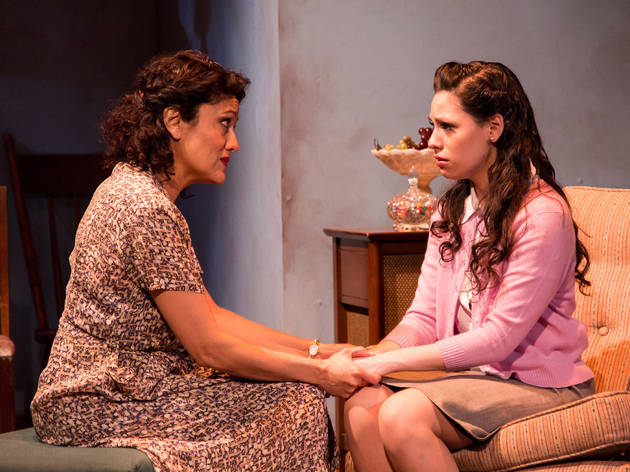 4/5
Photograph: Joel Maisonet
A View from the Bridge at Teatro Vista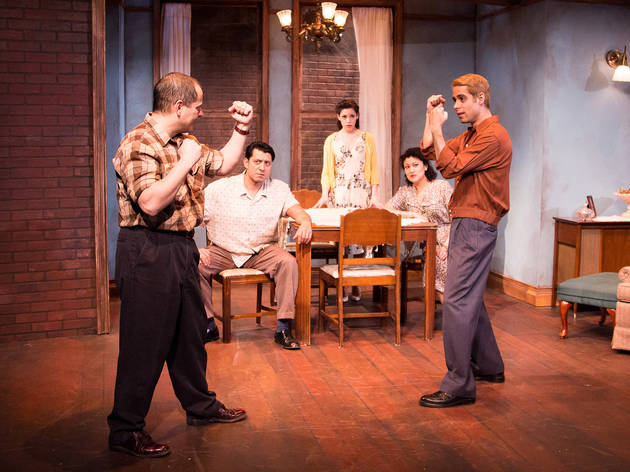 5/5
Photograph: Joel Maisonet
A View from the Bridge at Teatro Vista
Teatro Vista at Victory Gardens Biograph Theater. By Arthur Miller. Directed by Ricardo Gutiérrez. With Ramon Carmín, Sandra Marquez, Ayssette Munoz, Tommy Rivera-Vega. Running time: 2hrs; one intermission.
Theater review by Dan Jakes
In 2008, Damon Kiely staged a production of A Streetcar Named Desire at the Merle Reskin Theatre that stuck mostly to traditional directorial decisions, save for two casting exceptions: Stanley and Stella were played by African-American actors. No uses of "Polack" or other original ethnic references were to be scrubbed from the script. In fact, Kiely made as few allusions to the racial change as possible. It was an experiment in color-conscious adaptation, and there wasn't really a hypothesis. In the spirit of forward-thinking theater, whatever happened would happen. It didn't add much, nor did it detract—but it was always a noticeable choice, one layered on top without fully connecting.

For actors of color (and agents of actors of color), I don't imagine that thumbing through volumes of Modern American realism evokes a lot of enthusiasm. When plays are confined to the ethnicities, geographies and kitchen sinks dictated in the script—as so many of the 20th-century American greats are—how do you seek out and include truly diverse and representative voices in the largely lily-white plays of Arthur Miller, Eugene O'Neill and Tennessee Williams?

In Teatro Vista's smart and stirring A View From The Bridge, Ricardo Gutiérrez gives Arthur Miller's 1950s Italian-American tragedy about Eddie (Ramon Carmín) and the live-in niece he lusts after, Catherine (Ayssette Munoz), a similar ethnic handling as the stunning all-Rwandan company Urwintore gave to WWII drama The Investigation a few years ago at Chicago Shakespeare Theater. Italian dialects and all, Teatro Vista's all-Latino cast plays Miller's script as-is, and what doesn't change is just as interesting as what does.

When Eddie begrudgingly agrees with his wife Beatrice (Sandra Marquez) to host immigrants from abroad seeking work at the docks, he risks getting ostracized by his coworkers and worse, hassled by the law. The fact that a contemporary Latino cast is depicting characters at battle with their home over immigration is as on-the-nose social commentary as it sounds. In fact, Gutiérrez seems more interested in the sordid, messy codependence between Eddie and Catherine, and the prescient dread Marquez's Beatrice carries the whole time, than he is in relating the Carbone family's allegory to the American-Latino culture.

Make no mistake, A View From The Bridge is a play about communities, and how in-groups and out-groups even form in communities with common goals, but the specific community is less important than the idea of "outsiders" in a country built and resided in by immigrants and descendants of immigrants. As Catherine's love interest, Rodolpho, Tommy Rivera-Vega plays it sweet, and strikes a perfect balance between ethnic pride and the wide-eyed idealism Catherine is enraptured by and the innocent boyishness that evokes so much of Eddie's disdain. It's an ensemble-wide effort, really—one that communicates the asterisks in the American Dream for immigrants, Italian or not.