Abraham Lincoln Was a F*gg*t
1/12
Photograph: Michael Brosilow
Jessie Fisher, Lane Flores, Matt Farabee, Nathan Hosner and Derrick Trumbly in Abraham Lincoln Was a F*gg*t at About Face Theatre
2/12
Photograph: Michael Brosilow
Lane Flores, Matt Farabee, Nathan Hosner, Dana Black and Jessie Fisher in Abraham Lincoln Was a F*gg*t at About Face Theatre
3/12
Photograph: Michael Brosilow
Matt Farabee, Jessie Fisher and Nathan Hosner in Abraham Lincoln Was a F*gg*t at About Face Theatre
4/12
Photograph: Michael Brosilow
Nathan Hosner and Matt Farabee in Abraham Lincoln Was a F*gg*t at About Face Theatre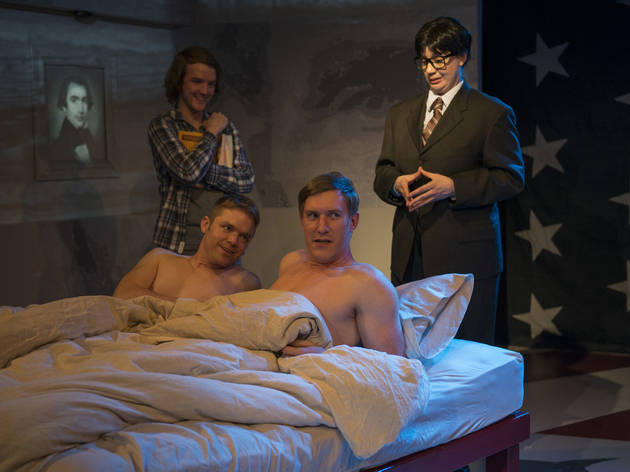 5/12
Photograph: Michael Brosilow
Matt Farabee, Derrick Trumbly, Nathan Hosner and Dana Black in Abraham Lincoln Was a F*gg*t at About Face Theatre
6/12
Photograph: Michael Brosilow
Nathan Hosner and Derrick Trumbly in Abraham Lincoln Was a F*gg*t at About Face Theatre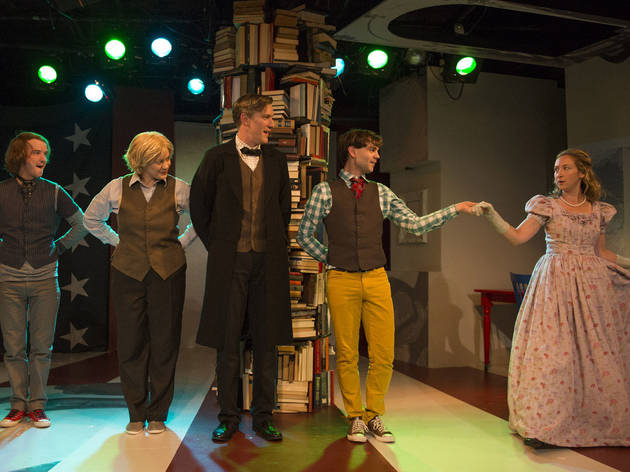 7/12
Photograph: Michael Brosilow
Matt Farabee, Dana Black, Nathan Hosner, Lane Flores and Jessie Fisher in Abraham Lincoln Was a F*gg*t at About Face Theatre
8/12
Photograph: Michael Brosilow
Jessie Fisher, Lane Flores, Matt Farabee and Dana Black in Abraham Lincoln Was a F*gg*t at About Face Theatre
9/12
Photograph: Michael Brosilow
Derrick Trumbly, Jessie Fisher and Nathan Hosner in Abraham Lincoln Was a F*gg*t at About Face Theatre
10/12
Photograph: Michael Brosilow
Nathan Hosner and Jessie Fisher in Abraham Lincoln Was a F*gg*t at About Face Theatre
11/12
Photograph: Michael Brosilow
Lane Flores and Matt Farabee in Abraham Lincoln Was a F*gg*t at About Face Theatre
12/12
Photograph: Michael Brosilow
Lane Flores and Matt Farabee in Abraham Lincoln Was a F*gg*t at About Face Theatre
A teen makes his case that Abe was a 'mo in this sweetly profane, ultimately humane comedy.
A teenager coming to terms with his own homosexuality sets out to prove definitively that his favorite president was gay like him in this thoroughly imaginative, delightfully theatrical 2013 play by Bixby Elliot, receiving its Chicago premiere in a perfectly cast About Face Theatre production.
Cal (the forever young Matt Farabee) makes the proclamation that his school report will establish Honest Abe's true colors were a rainbow at his 17th birthday party, where his uncle Geoff (Nathan Hosner) is visiting with his "roommate" Buck (Derrick Trumbly) and Cal's single mom, Susan (Jessie Fisher), is stubbornly clinging to her safe state of denial.
Scenes of Cal's family—including his meet-cute with out and extra proud classmate Skylor (Lane Flores)—alternate with his charmingly imagined alternate history, with Hosner as the future 16th president and Trumbly as Joshua Speed, the man with whom he shared a bed in Springfield, and later as Captain David Derickson, the body man with whom some scholars have speculated Lincoln had an affair after marrying Mary Todd (Fisher) for political purposes. Dana Black and an endless parade of wigs nearly walk away with the show in a series of gloriously over-the-top comic cameo roles. Oh, and Cal's report is infused with a soundtrack of Michael Jackson's greatest hits, just because.
Elliot sets the present-day action in early 2008, against the background of the primary season that offered the promise of the nation's first black or female president, as well as the news of Lawrence King, the gay California teen whose murder over allegedly asking out a straight classmate provides a channel for Susan's fears for her son. The actor doubling, carried out fluidly in director Andrew Volkoff's production, deepens both story lines.
The script stumbles just at the end with a leap that defies its established logic to get to a moral and an ambiguous ending. Still, Cal gets to makes his elegant, persuasive case that Lincoln liked dudes. But given the final word and a chance to address the question directly, Honest Abe asks us why it matters.
About Face Theatre. By Bixby Elliot. Directed by Andrew Volkoff. With Matt Farabee, Jessie Fisher, Nathan Hosner, Lane Flores, Derrick Trumbly, Dana Black. Running time: 2hrs 20mins; one intermission.