Heads up! We're working hard to be accurate – but these are unusual times, so please always check before heading out.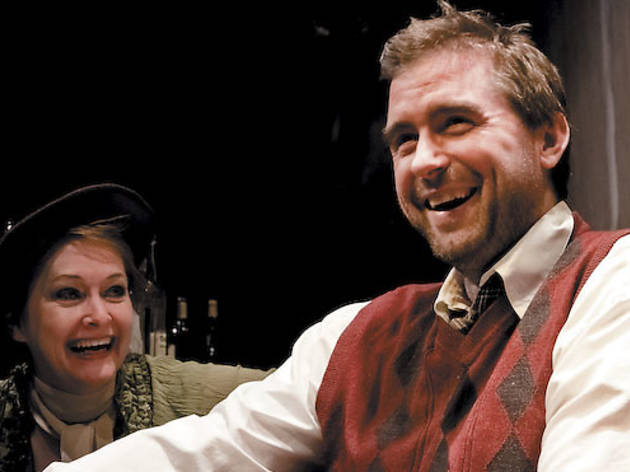 Absolute Hell at the Gift Theatre | Theater review
English playwright Rodney Ackland's sprawling, large-cast portrait of a postwar nightclub and its inhabitants gets a wistful, expert revival.
The world outside La Vie en Rose, the London members' club at the center of Rodney Ackland's bittersweet post-WWII drama, is the source of much chatter and little action for driftless artists, critics, American GIs and romantic vagabonds. They all seek refuge under the club's pink lights and in the warmth of its boisterous manager (Lynda Newton). Night after night and drink after drink, untended realities—financial ruin, creative exhaustion, abated relationships, aging—seep their callous way in as the club's protective foundation (literally) cracks. The emotional fortitude of its inhabitants follows suit.
Sheldon Patinkin provides remarkable and balanced direction for this sprawling, Robert Altman–like ensemble effort, which paints an Impressionist portrait of life under the strain of a new era. Ackland puts the flaws of his Chekhovian characters—including a disillusioned writer (Michael Patrick Thornton), his patient-to-a-fault lover (Dylan Stuckey) and a hard-bitten columnist (Marssie Mencotti)—at the forefront. The Gift Theatre's flawless cast not only humanizes his frustrating and sometimes desperately unsympathetic characters, but goes one step further and makes them as relatable as old acquaintances. Clocking in at more than three hours, Absolute Hell has a leisurely, slow-burning impact, which, like a novel, deepens after it's finished. Edith Piaf's iconic ballad plays only once, but the production's wistful pangs are so present and touching, you might just think it underscores the whole thing.