Accidental Death of an Anarchist at Signal Ensemble Theatre | Theater review
Joseph Stearns is a madcap Madman in Signal's revival of Dario Fo's freewheeling political satire.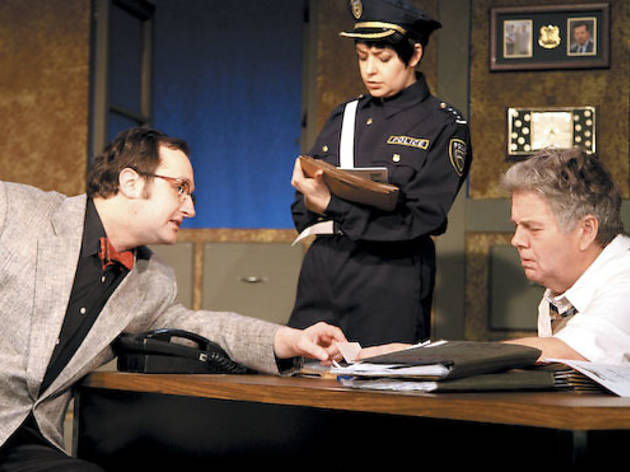 If Pirandello had written agitprop, the result would have been something like Nobelist Fo's output: politically charged theater liberally seasoned with metatheatrical razzle-dazzle. This celebrated 1970 outing, for instance, grew out of an actual incident in which Milanese rail worker and anarchist Giuseppe Pinelli died suspiciously while in police custody. Rather than taking the usual sort of earnest documentary approach, though, Fo imagines a freewheeling and thoroughly anarchic investigation of the police officers responsible, conducted by a madman who variously adopts the personae of a psychiatrist, a high court judge and a bishop, complete with miter and kissable ring.
The key to this travesty of travesties of justice lies in its unstable and unsettling tone, blending traditional commedia, blistering social commentary and modernist distance. Ingram's production too often settles into a sketch-style jokiness; while Fo's quicksilver sensibility has some common ground with, say, Mr. Show, the rhythms here aren't quite self-assured enough to fully inflate the play's anti-authoritarian soufflé. As the Madman, Joseph Stearns spends the better part of two hours onstage; his breathless, dynamic performance, shifting seamlessly from mousetrap to mousetrap of his own devising, keeps this Accidental Death worth watching.