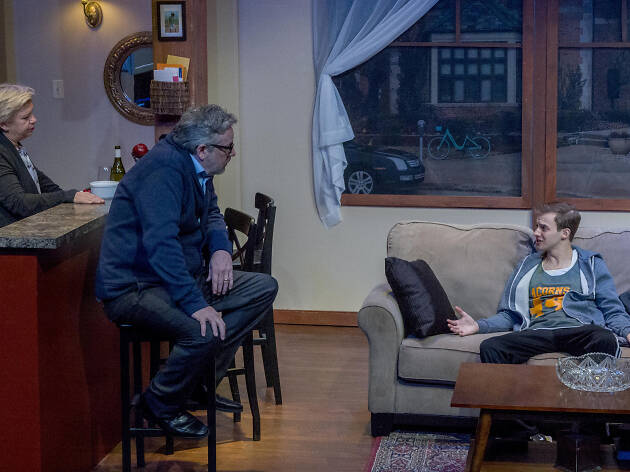 Theater review by Alex Huntsberger
Theater Wit provided a fine Chicago home for Joshua Harmon's acidic satires Bad Jews and Significant Other, both of which enjoyed critical acclaim and lengthy runs. If the company stumbles over Harmon's latest play, Admissions, it must be said that the script is something of a trip wire. Set at a posh New Hampshire boarding school, Admissions follows the school's white director of admissions, Sherri (Meighan Gerachis), whose diversity-first rhetoric runs against hard realities when her own son, Charlie (Kyle Curry), fails to get into Yale. Furious that his biracial friend Parry has been accepted over him, Charlie launches into a lengthy monologue about the absurdity of modern identity politics. But once he reconciles himself to his fate, he takes his parents' beliefs to their logical conclusion and makes himself a martyr. He thinks his mom and dad (Stephen Walker) will be happy for him. Instead, they go ballistic.
Harmon's skewering of white liberal hypocrisy contains sharp insights into the ways that sincerely held beliefs can curdle into dogma. From the get-go, Sherr's commitment to diversity manifests itself in ugly ways; her conversations with Perry's white mother, Ginnie (India Whiteside), reveal unpleasant assumptions. But Harmon's zero-sum approach has its limits. Charlie's big revelation turns the show into more of a trolling thought experiment than an honest piece of satire: Once he drops the bomb on his unsuspecting mother, the play fizzles out. A steady diet of laughs might keep this ostensible comedy aloft, but that's where Jeremy Wechsler's direction fails to deliver. Not coincidentally, several of the show's best scenes, featuring Judi Schindler as an elderly and overly literal school employee, are also its funniest; elsewhere, however, uncertain performances and erratic pacing turn the show into a slog. Admissions is an imperfect play, but this production lands it firmly in the rejection pile.
Theater Wit. By Joshua Harmon. Directed by Jeremy Wechsler. With Meighan Gerachis, Stephen Walker, Kyle Curry, India Whiteside, Judi Schindler. Running time: 1hr 30mins. No intermission.