After the Quake at the State Theatre of Chicago | Theater review
A revival of Frank Galati's adaptation of Haruki Murakami's short stories has its faults.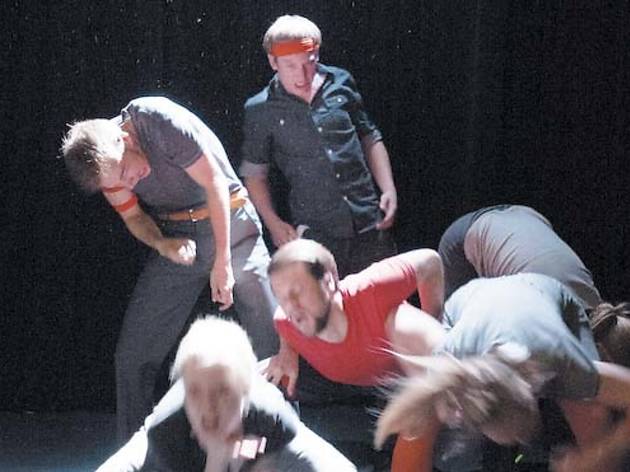 In the program for After the Quake, codirector Tim Speicher confesses, "The truth is that we're not interested in or equipped to tell the story of a Japanese earthquake in 1995." The problem is that State Theatre is producing a show about a Japanese earthquake in 1995.
Adapted from Haruki Murakami's collection of short stories, written after the Kobe earthquake that took 6,434 lives, Frank Galati's play (first produced at Steppenwolf in 2005) jumps between surreal and naturalistic as it examines the disaster's effect on peripheral lives. To bridge their very different tones, the two stories Galati juxtaposes need a stronger emotional thread than State's production achieves.
As a writer from Kobe (Kevin Sheehan) works through his relationship with his college crush (Eleanor Caudill) and her young daughter (Paige Reilly), an overgrown, Nietzsche-quoting frog (Victoria Alvarez-Chacon) enlists the aid of a high-strung office worker (Ed Porter) to save Tokyo from catastrophe. Serving double duty as Frog and Narrator, Alvarez-Chacon achieves more depth in her two abstract characters than the rest of the cast finds in their more traditional roles.
With a narration-heavy, action-light script, the directors add visual variety through Butoh-esque movement. An intensifying sequence of quick, jerky motions effectively represents the Kobe earthquake, but as the play progresses, the tremoring physicality becomes awkward and distracting. A little more focus on character relationships would help Quake really reverberate.