1/7
Photograph: Michael Brosilow
Mark L. Montgomery, Sandra Marquez and company in Agamemnon at Court Theatre
2/7
Photograph: Michael Brosilow
Gary Wingert and Sandra Marquez in Agamemnon at Court Theatre
3/7
Photograph: Michael Brosilow
Gary Wingert, Gabriel Ruiz, Alfred Wilson, Michael Ghantous and Thomas Cox in Agamemnon at Court Theatre
4/7
Photograph: Michael Brosilow
Alfred H. Wilson and Adrienne Walker in Agamemnon at Court Theatre
5/7
Photograph: Michael Brosilow
Mark L. Montgomery in Agamemnon at Court Theatre
6/7
Photograph: Michael Brosilow
Sandra Marquez and Mark L. Montgomery in Agamemnon at Court Theatre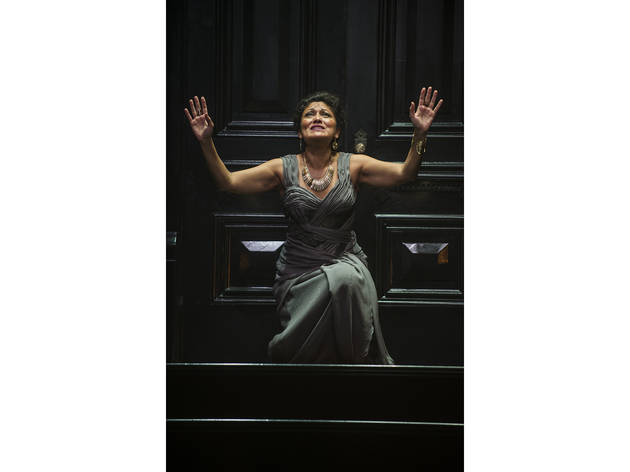 7/7
Photograph: Michael Brosilow
Sandra Marquez in Agamemnon at Court Theatre
Time Out says
The Clytemnestra strikes back in part two of Nicholas Rudall's House of Atreus trilogy.
There's something noirish about this Agamemnon, and not just because the entire set is a stately, funereal black. At the center of the stage sit a giant door and staircase, perfect for dramatically descending. This is, literally, the house of Atreus. And it is a threshold from which almost none return.
The show is part two of a new adaptation by Court's founding artistic director Nicholas Rudall, combining Iphigenia in Aulis by Euripides, Agamemnon by Aeschylus and Electra by Sophocles into a single, tragic trilogy. Actors Sandra Marquez and Mark L. Montgomery reprise their roles as Clytemnestra and Agamemnon from last year's stunning production of Iphigenia, with director Charles Newell also returning. Unfortunately for Montgomery—2,500-year-old spoiler alert—a role in next year's Electra is likely not on the table.
Marquez is stunning as Clytemnestra; never has bloody vengeance seemed so dignified. However, the real star is the chorus of (mostly) old men, played by Thomas J. Cox, Alfred H. Wilson and Gary Wingert along with Gabriel Ruiz. It's through their eyes that we see the horror of Clytemnestra's revenge on Agamemnon or his sacrifice of their daughter Iphigenia unfold. They don't just comment on the action, they live it. Ruiz also brings a knockout humanity to his role as the unnamed herald. The man's shell-shocked joy at returning home cuts deeper than Clytemnestra's knife.
Rudall's adaptation is fantastic, slyly drawing out the play's misogynistic undertones. It is effortlessly modern without sacrificing the poetry, funny without losing the horror. His Electra can't come soon enough.
Court Theatre. By Aeschylus. Adapted by Nicholas Rudall. Directed by Charles Newell. With ensemble cast. Running time: 1hr 30mins; no intermission.
Details
Users say