Allotment Annie at InFusion Theatre Company | Theater review
Mark Mason's preposterous new play marries incoherent plot with WWII nostalgia.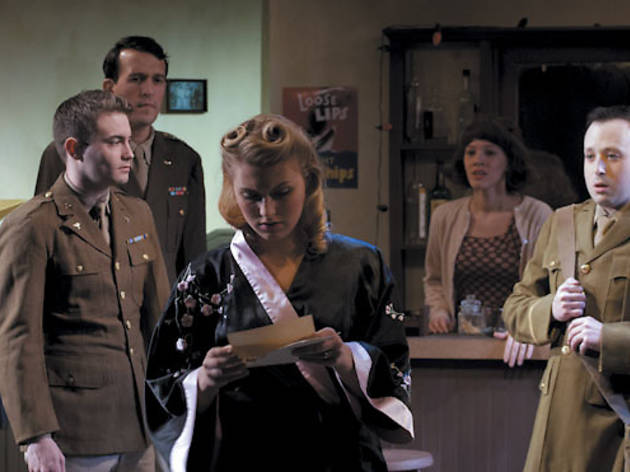 The perfidy of women in wartime is a misogynist trope stretching back at least as far as Agamemnon's bloody homecoming party after Troy. A variation on the theme during World War II was the stories of "Allotment Annies"—women who married GIs solely for the government benefits, including a $10,000 jackpot if the soldier was killed in combat. Mark Mason's preposterous new play gives us two scheming war brides, though ultimately neither of them turn out to be in it for the money, presumably because that would make at least a little sense.
Set at a military canteen in Poughkeepsie, New York, the play centers on Virginia (Amy Rapp), a serial widow on her fifth husband in uniform, and her friend Fran (Kate Black-Spence), who seems like a nice girl until just before intermission, when she suddenly turns into a man-hating psycho. Out of the blue, Fran murders the gallant soldier (Carl Lindberg) she's just married, takes to waving around a steak knife at bar patrons and even turns on Virginia when she learns she's pregnant.
Though the plot and characters are incoherent, Mason's point is clear: War turns those it touches into monsters. But even that argument is muddled by director Bridgette Harney, who seems to think she's staging a piece of '40s nostalgia, throwing in a big-band soundtrack and pausing the action several times so the cast can clomp through the jitterbug. This only makes the script seem more baffling and schizophrenic.