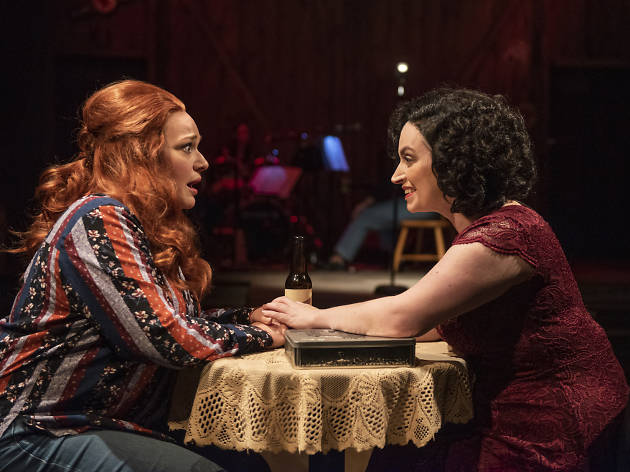 Time Out says
Theater review by Alex Huntsberger
Like most jukebox musicals, Ted Swindley's 1988 show Always…Patsy Cline doesn't dig very deep. In recounting the true story of how Cline superfan Louise Seger struck up a friendship with the trailblazing country singer in 1961, this enjoyable two-hander doesn't have much to say beyond, essentially, "Patsy Cline was the absolute best, y'all." Seger does most of the talking, bridging the gaps between the musical numbers. (There are 27 songs in all, delivered with nearly martial efficiency.) While the pair's bond is touching—Cline died in a plane crash two years after they met—the show is so unabashed in its reverence that it has trouble justifying its existence. Why this show, and not simply a Patsy Cline revue?
Yet Always… Patsy Cline's slightness makes it a perfect fit for the Chicago storefront scene: The close quarters breed a chatty intimacy that feels just right. Firebrand Theatre's revival, directed by Brigitte Ditmars, makes perfect use of the Den's cozy, brick-walled Janet Bookspan Theatre, which designer Lauren Nichols turns into the kind of honky-tonk haunt where Seger and Cline would have felt right at home. All that's missing is the sawdust.
Christina Hall and Harmony France swap the roles of Seger and Cline from performance to performance, a gimmick that produces two distinct takes on both characters Hall's overwhelming charisma shines through in both cases; her Patsy is a megawatt star, while her Seger is a whirligig of pent-up Texas-gal energy. France's turns in each role are quieter and more down-to-earth. Her Cline is a kind and reserved young woman who, though possessed of tremendous gifts, maintains an intriguing mystique.
Although Hall's turn as Cline is entrancing, it's when she's playing Seger that the show really clicks into place. In both versions, France basks in Hall's effervescent glow, but when it's Patsy Cline, famous country music star, basking in the glow of Louise Seger, everyday Houstonite, the show acquires a hint of mystery that takes it beyond hagiography.
Firebrand Theatre. By Ted Swindley. Directed by Brigitte Ditmars. With Harmony France, Christina Hall. Running time: 2 hrs. One intermission.
Details
Users say