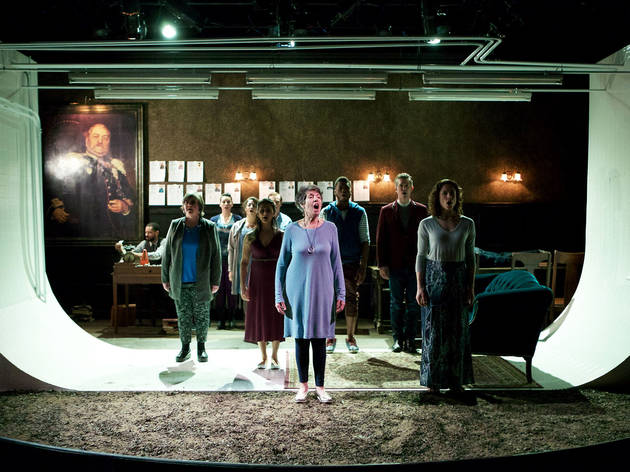 1/7
Photograph: Jonathan L. Green
David Lawrence Hamilton, Ann James, Paloma Nozicka, Maritza Cervantes, Anu Bhatt, Nate Whelden, Lona Livingston, David Guy, David Prete and Eleni Pappageorge in Antigonick at Sideshow Theatre Company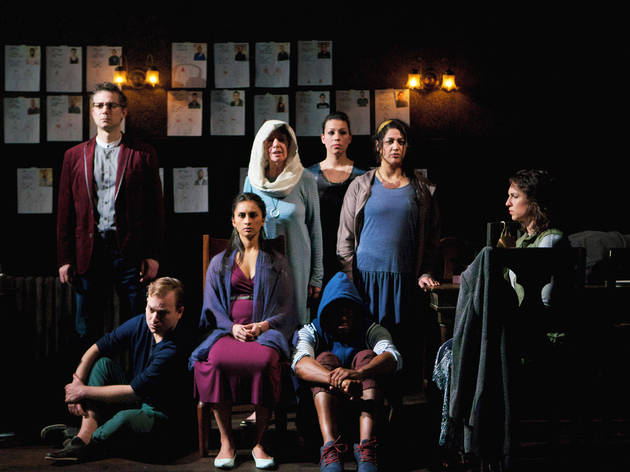 2/7
Photograph: Jonathan L. Green
David Prete, Nate Whelden, Anu Bhatt, Lona Livingston, Paloma Nozicka, David Guy, Maritza Cervantes and Eleni Pappageorge in Antigonick at Sideshow Theatre Company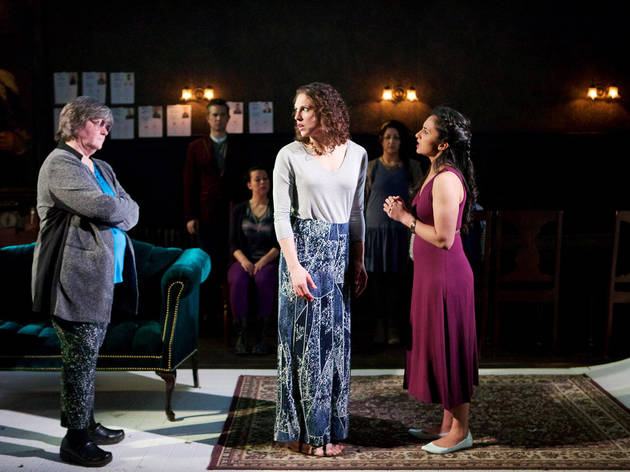 3/7
Photograph: Jonathan L. Green
Ann James, Eleni Pappageorge and Anu Bhatt in Antigonick at Sideshow Theatre Company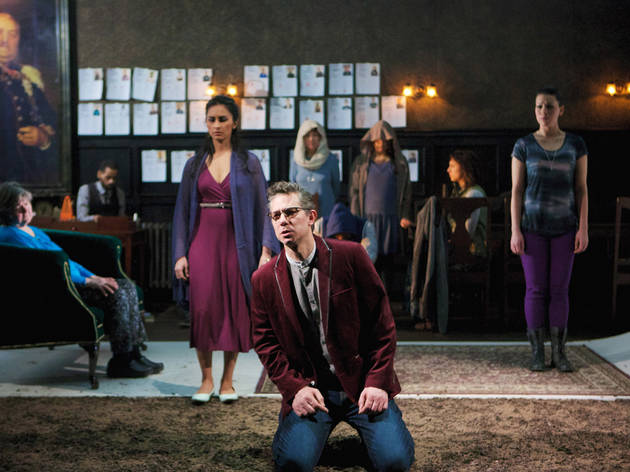 4/7
Photograph: Jonathan L. Green
David Prete, front, with Ann James, David Lawrence Hamilton, Anu Bhatt, Lona Livingston, David Guy, Maritza Cervantes, Eleni Pappageorge and Paloma Nozicka in Antigonick at Sideshow Theatre Company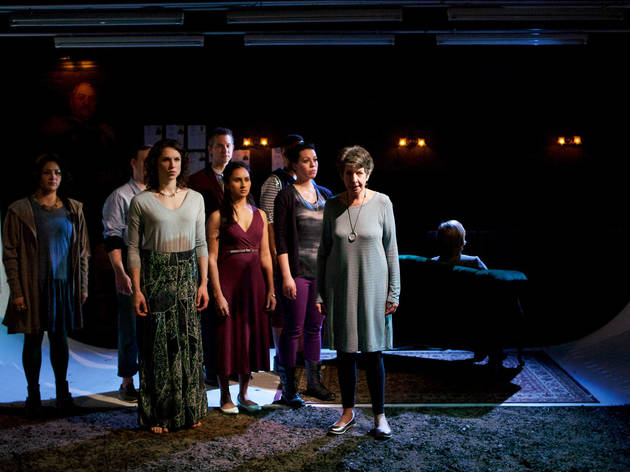 5/7
Photograph: Jonathan L. Green
Maritza Cervantes, Nate Whelden, Eleni Pappageorge, David Prete, Anu Bhatt, David Guy, Paloma Nozicka, Lona Livingston and Ann James in Antigonick at Sideshow Theatre Company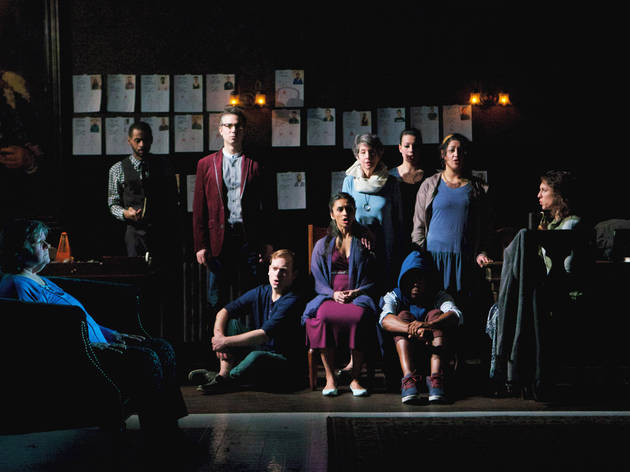 6/7
Photograph: Jonathan L. Green
Ann James, David Lawrence Hamilton, David Prete, Nate Whelden, Anu Bhatt, Lona Livingston, Paloma Nozicka, David Guy, Maritza Cervantes and Eleni Pappageorge in Antigonick at Sideshow Theatre Company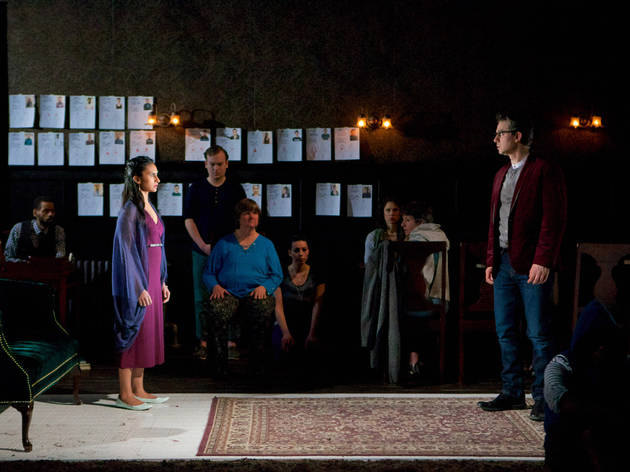 7/7
Photograph: Jonathan L. Green
David Lawrence Hamilton, Anu Bhatt, Nate Whelden, Ann James, Paloma Nozicka, Eleni Pappageorge, Lona Livingston, David Prete and David Guy in Antigonick at Sideshow Theatre Company
Sideshow Theatre Company doubles up on Anne Carson's unorthodox Antigone.
Antigonick, MacArthur "genius" poet Anne Carson's "free translation" of Sophocles' Antigone, wasn't necessarily written to be staged, but Sideshow Theatre Company stages it twice. Carson's text uses modern language and an amusingly meta recognition of itself as a text in retelling Antigone's defiance of Kreon's edict that her brother's body shall go unburied. Carson condenses long speeches down to a potent line or two, and her characters acknowledge their place in a tradition of translations and interpretations, referencing Beckett and Hegel and Woolf; "Remember how Brecht had you do the whole play with a door strapped to your back?" the chorus asks Antigone.
Director Jonathan L. Green has his ten actors waft in and out of the chorus to take on their distinct characters, which Green intriguingly assigns without regard for traditional gender roles—Kreon, the king, is played by Ann James, while David Prete portrays his wife, who introduces herself to us directly: "This is Eurydike's monologue, it's her only speech in the play. You may not know who she is, that's okay."
Once everyone's dead and Kreon has met his downfall, Green sets the cycle immediately back in motion, with James's haughty Kreon shrinking into a mournful Antigone—a decidedly different interpretation than Anu Bhatt's boldly disobedient Antigone the first time through. Once it becomes clear we're indeed going to repeat the entire text, a moment of trepidation is likely: What kind of show-length Meisner exercise are we in for?
But Carson's translation deals in matters of timing; the "nick" of her title is, among other things, a pondering of "the nick of time" and how that's measured, as well as a silent onstage character, Nick (David Lawrence Hamilton), who "measures things." In Green's staging, Nick sits at a desk behind a ticking metronome, filling out death certificates he hangs on the rear wall as the tragedy's casualties pile up. Seeing Carson's Antigonick played two ways against Nick's tick-tocking measure of inevitability makes for an oddly affecting evening.
Sideshow Theatre Company at Victory Gardens Biograph Theater. By Sophocles. Translated by Anne Carson. Directed by Jonathan L. Green. With ensemble cast. Running time: 1hr 20mins; no intermission.