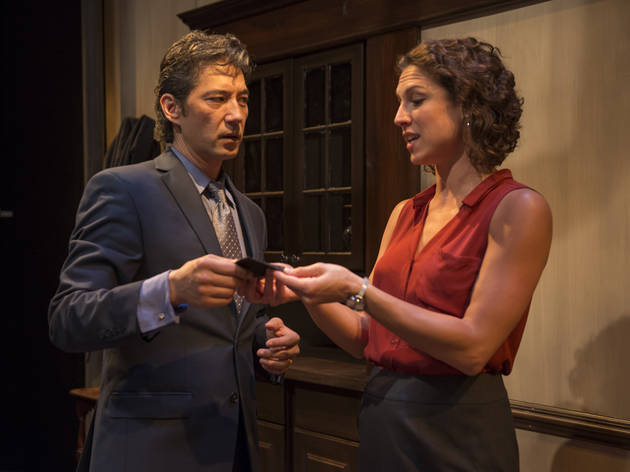 1/10
Photograph: Michael Brosilow
Daniel Smith and Eleni Pappageorge in Apartment 3A at Windy City Playhouse
2/10
Photograph: Michael Brosilow
Jose Antonio Garcia and Eleni Pappageorge in Apartment 3A at Windy City Playhouse
3/10
Photograph: Michael Brosilow
Eleni Pappageorge and Peter DeFaria in Apartment 3A at Windy City Playhouse
4/10
Photograph: Michael Brosilow
Eleni Pappageorge and Jose Antonio Garcia in Apartment 3A at Windy City Playhouse
5/10
Photograph: Michael Brosilow
Eleni Pappageorge and Wardell Julius Clark in Apartment 3A at Windy City Playhouse
6/10
Photograph: Michael Brosilow
Jose Antonio Garcia and Eleni Pappageorge in Apartment 3A at Windy City Playhouse
7/10
Photograph: Michael Brosilow
Jose Antonio Garcia and Eleni Pappageorge in Apartment 3A at Windy City Playhouse
8/10
Photograph: Michael Brosilow
Daniel Smith and Eleni Pappageorge in Apartment 3A at Windy City Playhouse
9/10
Photograph: Michael Brosilow
Jose Antonio Garcia and Eleni Pappageorge in Apartment 3A at Windy City Playhouse
10/10
Photograph: Michael Brosilow
Eleni Pappageorge and Peter DeFaria in Apartment 3A at Windy City Playhouse
The cast is solidly constructed, but this script should be condemned.
It's appropriate that playwright (and world-famous actor) Jeff Daniels set his play Apartment 3A not in any specific place, but in a generic "Midwestern City." You see, this faux-allegorical hand-waving of specific details also describes many other things in the play: for instance, the lives of its three main characters. Watching them muddle through Daniels's weak simulacrum of "adulthood" is like watching someone teach human anatomy with a stick figure.
Even the titular apartment is entirely barren of detail. Granted, that's because the apartment has sat empty for quite some time before the play's romantic heroine Annie (Eleni Pappageorge) decides to move in. Reeling from a bad breakup with a bad boyfriend, Annie soon forms a close bond with her lonely neighbor, Donald (Daniel Smith), whose wife is in Rome on business.
And the upheavals aren't limited to Annie's home life. In the midst of a public television fundraiser she's spearheading, Annie melts down on-air (she sorta threatens to kill Big Bird) and spends much of the aftermath fending off the "sweet" advances of her coworker, Elliot (Jose Antonio Garcia). After a while, a love triangle forms between Annie, Elliot, and Donald, buoyed by the kinds of romantic comedy behavior that, in real life, would count as harassment.
Not even Chicago heavyweight director Ron OJ Parson can save Apartment 3A from itself. In fact, he actually makes it a little worse by injecting so much energy into the performances that they practically convulse. The production does have one saving grace, however, and it's this cast, whose natural charm and likability muscles through regardless. Audiences would be better served inviting the actors out for drinks out after the show and enjoying their company sans Daniels's empty, insufferable dialogue.
While the story does come with a twist towards the end, the biggest surprise might be that Daniels wrote this play in 2000, long before he starred in The Newsroom under Aaron Sorkin. It's surprising only because Apartment 3A so often seems like Sorkin-lite. From its reliance on grandiose speechifying to its nattering banter to its Hallmark-card romanticism, Apartment 3A feels far more like an imitation of Sorkin than it does an imitation of life.
Windy City Playhouse. By Jeff Daniels. Directed by Ron OJ Parson. With Eleni Pappageorge, Daniel Smith, Jose Antonio Garcia, Peter DeFaria, and Wardell Julius Clark. Running time: 2hrs; one intermission.