Bailiwick Chicago rebrands and refines its mission
The two-year-old theater clarifies its goals under new artistic director Lili-Anne Brown.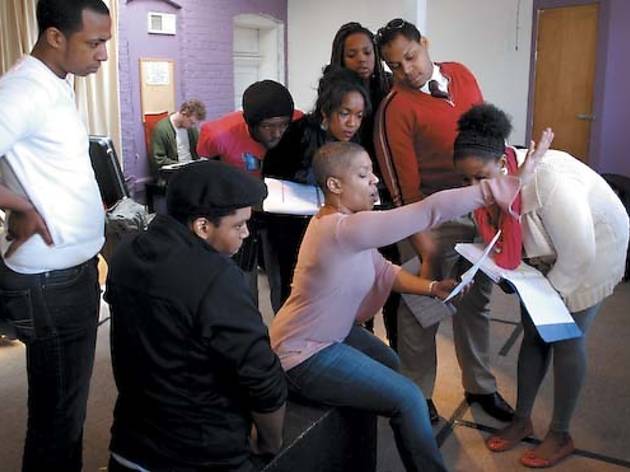 Onstage at Lakeview piano bar 3160, Lili-Anne Brown is recalling the humble beginnings of some of Chicago's theatrical institutions. "I just love that Chicago Shakes started on the roof of a bar, and Steppenwolf started in a church basement," Brown says to an appreciative crowd. "Chicago theater is scrappy. I'm inspired by that."
The occasion for these musings is the season kickoff party for the two-year-old Bailiwick Chicago, and an opportunity for the theater's supporters to get to know Brown, the company's new artistic director (she took over in April from founding artistic director Kevin Mayes, who remains on the theater's board). For Bailiwick, the evening is also an opportunity to unveil a refined identity.
"We're already a sort of rebranded or reinvented company," Brown says on the phone a day later, noting that Bailiwick Chicago is "sort of the son of Bailiwick Rep." The current company was launched in 2010 by a group of artists, many of whom had worked with the long-standing Bailiwick Repertory Theatre, which shuttered the year prior. Brown, a Chicago native with an extensive résumé as an actor and director (as well as a stint as a talent agent), was part of that group.
"Whenever you start any new venture, you sort of start with your training wheels, your almost, like, placeholder stuff," Brown says of Bailiwick Chicago's initial mission and branding. "Now, I think our placeholder stuff was very, very good." In its first year of eligibility for the Jeff Awards, the company earned ten nominations, including five for Brown's production of the idiosyncratic rock musical Passing Strange (which TOC also named one of the ten best plays of 2011).
"But my team, with the transition from Kevin to me," Brown continues, "they saw that as a wonderful opportunity to put some more permanent, thought-about stuff out there: Why is this the logo? What do we want it to say? Why is this the mission? Is this the mission?"
Brown describes her company's revised mission as producing Chicago premieres of contemporary musicals and plays, reinventing classic musicals and developing new work. Bailiwick Chicago is demonstrating its commitment to the latter by adding two resident playwrights to its 27-member collective in Danny Bernardo and Aaron Holland.
The company will debut Bernardo's Mahal, which deals in themes of Filipino-American identity, in repertory at Victory Gardens next summer with the Chicago premiere of Robert O'Hara's Bootycandy, a collection of short satirical pieces about the black gay experience. The season opens in October at Uptown's National Pastime Theater with the company's long-awaited Chicago premiere of Bloody Bloody Andrew Jackson, an irreverent rock musical about our seventh President. A spring project remains to be announced.
In her remarks at 3160, Brown mentions Arlington, Virginia's Signature Theatre as an inspiration. The idea of looking to that theater, which has racked up 5,000 subscribers and a regional theater Tony Award in less than two decades with its mix of new plays and reinvigorated musicals, as an exemplar for Bailiwick was suggested by Victory Gardens artistic director Chay Yew, who's been "super generous with just talking and ideas," Brown says.
"I was like, I really want to clarify our mission; it's a little touchy-feely right now," she continues. "We produce edgy new musicals and plays, we take old musicals and try to present them in a new way, and we want to develop new work. He said, 'Oh, you're like baby Signature Theatre.' "
As Bailiwick Chicago continues to grow, Brown says, "to have that model of Signature, of people who kinda had the same idea a while ago and this is how they did it—that was really hopeful for me. The trajectory is clear."