Barrel of Monkeys' That's Weird, Abuelita
The kid-friendly company brings a bilingual version of its popular show That's Weird, Grandma to Logan Square.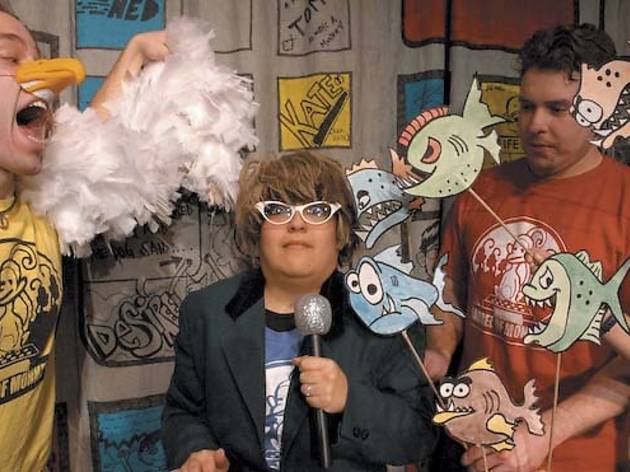 Will a Grandma by another name be just as Weird? Stalwart edutainment outfit Barrel of Monkeys is betting on it.
The Monkeys' primary function is education. For the past 15 years, the group has sent its members (most of whom are working actors) into Chicago Public Schools' elementary classrooms to conduct six-week-long workshops in creative writing. The kids' stories then get turned into often wacky skits that are performed for the students by their actor-instructors.
Since 2001, the Monkeys have also brought the stories to the public. At the Neo-Futurarium in Andersonville, the weekly showcase [node:138901 link=That's Weird, Grandma;] attracts a roughly equal mix of kids with their parents and kid-free adult fans.
One constituency TWG wasn't seeing, says Barrel of Monkeys executive director Amanda Farrar, was the kids they served. "Our schools are in the South and West Sides," Farrar says. "Although That's Weird, Grandma is fantastic on the North Side, it's really difficult for our students to get there."
Geography wasn't the only barrier for students' families, says [node:67608 link=Molly Brennan;], who took the reins as BOM's artistic director last year. "I think our statistic is that 43 percent of our students are from Spanish-speaking homes," Brennan says. Though many of the Monkeys instructors speak both English and Spanish by necessity, the public performances have tended to be exclusively in English.
Last summer, BOM tested a neighborhood-specific pilot program: four performances of That's Weird, Abuelita, a bilingual version of Grandma, at Little Village High School, with a blend of sketches in Spanish and English.
Brennan attended all four performances, and describes a "magical moment" in the show each week. "In our traditional opening number, we have a plant in the audience who stops the song and says, 'Wait a minute, what are you telling me?' " Brennan says. In Abuelita, the song was in English but the audience plant interrupted in Spanish. "When that happened, you just felt this opening up of everyone in the room. The people who maybe didn't understand what was being said suddenly had an ally in a funny hat next to them. Every night that worked."
Abuelita returns this week for a 12-performance run at the Logan Square Arts Center. "We're excited to do it in Logan Square since there's a mix of population there between the hipsters who come to That's Weird, Grandma and Spanish-speaking families," Farrar says. Many of the sketches in this iteration of Abuelita originated from students at nearby Avondale-Logandale School and Federico García Lorca Elementary.
Brennan is codirecting with Madrid-based playwright and director Emilio Williams, who's also working this summer with Trap Door Theatre and Teatro Luna. He and Brennan met when a friend took him to see That's Weird, Grandma during his first visit to Chicago last summer. "I totally fell in love with their grandiosity, their amazing sense of ridiculous," he says.
While the public performances have always been viewed as a by-product of the Monkeys' work in the schools, Brennan and Farrar say Abuelita is part of a conscious effort to expand the company's presence in the theater world. "It's certainly in my sight to get more people to see the theater we make," Brennan says. "The programming is phenomenal. Bringing it to a larger theater audience is something that's in the forefront of my tiny little brain."
That's Weird, Abuelita kicks off Wednesday 25; Williams's Smartphones: A Pocket-Sized Farce opens Thursday 19 at Trap Door.