Beautiful Thing at Pride Films & Plays | Theater review
Teenage love blooms in lower-class London in a charming revival of Jonathan Harvey's 1993 work.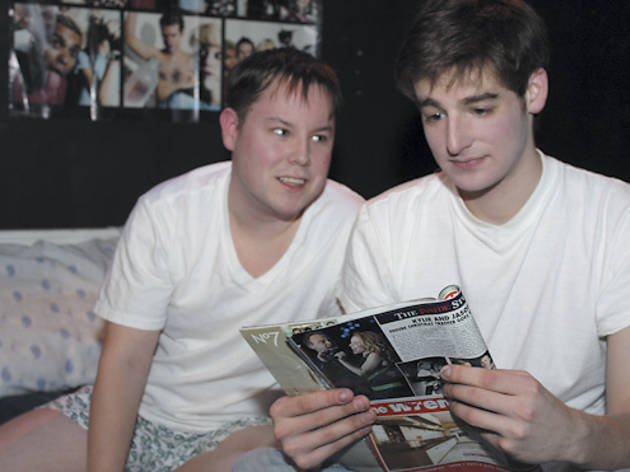 Blame the peppermint foot cream. When the cute, abused neighbor of a Madonna-loving, PE-hating teenage boy in a southeast London housing project spends the night, a back rub leads to sexual awakening in Jonathan Harvey's 1993 coming-out drama. Beautiful Thing is a charming, if uneven, look at young queer love in an environment that isn't hospitable to its growth.
Some aspects of Harvey's script don't quite get the attention they deserve, particularly the relationship between Ste (Charlie Wein) and his abusive father, who never appears onstage. (An early altercation between them is puzzlingly depicted via an audio track played behind the apartment door.) And despite a strong performance from high-school student Kiah McKirnan as eccentric classmate Leah, her acid trip in Act II is an unnecessary diversion from the central conflict among Jamie (Robert Hilliard), Ste and Jamie's mother (Michelle McKenzie-Voigt).
Yet John Nasca's production admirably captures the affection among these characters. Hilliard and Wein balance the boys' fear of public ridicule with their desire for intimacy; the tension during that back rub is palpable. The quiet moments allow a tender relationship to bloom in shared looks and gentle touches.