Bengal Tiger at the Baghdad Zoo at Lookingglass Theatre Company | Theater review
Rajiv Joseph's entrancingly surreal study of Iraq and war is populated with ghosts both living and dead.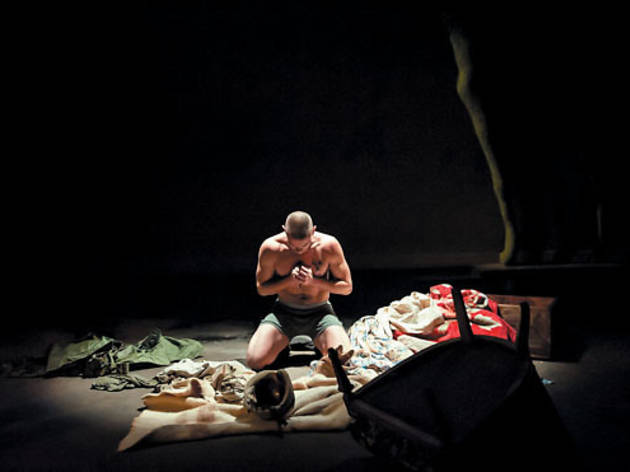 Rajiv Joseph's 2010 Pulitzer finalist is something of an aberration for Lookingglass, a company that tends to stick to self-generated works. Also unusual, Bengal Tiger features no ensemble members among its cast and largely eschews the visual flashiness that's often the theater's calling card. Yet Joseph's piece, set in the early days of the Iraq War, is well served by Heidi Stillman's production.
Tom (Walter Owen Briggs) and Kev (JJ Phillips) are young U.S. Marines guarding the bombed-out Baghdad zoo, including a caged tiger, drolly embodied by Troy West as a narrator of sorts, his feline majesty suggested by wild hair and scraggly beard. Tom was among the soldiers who raided the palace of Uday and Qusay Hussein, coming away with some souvenirs, including a gold-plated semiautomatic pistol—a totem that seems to carry the taint of Saddam's sons, fascinating the bumpkinly, blustery Kev. When Tom foolishly teases the tiger with beef jerky, the animal, contemplative, bored and hungry, bites off his hand, leading Kev to shoot it dead.
The cat is dismayed to find itself wandering Baghdad as a ghost; "tigers are all atheists," he explains matter-of-factly, so to experience an afterlife upends his whole philosophical outlook. The tiger haunts a freaked-out Kev, while the soldiers' Iraqi translator, Musa (Anish Jethmalani), is haunted by another ghost: the malicious Uday Hussein (Kareem Bandealy), for whom Musa worked as a gardener, creating gorgeous topiary animals—a menagerie as unnatural in the desert as the zoo.
Indeed, ghosts abound in Joseph's entrancingly surreal, dark-humored work. The tiger prowls the landscape in search of meaning in what he must now assume is God's creation, but only encounters—and occasionally creates—more shades like himself. Tom is consumed by his phantom limb, while Musa tries to escape Uday's lingering influence. These lost spirits find more and more information, but answers? In Stillman's brutal and dynamic staging, this fascinating, fractious fairy tale suggests those may be ever out of our reach.