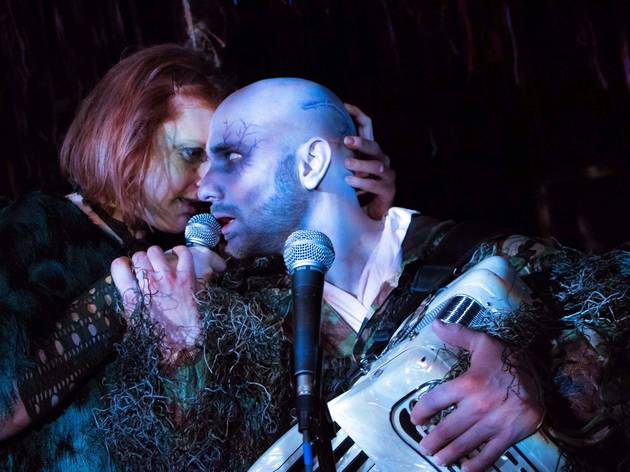 1/3
Photograph: Matthew Freer
Beowulf at Red Theater Chicago
2/3
Photograph: Matthew Freer
Beowulf at Red Theater Chicago
3/3
Photograph: Matthew Freer
Beowulf at Red Theater Chicago
A new take on the old tale has its charms, but can feel too epic for its frame.
There's a lot to like in Beowulf, Aaron Sawyer's new two-person musical riff on the classic warrior's tale. There's a pair of winning performances from Pavi Proczko and Brenda Scott Wlazlo as Beowulf and Grendel's Mother, respectively. There's a songbook, composed by Proczko and Brindin Sawyer, that has a number of lovely, lively tunes. And there's a lot of humor too, as the particulars of the Beowulf story get pulled apart and prodded and twisted 'round into something wholly funky and new. The only problem: There's a lot of stuff not to like, too. Much like its two lead characters, the play often feels like it's at perpetual war with itself: one-half avant-garde deconstruction, one-half fun, musical lark. The result, while enjoyable, is confusing and chaotic.
For one thing, the show's plot is overly-complicated bordering on nonsensical. To summarize: It would appear that Beowulf and Grendel's mother—or at least their spirits—have been trapped by Odin in a never-ending repetition of their deathly struggle. They fight, Grendel's Mother dies, repeat. But it would also appear that Odin got bored at some point and added a musical component, complete with a live audience. And for this particular recurrence, Odin has also placed Grendel's Mother into the body of a human woman, so that when Beowulf enters—dressed for some reason like a hospital patient—he does not recognize her. Oh, and also Beowulf occasionally gets possessed by the spirit of Grendel—one of many additional plot points that pile up like skulls in a monster's cave. Beowulf occasionally seems as though it was a three-hour epic that's been hastily condensed into an 80-minute show—a process in which many of its themes and ideas, or at least the resonance behind them, was lost.
Still, the show is not without its pleasures. As Grendel's Mother's, Scott Wlazlo is a combustible blend of grief, neuroses and sly, side-eyed charm. And as the titular uberwarrior, Proczko goofily punctures Beowulf's macho self-regard. Both performances feel lived-in, with the actors expressing the spiritual exhaustion that has gradually come to define the characters' joint existence. Most of the show's songs are performed on guitar (Scott Wlazlo) and accordion (Proczko), and they have a jaunty, off-kilter mood to them that works well. While the lyrics are sometimes clunky, the show's confessional, neo-cabaret aesthetic is one of its greatest strengths. It's at these moments that the show's theatricality is most connected to its humanity. Beowulf is never better than when it's just two old enemies, sitting on a stage and telling you their story—about a monster who became a human, and a human who became a monster.
Red Theater at the Den Theatre. Written and directed by Aaron Sawyer. Music by Pavi Proczko and Brindin Sawyer. With Pavi Proczko and Brenda Scott Wlazlo. Running time: 1hr 20mins; no intermission.