Best of 2013: 10 outstanding ensembles in Chicago theater
Chicago theater reveres a team effort. Here are ten examples of the best ensemble performances of 2013.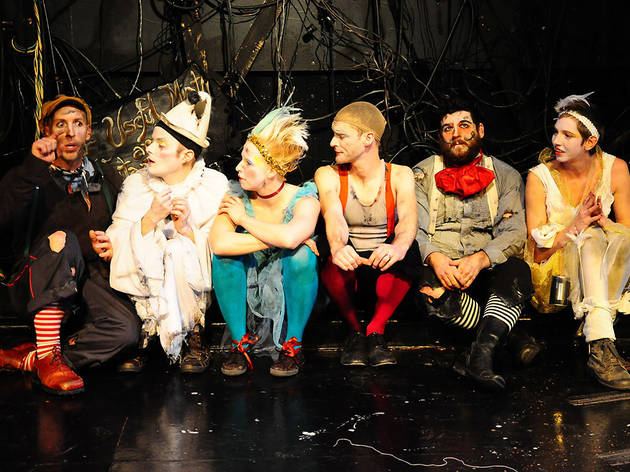 1/10
Photograph: Evan Hanover
Burning Bluebeard (The Ruffians) This deconstructive take on a real Chicago tragedy-the Iroquois Theatre fire of 1903, which killed more than 600 theatergoers-was originally staged by the Neo-Futurists in 2011. The six-person cast (which included writer Jay Torrence), along with director Halena Kays, apparently wanted to revisit the piece badly enough they formed an ad hoc company to do so. The performances by Torrence, Dean Evans, Leah Urzendowski Courser, Anthony Courser, Molly Plunk and Ryan Walters were richer and riskier the second time around.Original review: Burning Bluebeard at Theater Wit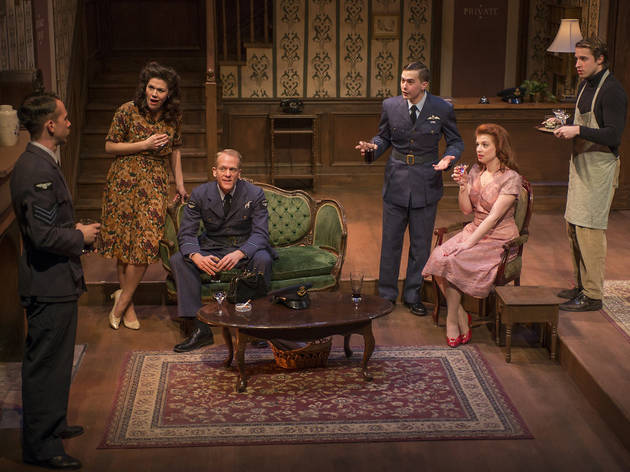 2/10
Photograph: Michael Brosilow
Flare Path (Griffin Theatre Company) In Terence Rattigan's wartime drama-allegedly the first production in Chicago of the Brit's 1942 piece-Royal Air Force flyboys and their wives stoically face the horrors of war. Rattigan's treatment tends sentimental, but in Griffin's January staging, director Robin Witt's terrific large ensemble, led by Darci Nalepa, Vanessa Greenway, Paul Dunckel and Joey deBettencourt, leaned into the romanticism to great satisfaction.Original review: Flare Path at Griffin Theatre Company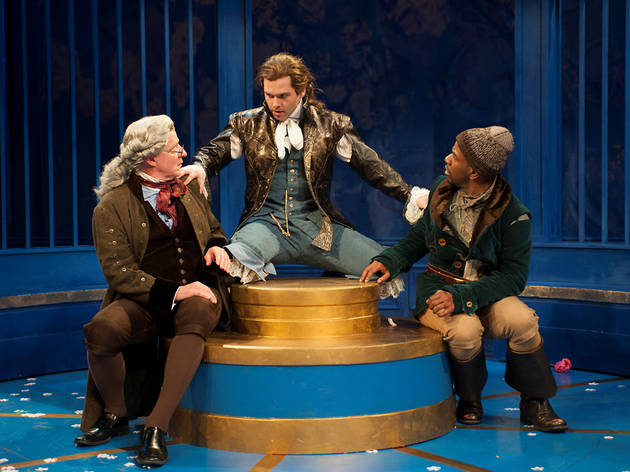 3/10
Photograph: Michael Brosilow
The Liar (Writers Theatre)The elaborate wordplay of David Ives's modern-verse take on Corneille could easily go awry if peddled too hard. Luckily, a sparkling collection of comic actors was gathered for William Brown's summer production; the likes of Jonathan Weir, Laura Rook, LaShawn Banks and, in the title role, Nate Burger approached Ives's language with just the right light touch.Original review: The Liar at Writers Theatre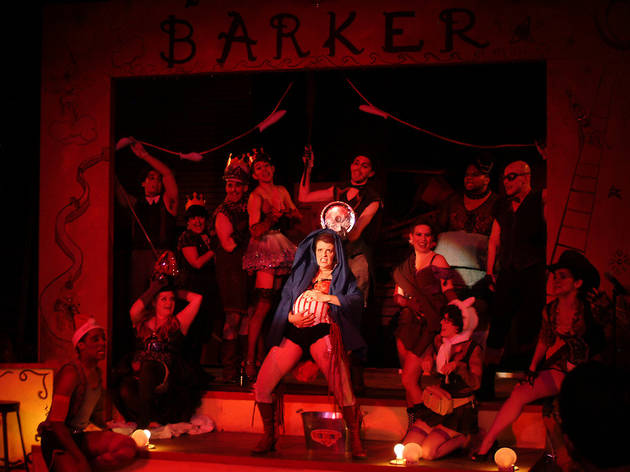 4/10
Photograph: Bridget Schultz
The Life and Death of Madam Barker (Red Tape Theater) This cabaret-style musical centered on Molly Brennan's larger-than-life Madam Barker character, with songs penned by collaborator John Fournier, and Brennan could easily have carried it as a solo act if she so desired. Yet the constellation of off-kilter Barker acolytes dreamed up by book writer Brooke Allen and brought to giddy life by performers like Cruz Gonzalez-Cadel, Derek Van Barham, Donnell Williams, Carrie Drapac and Ricky Harris only enhanced one of the most delightfully weird shows of the year.Original review: The Life and Death of Madam Barker at Red Tape Theatre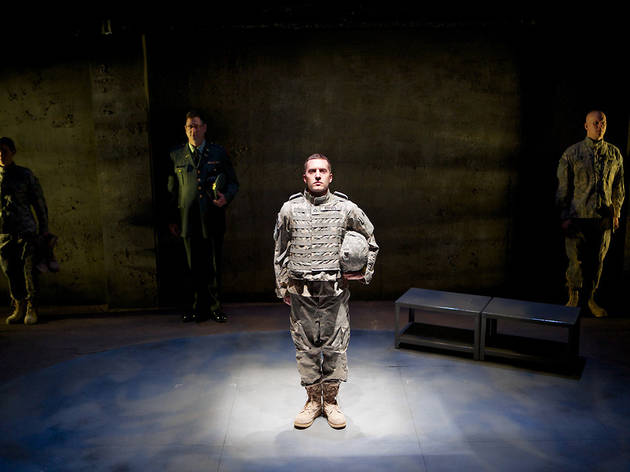 5/10
Photograph: Jonathan L. Green
9 Circles (Sideshow Theatre Company)In the wrong hands, Bill Cain's tale of an American soldier accused of a heinous war crime could read as more an argument against the war machine than a breathing dramatic story. But Andrew Goetten's fascinatingly layered central performance gave the piece life in Marti Lyons's production, withAndy Luther, Amanda Powell and Jude Roche giving strong support as his multiple interlocutors.Original review: 9 Circles at Sideshow Theatre Company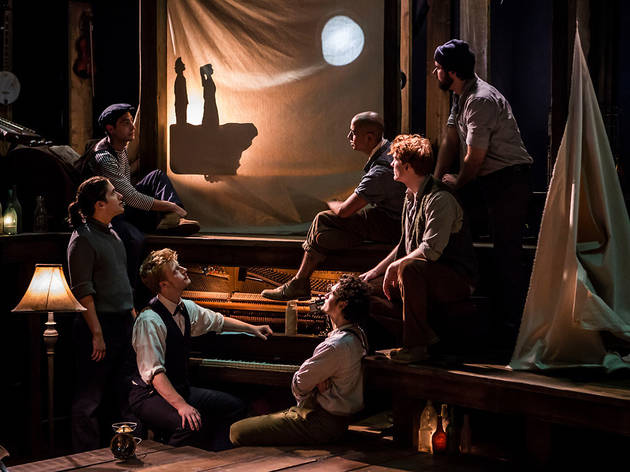 6/10
Photograph: Richard Hein
The Old Man and the Old Moon (PigPen Theatre Co. at Writers Theatre) The seven twentysomething members of theater-company-slash-folk-pop-band PigPen came together as students at Carnegie Mellon University, and their long-term, immersive bond showed in their utterly charming musical folk tale at Writers. Next up, they're doing a concert tour, which is scheduled to hit Lincoln Hall on March 28, 2014.Original review: The Old Man and the Old Moon at Writers Theatre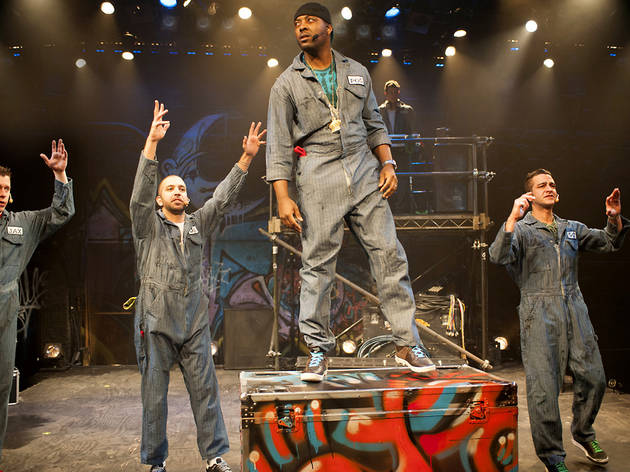 7/10
Photograph: Michael Brosilow
Othello: The Remix (Chicago Shakespeare Theater) Following on their hip-hop adaptations of Shakespeare's comedies (The Bomb-itty of Errors, Funk It Up About Nothin'), the Q Brothers, GQ and JQ, and frequent collaborators Postell Pringle and Jackson Doran proved their style could translate to tragedy as well with last spring's rich Othello. The same foursome then took on Dickens with a winning workshop production of A Q Brothers' Christmas Carol.Original review: Othello: The Remix at Chicago Shakespeare Theater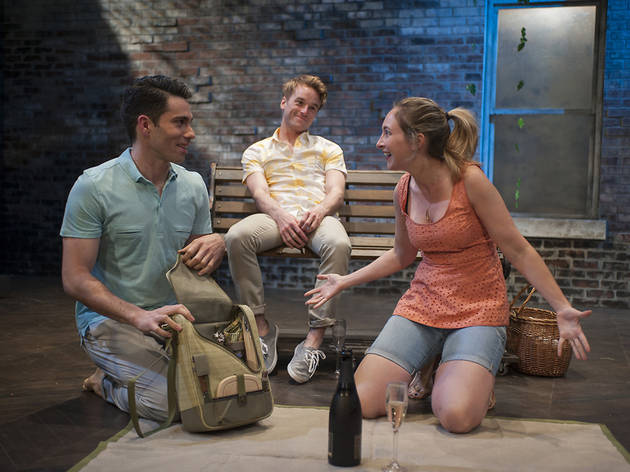 8/10
Photograph: Michael Brosilow
The Pride (About Face Theatre) Navigating subtle shifts in time in British scribe Alexi Kaye Campbell's look at gay life and relationships in the 1950s and today, Patrick Andrews, John Francisco and Jessie Fisher each turned in remarkably nuanced, utterly affecting dual performances. Benjamin Sprunger filled out the cast in three sharply delineated supporting roles.Original review: The Pride at About Face Theatre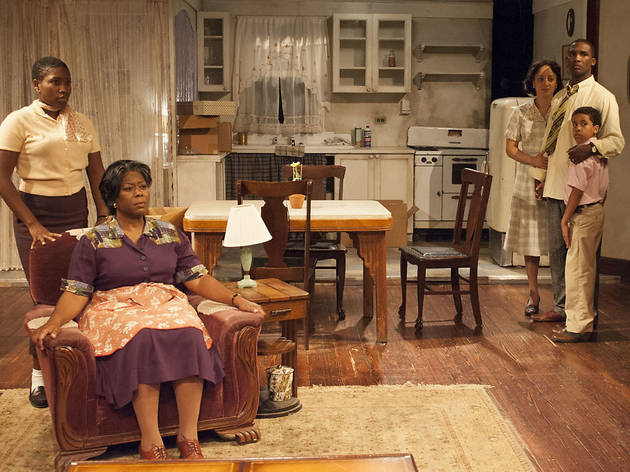 9/10
Photograph: Lara Goetsch
A Raisin in the Sun(TimeLine Theatre Company) TimeLine's staggering revival of Lorraine Hansberry's Chicago classic opened in August on the 50th anniversary of the March on Washington, and in Ron OJ Parson's intimate staging, which put us smack in the middle of the Youngers's living room, the outstanding cast-led by Mildred Marie Langford, Jerod Haynes, Toni Martin and the formidable Greta Oglesby-made Hansberry's 1959 work feel as urgent and essential as it might have in the moment of its birth.Original review: A Raisin in the Sun at TimeLine Theatre Company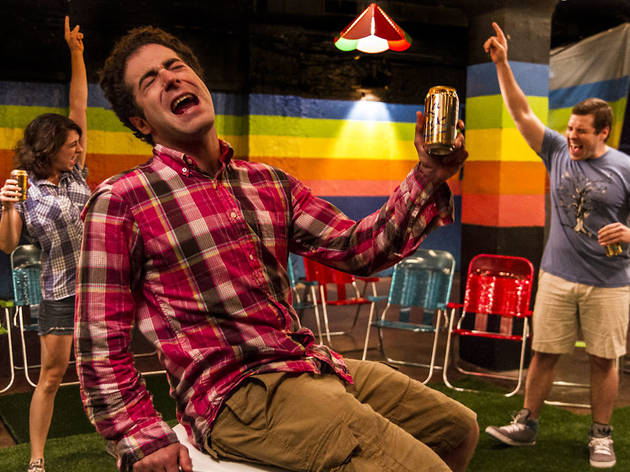 10/10
Photograph: Matthew Gregory Hollis
12 Nights (The Hypocrites) The four-member cast of Sean Graney's '80s-esque Shakespeare distillation didn't just essay multiple characters with joyful aplomb. Tien Doman, Christine Stulik, Zeke Sulkes and Jeff Trainor also collaborated on the text and collectively designed the production's whole rainbow-roller-rink aesthetic. They made their waggish Illyria the place to be. Original review: 12 Nights at the Hypocrites
Constraining the best of Chicago theater to ten best plays feels too limiting in a high-quality year like 2013. Since Chicago's stages have a long-held reverence for ensemble work (influenced by the Steppenwolf model), it seems fitting to recognize the collective strengths displayed by these ten top-notch casts, presented in alphabetical order.
RECOMMENDED: Full list of the best of 2013