Heads up! We're working hard to be accurate – but these are unusual times, so please always check before heading out.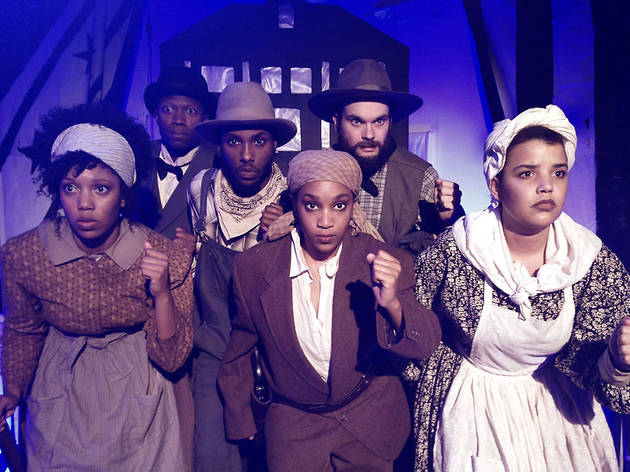 1/10
Photograph: Brittany Barnes
10. Harry & the Thief (Pavement Group) Sigrid Gilmer's intelligently outrageous new comedy reimagined Harriet Tubman as something unique: an actual human being. Gilmer's satire, somehow irreverent but respectful all at once, sent a present-day African-American woman (the thief of the title) back in time to funnel modern arms to the Underground Railroad and change the course of history. The resulting mish-mash of pop-cult parody and historical revisionism was a delivery system for a valid new perspective on history and the way we enshrine our canonized heroes. Director Krissy Vanderwarker and Pavement Group's full-tilt cast embraced the play's every astute angle.Original review: Harry & the Thief at Pavement Group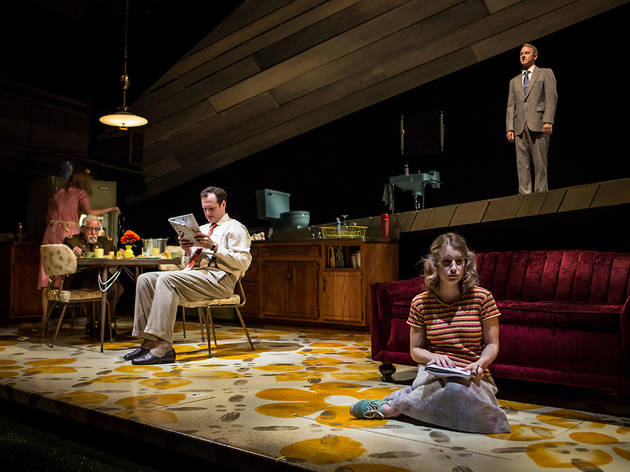 2/10
Photograph: Liz Lauren
9. Smokefall (Goodman Theatre) Like Thornton Wilder crossed with Will Eno, I said of Noah Haidle's fanciful new work at the Goodman this fall. Haidle's plays can be overpacked with cloyingly magical signifiers (see: Vigils), and Smokefall continued that trend with its generational portrait of a family in which one member drinks paint and eats potting soil and another character, named Footnote, omnisciently fills in what the family members leave unsaid. Yet in Anne Kauffman's strong staging, for once the oddities enhanced the play's meditation on family's unstinting hold on us; the absurdisms brought me deeper into these characters rather than shutting me out. Of course, an ace ensemble featuring the likes of Mike Nussbaum and Guy Massey helped, as did Kevin Depinet's sumptous set.Original review: Smokefall at Goodman Theatre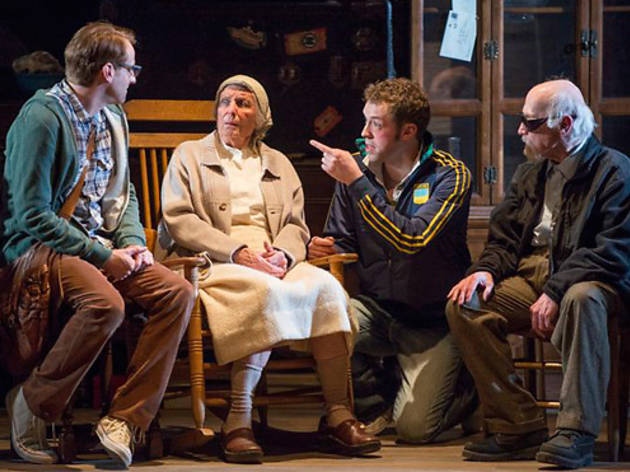 3/10
Photograph: Michael Brosilow
8. Everything Is Illuminated (Next Theatre Company) Simon Block's stage adaptation of Jonathan Safran Foer's novel, in which a character named Jonathan Safran Foer travels to the Ukraine in search of information about his pre-Holocaust family history, was luminous indeed in its U.S. premiere, helmed by Devon de Mayo. The piece's inventively shifting narrative control mirrors that of Foer's prose, with Jonathan (Brad Smith), Ukrainian guide Alex (Alex Goodrich) and Alex's grandfather (William J. Norris) alternately steering the story. Goodrich especially shined in a role that at first seemed just comic relief but mined deeply affecting territory in the play's latter half.Original review: Everything Is Illuminated at Next Theatre Company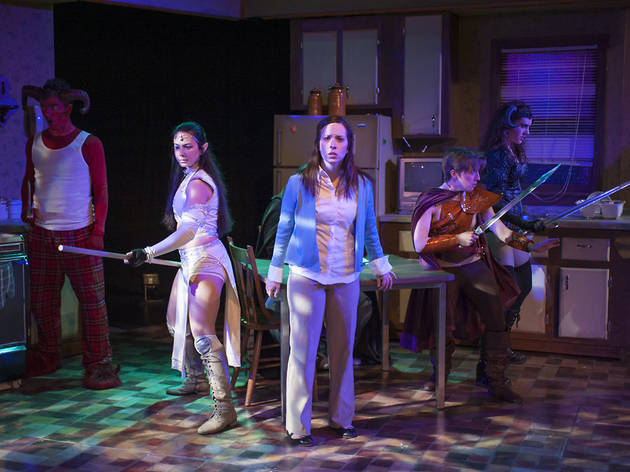 4/10
Photograph: Michael Brosilow
7. She Kills Monsters (Buzz22 Chicago) The breakout hit of this year's Steppenwolf Garage Rep, Qui Nguyen's story of a woman trying to bond with her deceased teenage sister via the younger girl's homemade role playing game rode a thin line between pop-culture parody and a sincere emotional journey. Scott Weinstein's production for the relatively new company Buzz22 perfectly matched that balance, hitting geeky comic notes while finding true depth of feeling between Agnes(Katherine Banks) and Tilly (Jessica London-Shields); it also featured some of the most ambitious, and best, storefront design work of the year.Original review: She Kills Monsters at Buzz22 Chicago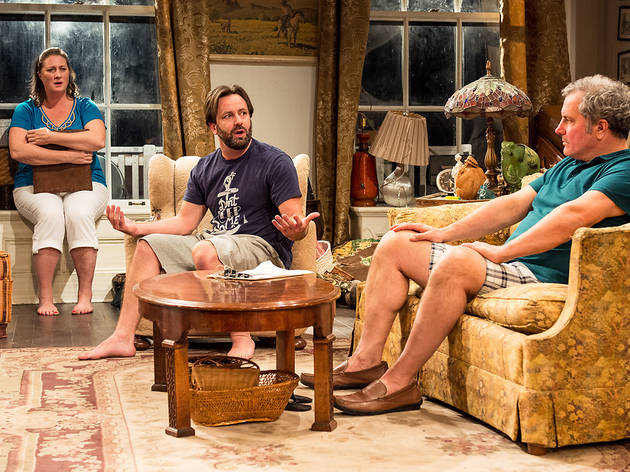 5/10
Photograph: Michael Courier
6. Appropriate (Victory Gardens Theater) Gary Griffin's staging at Victory Gardens (a co-premiere with Actors Theatre of Louisville) announced playwright Branden Jacobs-Jenkins to Chicago as an explosive new talent. Jacobs-Jenkins's tale of a fractured family reconverging on the patriarchal home following Dad's death bore some superficial markings of theatrical cliché, but with skill and caustic wit, he subverted subgenre expectations. And a crackerjack ensemble, led by Stef Tovar, Keith Kupferer and an on-fire Kirsten Fitzgerald, played the proceedings to the hilt. Original review: Appropriate at Victory Gardens Theater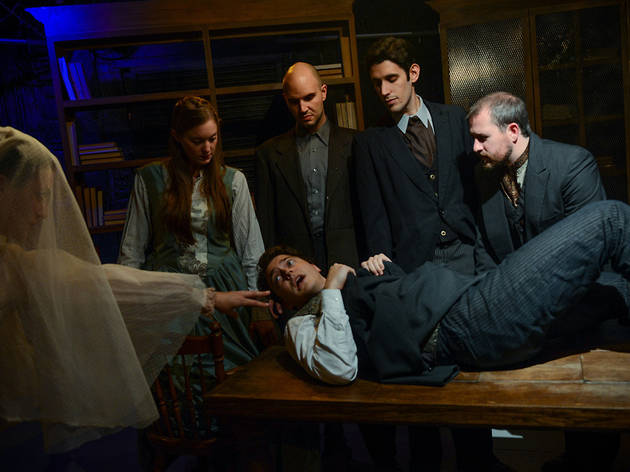 6/10
Photograph: Chris Ocken
5. Great Expectations (Strawdog Theatre Company) Strawdog's new adaptation of Dickens's novel was, well, unexpected to say the least. Great Expectations, a six-actor condensation of the book by Wisconsin-based playwright Gale Childs Daly, wasn't on my most-anticipated list. But Daly's marvelously inventive adaptation, staged by Jason W. Gerace in a manner that suggested the characters were taking their cues from Dickens's words on the page, breathed fresh theatrical life into the story of orphan Pip and his pining for the icy Estella, compellingly portrayed by Mike Tepeli and Amanda Drinkall.Original review: Great Expectations at Strawdog Theatre Company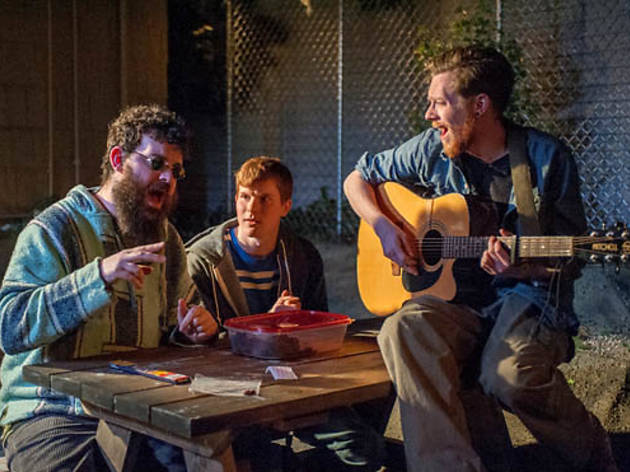 7/10
Photograph: Michael Brosilow
4. The Aliens (A Red Orchid Theatre) Annie Baker's quiet but sharply observed portrait of three disaffected young men in small-town Vermont was oh-so-ordinary but all too haunting in A Red Orchid's production. Director Shade Murray's assured cast-Steve Haggard and Brad Akin as thirtyish burnouts and Michael Finley as the teenager who comes under their thrall-approached Baker's lulls and silences with affecting aplomb. You might not be able to say what "happened" in the plot, but The Aliens seemed to have happened directly to your heart.Original review: The Aliens at A Red Orchid Theatre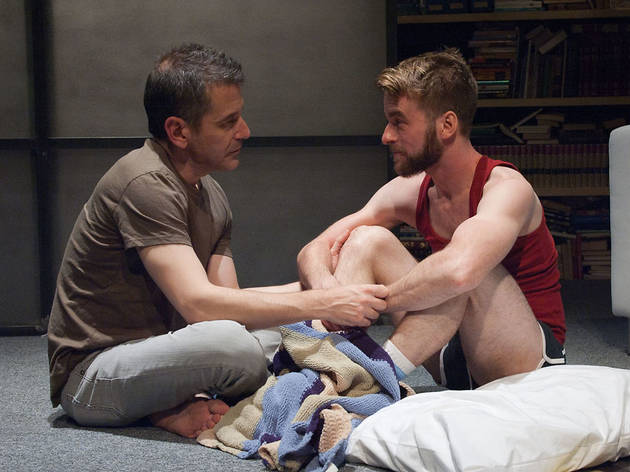 8/10
Photograph: Lara Goetsch
3. The Normal Heart (TimeLine Theater Company) What was once real-time agitprop now reads as a vital record of all-too-recent history in Nick Bowling's landmark revival of Larry Kramer's play. David Cromer, whose most recent onstage appearance in Chicago was in the Hypocrites' 2008 production of Our Town, goosed the feeling this was an event by returning to play burgeoning AIDS activist Ned Weeks, and he was surrounded by top-notch support from the likes of Mary Beth Fisher, Patrick Andrews and Alex Weisman. Fantastic design work by Brian Sidney Bembridge, Andrew Hansen and Michael Stanfill helped fill in the context for Kramer's righteous rage.Original review: The Normal Heart at TimeLine Theatre Company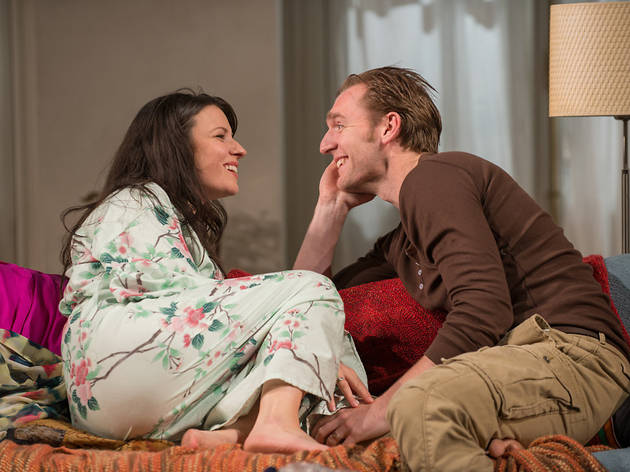 9/10
Photograph: Michael Brosilow
2. Belleville (Steppenwolf Theatre Company) Amy Herzog's reputation as a young writer to watch got plenty of burnishing in Chicago this year. Northlight staged a fine production of her 4000 Miles featuring rich performances by Mary Ann Thebus and Josh Salt as a grandmother and grandson. But it was Steppenwolf's production of Belleville, an initially placid portrait of young Americans in Paris that stealthily revealed a sense of psychological terror, that really gave us a jolt. Kate Arrington and Cliff Chamberlain expertly played the married couple whose self-deceptions unravel with snowballing speed.Original review: Belleville at Steppenwolf Theatre Company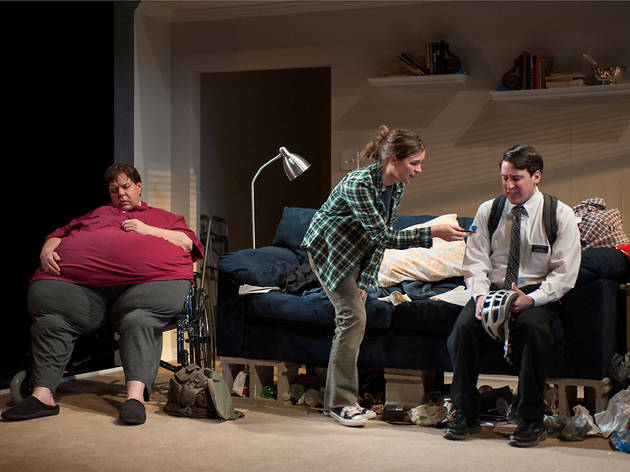 10/10
Photograph: Michael Brosilow
1. The Whale (Victory Gardens Theater) Joanie Schultz's Victory Gardens directing debut was an auspicious one, marking a pitch-perfect, stunningly realized Chicago premiere of new VG ensemble member Samuel D. Hunter's play about a morbidly obese, dying sad sack and the loved ones in his orbit. Dale Calandra gave an astonishing performance in the central role, equal parts empathetic and enraging, with outstanding support from Leah Karpel, Will Allan, Cheryl Graeff and Pat Kane.Original review: The Whale at Victory Gardens Theater
Best of 2013: The best plays in Chicago theater
From achingly felt dramas to uproarious pop-culture comedies, 2013 was a strong year for Chicago theater.
Any year's worth of Chicago theater brings with it more sheer content than even a dedicated team of theatergoers can parse. We reviewed more than 260 plays in 2013 and still missed dozens more. But while there were of course some disappointments in that number, there was more than enough excellent work to make choosing our end-of-year favorites a real challenge. It was an especially good year for new work; nine of our top ten picks were world premieres or Chicago debuts. Interestingly, it wasn't a great year for musical theater in our estimation; only a handful of the shows that earned our designation as critics' picks were musicals, and none cracked the top ten. What did? See my favorites below.
RECOMMENDED: Full list of the best of 2013