Bethany Thomas in Court Theatre's Porgy and Bess
Thomas's turn as Serena in the Gershwins' folk opera could be the actor's long-overdue game-changer.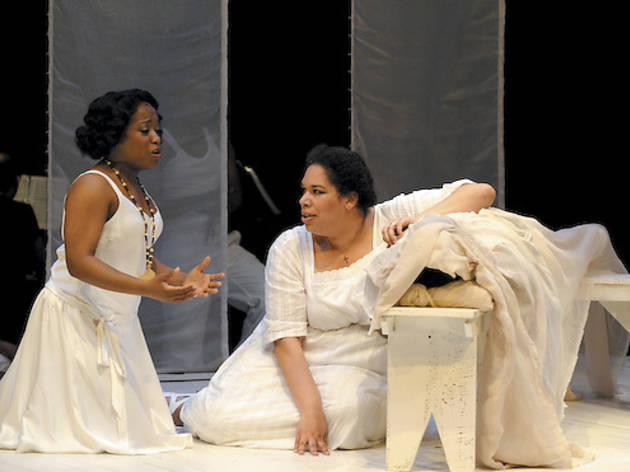 "I didn't even know the show when they called me in," Bethany Thomas says of auditioning for Court Theatre's new production of the Gershwins' 1935 folk opera Porgy and Bess. "They called me for Maria. I looked it up: old lady who sits on the porch peeling potatoes, Big Mama character. I was like, [Shrugs] okay, cool."
Thomas, 29, has been making the most of background roles for the better part of a decade, using her big, beautifully imposing features and her even bigger voice. With sharp comic timing and a powerful belt, she steals scenes with cat-burglar precision; on rock stages, she regularly sings backup for such outfits as the Uptown Sound and the Dirty Rooks.
But aside from the occasional leading role that's also a character part, such as the Witch in Porchlight's 2010 Into the Woods, she's rarely gotten prime placement in plays. "Typically I think Bethany, in other productions, is the big voice and the big presence in the back row," says Court's artistic director, Charles Newell, who's working with Thomas for the first time. "I thought, no, we really need to showcase her and highlight her."
Newell and his music director Doug Peck—reteaming for Porgy after their transcendent 2008 Court production of Caroline, or Change—initially cast Thomas as Maria. But when the actor originally cast in the show's second lead, the rigorously devout Serena, had to drop out, Thomas got a shot at what might be her long-overdue game-changer.
"Doug and I were thinking about 'My Man's Gone Now,' the Serena anthem," Newell says. "We were inspired by Nina Simone's recording, which is, you know, down the octave, maybe even further than an octave." In Thomas's new audition for Serena, Newell and Peck asked her to start down an octave, then bring it back up at a crucial moment.
"I mean, she has I don't know how many octaves of range—it was mind-blowing how well she was able to turn from the Nina Simone alto version, if you will, into the high operatic soprano," Newell says. "Doug and I just went, 'That's it, that's how we want to do it, will you please do it?' "
Over recent months, Thomas has sung "My Man's Gone Now" as a teaser of sorts at Court fund-raisers and galas—and she's gotten people talking, helping build the kind of buzz that allowed Court to announce a two-week extension even before the first preview.
Chatting in Court's lobby on a break from rehearsal last week, Thomas deflects the praise. "I still have a day job, I'm still poor," says the actor, who shares a Lincoln Square apartment with three roommates.
A native of Kenosha, Wisconsin, where she grew up singing in choirs and doing school musicals, Thomas dropped out of Columbia College a year into her studies, after getting cast in Porchlight's 2002 Children of Eden. "I was also working full time; I couldn't fit everything together, so I was like, I guess I'll just take a semester off of school. And then just never really went back," she says. "I still regret it a lot, but at the same time I don't have any debt. And I probably would be in exactly the same spot."
Her day job selling subscriptions at Broadway in Chicago is accommodating daytime rehearsals for Porgy, but once the show opens she'll be back to five days a week there. Asked what she has lined up next, Thomas laughs: "Nooooooothing."
Newell suggests that won't last long. "People are going to see her in this, and then people are going to be choosing projects for her. As they should," he says. "I know that's what I'm thinking about."
Porgy and Bess is in previews, opening Saturday 21.