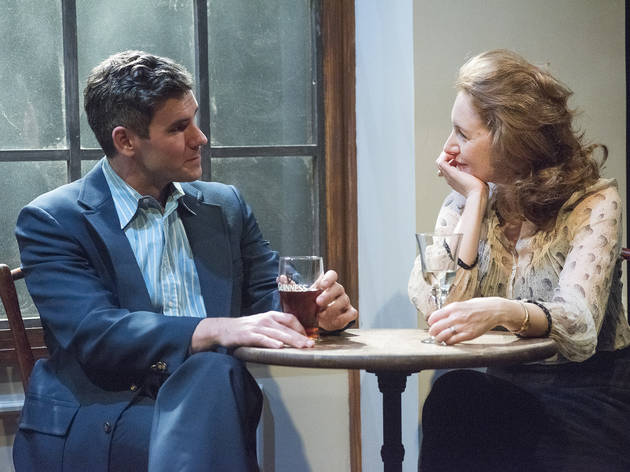 1/10
Photograph: Dean La Prairie
Betrayal at Raven Theatre
2/10
Photograph: Dean La Prairie
Betrayal at Raven Theatre
3/10
Photograph: Dean La Prairie
Betrayal at Raven Theatre
4/10
Photograph: Dean La Prairie
Betrayal at Raven Theatre
5/10
Photograph: Dean La Prairie
Betrayal at Raven Theatre
6/10
Photograph: Dean La Prairie
Betrayal at Raven Theatre
7/10
Photograph: Dean La Prairie
Betrayal at Raven Theatre
8/10
Photograph: Dean La Prairie
Betrayal at Raven Theatre
9/10
Photograph: Dean La Prairie
Betrayal at Raven Theatre
10/10
Photograph: Dean La Prairie
Betrayal at Raven Theatre
Harold Pinter's classic play has too much fizzle, not enough spark in Raven's revival.
How fortunate that Raven Theater's production of Betrayal, written by Harold Pinter when the future Nobel Prize winner was at the height of his ominous powers, comes so soon after A Red Orchid Theatre's production of Pinter's first play, The Room. Their runs even overlap for a few weeks; audiences who have the time and money to see both plays should so.
In The Room, first produced in 1957, you see a young artist discovering the gunpowder promise of his own gifts. The Room is explosive, for sure, but its explosions, while noisy, don't leave much of a mark. In Betrayal, which was written more than two decades later, in 1978, you see how the crucible of time and experience had forged in Pinter a much greater degree of craft. In 1957, all he had was gunpowder. By 1978, he knew how to build a bomb.
Based on Pinter's, shall we say, "relevant life experiences," Betrayal traces the arc of a seven-year affair carried out between Emma (Abigail Boucher) and Jerry (Sam Guinan-Nyhart), who happens to be her husband Robert's best friend. The trick of the play is that it traces that arc in reverse. The play begins in 1977, two years after the affair ended, when Emma and Robert (Keith Neagle) are divorcing, and moves backwards (for the most part) through time to 1968, when the affair first began. Along the way, all three characters perpetrate so many different kinds of betrayal that it's surprising the title of the play counts only one.
Director Lauren Shouse stages the play alley-style, with large windows on either end of scenic designer Lauren Nigri's set. The effect is that of a clear, well-lit sun room, a feeling that permeates throughout the production—to its benefit in some respects, but ultimately to its detriment. The play is well-staged, well-paced (for the most part), with solid acting and proper attention given to Pinter's trademark pauses, but it stays away from the shadows, leaving the characters' murky depths almost entirely unplumbed.
As Emma, Boucher strikes the necessary balance between emotion and restraint (a condition known as "being English"), and it's her scenes, her moments that are the play's most striking. Guinan-Nyhart brings Jerry's requisite shallow charm, but not much more. To be fair to him, though, Jerry is a complete drip. What it is that Emma sees in him is the play's most enduring mystery.
It's Neagle, however, who really sticks out. His Robert isn't so much a fully-realized character as he is a jacked-up woodpecker. He jealously hammers away at Jerry and Emma so unsubtly that it calls the plot itself into question: that Robert's obvious knowledge of the affair escapes Jerry is a tad unbelievable. (The play's brisk, 75-minute running time can also be largely attributed to the speed of Neagle's line delivery.) In a well-crafted production that lacks explosiveness, his performance is a bit of the reverse: the right amount of gunpowder, but too crude a bomb.
Raven Theatre. By Harold Pinter. Directed by Lauren Shouse. With Abigail Boucher, Sam Guinan-Nyhart, Keith Neagle, Richard Cotovsky. Running time: 1hr 15mins; no intermission.