1/7
Photograph: Rick Aguilar
Bette, Live at the Continental Baths
2/7
Photograph: Rick Aguilar
Bette, Live at the Continental Baths
3/7
Photograph: Rick Aguilar
Bette, Live at the Continental Baths
4/7
Photograph: Rick Aguilar
Bette, Live at the Continental Baths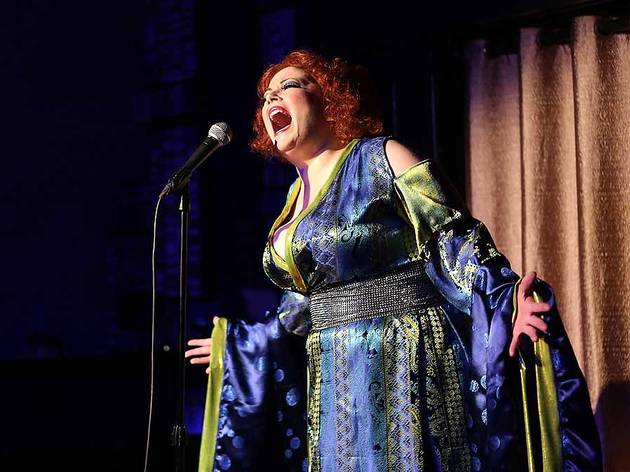 5/7
Photograph: Rick Aguilar
Bette, Live at the Continental Baths
6/7
Photograph: Rick Aguilar
Bette, Live at the Continental Baths
7/7
Photograph: Rick Aguilar
Bette, Live at the Continental Baths
Hell in a Handbag sets a time machine for Bette Midler's bathhouse days.
In the tradition of singer Rufus Wainwright's 2006 tribute concert Rufus Does Judy at Carnegie Hall or New York actor Leslie Kritzer's cabaret act that same year, Leslie Kritzer is Patti LuPone at Les Mouches, Hell in a Handbag's Caitlin Jackson attempts to channel a legendary early diva performance. Like LuPone's string of shows at NYC gay club Les Mouches in 1980, Jackson's source material comes with a decidedly queer bent: Bette Midler began cultivating a loyal gay following with her performances for the towel-clad men of the Continental Baths in 1970, two years before the release of her first album, The Divine Miss M.
In a way, recreating (or really approximating—we'll get to that) Midler's bathhouse days is an act that parallels the nostalgia that was built in to the performer's own set lists 45 years ago. Midler's always shown an affinity for earlier musical eras, pulling from both the big-band/swing tradition and the dirty blues. Both are represented here, with an Andrews Sisters–esque rendition of "Chattanooga Choo Choo" and a cover of Bessie Smith's bawdy "Empty Bed Blues."
Jackson mimics Midler's distinct sound impressively, as well as capturing her signature dichotomy of brassiness and vulnerability. Some of the between-song banter is verifiably vérité: A handful of videos of Midler's Continental shows are available on YouTube, and Jackson and director Christopher Pazdernik have taken some passages word-for-word.
The pair of backup twinks clad only in hand towels, played by TJ Crawford and Will Wilhelm, are on the other hand an eye-candy invention. But their not unwelcome presence, along with a few interjections from accompanist Jeremy Ramey as Barry Manilow, help take some weight off of Jackson's shoulders (or perhaps bosom?). This is the kind of show that's well suited for Mary's Attic, newly remodeled to allow for much more seating. It feels just a bit slight, with the intermission in the 14-song set list likely there only to boost bar sales. But as a light summer entertainment, it's a pleasant taste of gay nostalgia.
Hell in a Handbag Productions at Mary's Attic. Directed by Christopher Pazdernik. With Caitlin Jackson, TJ Crawford, Will Wilhelm. Running time: 1hr 15mins; one intermission.