Big Fish at Oriental Theatre | Theater review
The new musical based on the Daniel Wallace novel and Tim Burton film isn't a splash hit yet, but could be a good catch by the time it hits Broadway this fall.
1/6
Photograph: Paul Kolnik
Big Fish at Oriental Theatre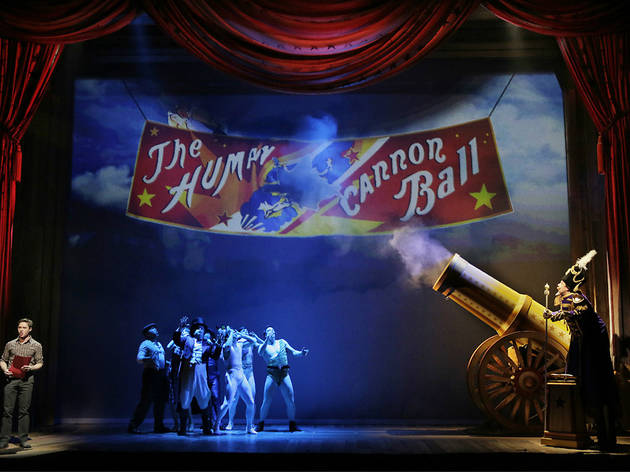 2/6
Photograph: Paul Kolnik
Big Fish at Oriental Theatre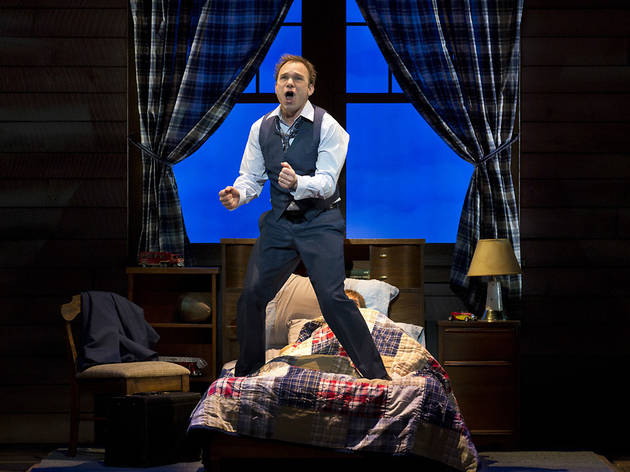 3/6
Photograph: Paul Kolnik
Norbert Leo Butz in Big Fish at Oriental Theatre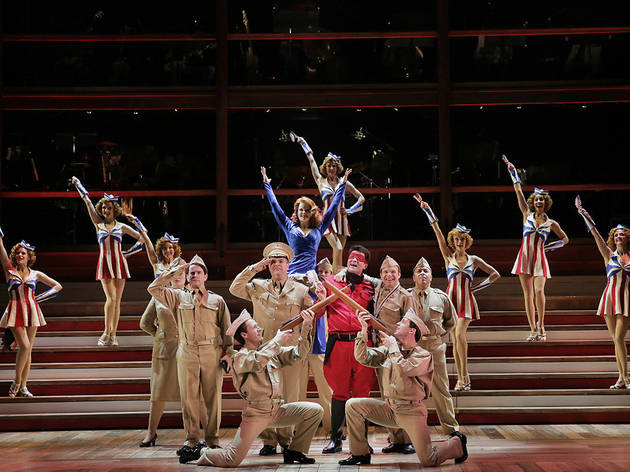 4/6
Photograph: Paul Kolnik
Big Fish at Oriental Theatre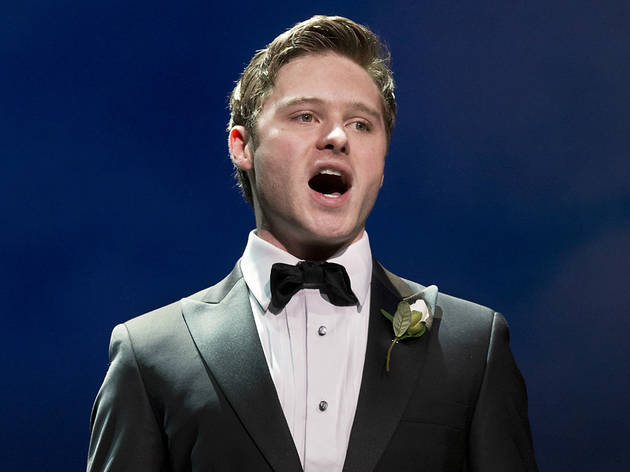 5/6
Photograph: Paul Kolnik
Bobby Steggert in Big Fish at Oriental Theatre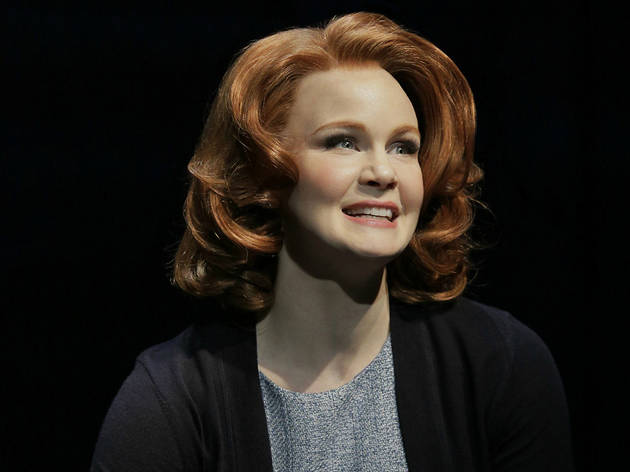 6/6
Photograph: Paul Kolnik
Kate Baldwin in Big Fish at Oriental Theatre
A young man on the verge of becoming a father casts about for the truth of his own dad, a tall-tale telling traveling salesman who's caught on death's hook—but asked to fess up about his fishy stories, dad doesn't want to take the bait.
If you think I'm leaning hard on soggy fishing metaphors, wait until you hear Andrew Lippa's waterlogged lyrics for Big Fish, which are practically swimming with references to rivers, rods and reels. Lippa's score is pleasant, if a little juiceless, but his lyrics tend to take simple concepts and bland rhymes and pulverize them via repetition.
I've admired enough of Lippa's previous work to suspect those problems are fixable before Big Fish's Broadway debut, currently scheduled to begin performances in September. So, too, are the issues with the book by John August, who also adapted Daniel Wallace's 1998 novel into a screenplay for Tim Burton's 2003 film.
Onstage, August needs to better establish early-on the dynamic of resentment between storyteller Edward Bloom (Norbert Leo Butz) and son Will (Bobby Steggert). As is, the brief top-of-show snippet of young Will (alternating child actors Anthony Pierini and Zachary Unger) challenging his dad's bedtime story transitions directly into adult Will fuming at Edward for showing off at Will's wedding, misguidedly tipping the audience toward Team Edward from the get-go.
But the creators have a strong underlying plot that seems to lend itself to musicalization, if they can just slightly better differentiate Edward's fancies from Will's real world—the onstage blurring is occasionally well-justified but at other times jarring, as when Will's wife Josephine (an underused Krystal Joy Brown) seems to be conversing with the mermaid Edward conjures up.
And director-choreographer Susan Stroman (The Producers) might be able to get out of the way of the story just a bit; here her fanciful Stromagic seems a tad intrusive in places, as when a neat living-forest reveal in teenage Edward's encounter with a woodland witch stretches into a protracted, momentum-killing dance sequence.
Still, judging by audience reports from two and a half weeks of previews before the Chicago opening, the show is already greatly improved (that's what out-of-town tryouts are for, right?). It has three strong assets in its leads—loose-limbed charmer and two-time Tony winner Butz, up-and-comer Steggert and ravishing Northwestern alum Kate Baldwin (who deserves more to do as Edward's wife and Will's mother). If they spend the summer on some retooling, the Big Fish team could reel in something great this fall.