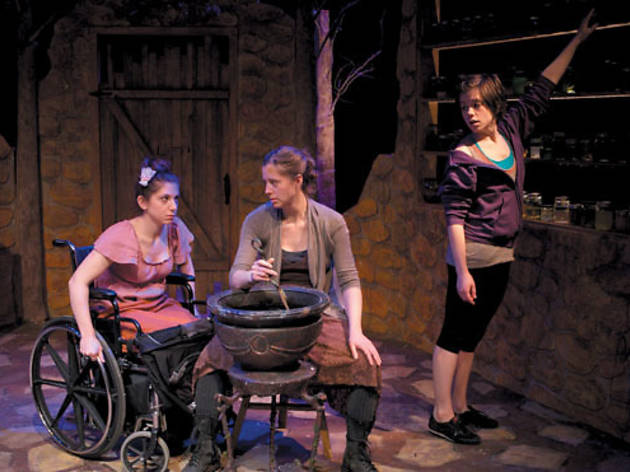 Brewed at Tympanic Theatre Company and the Ruckus | Theater review
Scott T. Barsotti heightens family drama in a grim portrait of a sibling sextet.
Scott T. Barsotti's new play, Brewed, in a coproduction by the Ruckus and Tympanic Theatre Company, could make you feel better about your family holidays. When Roxette (Susan Myburgh) brings her girlfriend, Lee (Elise Mayfield), home to meet her sisters, it throws off the family's delicate balance with catastrophic results. The setup seems familiar, but we're soon introduced to a familial fight club, bear traps and a cauldron that the sisters can't under any circumstances stop stirring. Haunted by past trauma and resentment, the six sisters fight bitterly over their burden while holding their family together. Brewed creates a thoroughly twisted fantasy world, but the conflict is all in the relationships, grounding this dark and gritty take on gender roles, fairy tales and family drama.
Erin Myers's Paulette immediately captures our attention with a gleeful, gruesome monologue, revealing a boiling intensity that seeps out in all directions. Lee (a bubbly Mayfield) provides a welcome ray of light, while Stevie Chaddock Lambert's Babette is a ticking time bomb that adds another layer of danger and unpredictability. Dana Black is also strong as Juliette, a parental figure barely maintaining order with both compassion and brute strength. The physical violence is effective, even grisly, and no one comes out unscathed. But the play works beyond its shock value because the emotional struggle is just as vicious as the physical violence, making Brewed's heightened world all the more relatable.
Best selling Time Out Offers