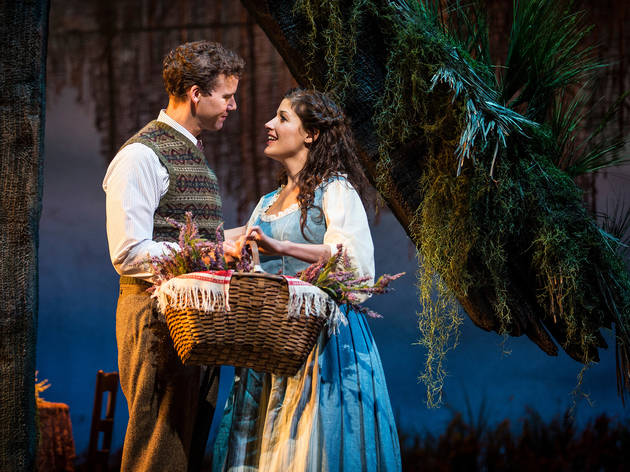 1/20
Photograph: Liz Lauren
Kevin Earley (Tommy Albright) and Jennie Sophia (Fiona MacLaren) in Brigadoon at the Goodman Theatre
2/20
Photograph: Liz Lauren
Jordan Brown (Charlie Dalrymple) and Olivia Renteria (Jean MacLaren) in Brigadoon at the Goodman Theatre
3/20
Photograph: Liz Lauren
Rod Thomas (Jeff Douglas) and Kevin Earley (Tommy Albright) in Brigadoon at the Goodman Theatre
4/20
Photograph: Liz Lauren
Jamy Meek (Ensemble), Maggie Portman (Meg Brockie) and Richard Strimer (Ensemble) in Brigadoon at the Goodman Theatre
5/20
Photograph: Liz Lauren
Katie Spelman (Maggie Anderson), Olivia Renteria (Jean MacLaren), Jennie Sophia (Fiona MacLaren) and Maggie Portman (Meg Brockie) in Brigadoon at the Goodman Theatre
6/20
Photograph: Liz Lauren
Rod Thomas (Jeff Douglas) and Maggie Portman (Meg Brockie) in Brigadoon at the Goodman Theatre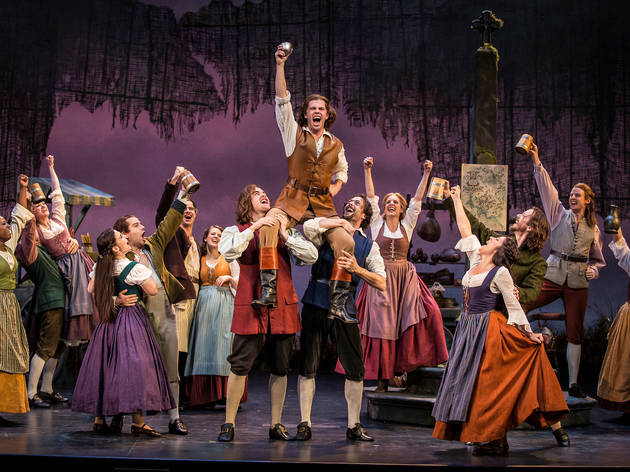 7/20
Photograph: Liz Lauren
Brigadoon at the Goodman Theatre
8/20
Photograph: Liz Lauren
Olivia Renteria (Jane MacLaren) and Jennie Sophia (Fiona MacLaren) in Brigadoon at the Goodman Theatre
9/20
Photograph: Liz Lauren
Olivia Renteria (Jean MacLaren) in Brigadoon at the Goodman Theatre
10/20
Photograph: Liz Lauren
Rod Thomas (Jeff Douglas) in Brigadoon at the Goodman Theatre
11/20
Photograph: Liz Lauren
Brigadoon at the Goodman Theatre
12/20
Photograph: Liz Lauren
Olivia Renteria (Jean MacLaren), Roger Mueller (Mr. Lundie) and Jordan Brown (Charlie Dalrymple) in Brigadoon at the Goodman Theatre
13/20
Photograph: Liz Lauren
Malachi Squires (Ensemble), Rhett Guter (Harry Beaton), William Angulo (Ensemble) and Jamy Meek (Ensemble) in Brigadoon at the Goodman Theatre
14/20
Photograph: Liz Lauren
Malachi Squires (Ensemble), Rhett Guter (Harry Beaton) and Jamy Meek (Ensemble) in Brigadoon at the Goodman Theatre
15/20
Photograph: Liz Lauren
Roger Mueller (Mr. Lundie) in Brigadoon at the Goodman Theatre
16/20
Photograph: Liz Lauren
Rod Thomas (Jeff Douglas) and Maggie Portman (Meg Brockie) in Brigadoon at the Goodman Theatre
17/20
Photograph: Liz Lauren
Emma Rosenthal (Ensemble), Jordan Brown (Charlie Dalrymple) and Courtney Cerny (Ensemble) in Brigadoon at the Goodman Theatre
18/20
Photograph: Liz Lauren
Richard Strimer (Ensemble), William Angulo (Ensemble), Michael Aaron Lindner (Angus MacGuffie) and Drew Nellessen (Ensemble) in Brigadoon at the Goodman Theatre
19/20
Photograph: Liz Lauren
Brigadoon at the Goodman Theatre
20/20
Photograph: Liz Lauren
Kevin Earley (Tommy Albright) and the company of Brigadoon at the Goodman Theatre
Goodman Theatre. Book and lyrics by Alan Jay Lerner. Music by Frederick Loewe. Revised book by Brian Hill. Directed by Rachel Rockwell. With ensemble cast. Running time: 2hrs 20mins; one intermission.

Theater review by Kris Vire

The village in the Scottish Highlands for which Lerner and Loewe's 1947 musical is named is, as kindly town leader Mr. Lundie (Roger Mueller) puts it, a miracle: Thanks to the fervent prayers and personal sacrifice of a beloved minister who worried over the bloody clashes of 18th-century Scotland, Brigadoon escaped from time. Now it appears just one day every 100 years; for Brigadoon's residents, just two days have passed when two American tourists, World War II veterans Tommy Albright (Kevin Earley) and Jeff Douglas (Rod Thomas) stumble upon it in 1946 on a hunting trip.

The outsiders are warily welcomed by the townspeople, who are preparing to celebrate the wedding of Jean MacLaren (Olivia Renteria) and Charlie Dalrymple (Jordan Brown). But it's Jean's single sister, Fiona (Jennie Sophia), who catches Tommy's eye—a problem both because he's about to get married back home to a woman he's not sure he really loves, and because of the whole existing-one-day-a-century thing.

Brigadoon the musical seems to reappear in Chicago more like once a decade (it's been seen in 1996 at the Candlelight Dinner Playhouse, 2005 at the Marriott Theatre and three years ago at Light Opera Works), but what most distinguishes the Goodman's new production is its revisions in two key areas. Though Frederick Loewe's lushly romantic score holds up gorgeously, Alan Jay Lerner's book—written from scratch, rather than adapted from another source, like Rodgers and Hammerstein's Oklahoma! or Lerner and Loewe's later My Fair Lady—is often pegged in modern productions as corny and dated. The Lerner estate encouraged director Rachel Rockwell and writer Brian Hill to freshen up the book. And unlike most revivals which tend to attempt faithful recreations of Agnes de Mille's original choreography, Rockwell has created entirely new dances.

Rockwell has crafted a dance vocabulary—and like many of this era's musicals, Brigadoon is a very dance-intensive show—that seems to marry classical ballet and traditional Scots dance in an athletic, enormously appealing idiom that's carried out with verve by her large ensemble. The score is beautifully rendered by the cast and a 13-piece orchestra, under the direction of Roberta Duchak. Earley's conflicted Tommy and Sophia's winsome, practical Fiona are well-matched in duets like "The Heather on the Hill" and "Almost Like Being in Love."

There are plenty of other bright spots in the cast, including Brown's enthusiastically moony Charlie (whose pre-wedding serenade to Jean, "Come to Me, Bend to Me," is laced with lilting anticipation) and Maggie Portman's comically eager man-eater Meg Brockie (a part she also played in Light Opera Works' production). Thomas is serviceably cynical in the non-singing second lead, trying to snap his pal out of any fantasies of running into Fiona's arms and away from his problems at home.

But whatever Hill's edits to Lerner's book, he hasn't fully addressed its problems. For one, the only conflict in this almost overly romanticized little town comes from Harry Beaton (Rhett Guter), who feels jilted by Jean. The show feints toward an Oklahoma!-style confrontation at the wedding, but instead, Harry petulantly announces he's running away from Brigadoon—a clear danger, since if anyone leaves the town's spell will be broken, but still a rather melodramatically silly engine for the plot.

And I suspect Hill's changes introduce a new problem. The way Tommy now talks to Jeff about his fiancée Jane early in the show, before they come upon Brigadoon, suggests that he was very much in love with her up until the moment he suddenly wasn't, and is planning on going through with the wedding only because that's what people do. When we finally meet Jane (Emily Rohm) after Tommy's returned to New York, she comes across as perfectly inviting. Which makes it a bit harder to root for Tommy's one-day love affair with Fiona to get an extension; who's to say he won't be the one itching to run away from Brigadoon just a few centuries later?