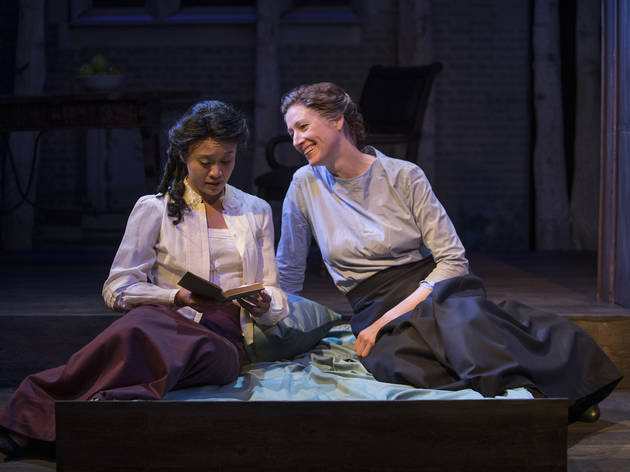 1/8
Photograph: Michael Brosilow
2/8
Photograph: Michael Brosilow
3/8
Photograph: Michael Brosilow
4/8
Photograph: Michael Brosilow
5/8
Photograph: Michael Brosilow
6/8
Photograph: Michael Brosilow
7/8
Photograph: Michael Brosilow
8/8
Photograph: Michael Brosilow
A murderers' row of acting talent slays this slightly confusing story of two pioneering queer feminists.
It's not 10 seconds into Bryna Turner's Bull in a China Shop that actress Kelli Simpkins starts dropping F-bombs. Even though the play is, ostensibly, a historical biopic about the lives of pioneering women's educator Mary Woolley (played by Simpkins) and her partner, writer Jeannette Marks (played by Emjoy Gavino), it's immediately clear that Turner is not interested in any Masterpiece Theatre-style gauziness or so-called respectability.
As turns out, those contemporary stylings are a great fit for the story of two rabble-rousing, envelope-shredding feminists. And while the script is mostly unsubtle—a professional hazard when writing about outspoken people—the play's aggressively modern vernacular is well served by the bright, dapper tone that director Keira Fromm brings to the staging and the design. (William Boles's mishmash set and Claire Chrzan's ambrosial lights are both superb.)
Despite some flaws, Bull in a China Shop is a helluva good hang. A murderers' row of a cast, led by the fantastic pair of Simpkins and Gavino, certainly helps.
As president of Mount Holyoke College from 1900 to 1937, Mary Woolley revolutionized the school, turning it from an institution that churned out wives to one that churned out, well, women. As such, the play's early scenes see Woolley brusquely causing all sorts of sturm and drang, the resistance to which is embodied by the faculty dean (played by Mary Beth Fisher as a study in passive aggression).
But as time passes, Woolley's fame turns her into an incrementalist, while Marks stays as fervent a revolutionary as ever. Marks also befriends Felicity, a philosophy professor played by the very funny Adithi Chandrashekar, and discovers that her and Woolley are being shipped by a number of their queer students, especially the precocious Pearl (the effervescent Aurora Adachi-Winter).
The play charts the Marks and Woolley's feisty, up-and-down relationship over the course of almost 40 years— and at only 80 minutes, it rarely slows down. But one such moment when it does pause for breath demonstrates the benefits of allowing actresses like Simpkins and Gavino room to work. It does so by giving them the chance to play Woolley and Marks not as important historical figures, but simply as two queer women lying in bed, one ruminating on her past loves, the other on her lack thereof.
That scene is the play's high point, but it's also the moment when the script's timey-wimey approach to biography finally catches up with it. You suddenly start to wonder how much time has passed between each scene—and what's been skipped over in the interim. It's not that the play is asking you to keep up, exactly, it's that until now you didn't know you needed to.
Many are the shows that use dates and super titles when they aren't necessary. Bull in a China Shop is one of the few cases that's the opposite. In giving its audience a slighter better idea of when they are, it could let them better focus on the who—namely, a pair of remarkable women whose stories are finally being told.
About Face Theatre at Theater Wit. Written by Bryna Turner. Directed by Keira Fromm. With Kelli Simpkins, Emjoy Gavino, Aurora Adachi-Winter, Adithi Chandrashekar, and Mary Beth Fisher. Running time: 80mins; no intermission.