Center on Halsted 's The Little Dog Laughed creates a controversy
Eric Rosen's spin on Douglas Carter Beane's The Little Dog Laughed opens at the About Face Theater in Chicago.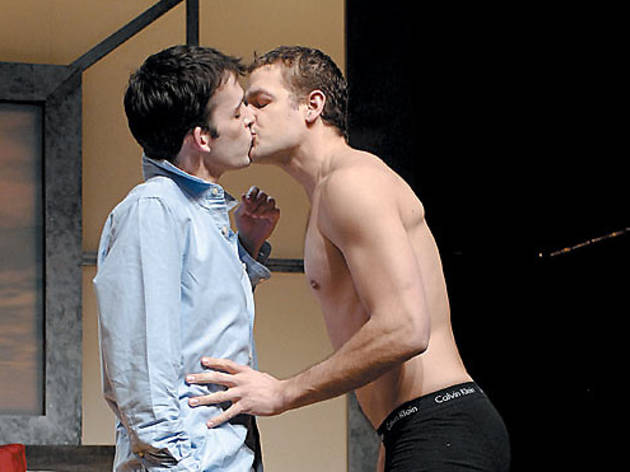 This story contains an addendum.
Everybody just keep your pants on.
Or at least your underwear. That's the direction Eric Rosen gave the cast of Douglas Carter Beane's The Little Dog Laughed, which had its Chicago premiere last month. Beane was in town for About Face Theatre's opening of his comedy about a rising Hollywood hunk trying to stay in the closet, and when he discovered that the nudity he'd written into the stage direction of a vital scene had been excised, he was not amused.
"It's a crucial moment in the play. These two characters have been denying they're gay for pages and pages," Beane says. In the scene, said actor and the rent boy he ordered the night before strip down and get ready to pounce one another just as the actor's piranha agent, Diane, interrupts them and immediately begins damage control on the client she desperately needs to be hetero.
When Little Dog opened in New York a year ago, the character of Diane was hailed by critics as the juiciest female comic role that had been written for the stage in ages, an embodiment of Hollywood's cannibalistic PR practices. "[Removing the nudity] changes everything about Diane," Beane says. "It makes her less ferocious. If she's willing to break up something when both of them are naked, she'll do anything."
Last week Rosen issued a public apology: "I had made the directorial decision... and members of Actors Equity were therefore not notified that they would be required to appear nude when we auditioned the play. Though, Mr. Beane requested after seeing the production that the staging occur with nudity, we are unfortunately not able."
The statement implies Actors Equity is the roadblock. But Equity guidelines state that if actors and director agree to include nudity after a contract is signed, it's no sweat. (And according to Beane, he requested the staging occur with nudity before he saw it, not after.)
After he issued his written statement, Rosen declined our request for an interview. Beane claims his repeated attempts to have the nudity reinserted were met first by glibness from Rosen, then a total lack of contact. Only when lawyers got involved and Dramatists Play Service threatened a shutdown did Rosen make partial amends, keeping the Calvin Kleins but at least publicly acknowledging the mess.
The entire scenario could be on the syllabus of Irony 101, considering that Little Dog, a satire about an inside operation to cover up gay sex, now does that very thing. Beane's play isn't Moliere, but it's a delicious skewering of American mores regarding sexuality, the hypocrisy within a self-proclaimed "liberal" entertainment community, and, in the play's now most-ironic subplot, the veto of a playwright's wishes when he puts his work in the hands of a producer over whom he has no control.
Beane says a number of marquee-name screen actors were interested in the role of the closeted star last year when the show transferred from Second Stage Theatre to Broadway, but none of them were willing to get naked and kneel in front of another naked man's crotch, for which the stage direction calls. ("If it weren't for stage directions," Beane notes, "Hedda Gabbler would still be with us today.") Arguably, that production, which closed in about three profitless months, might have had a longer Broadway run if Beane had compromised and allowed a recognizable screen star to play the scene in briefs, as Rosen's actors do.
That's what's strangest about About Face's choice to ban the nudity; the non-profit company has considerably less at stake commercially than the Broadway investors did. Even if the troupe didn't have a built-in subscriber base and board of directors to buffer it against this kind of risk (to say nothing of a dream location for this show's target audience, the Center on Halsted in north Boystown), About Face has often identified—even congratulated—itself as the nation's premiere gay theater.
Yet it's hard to pat "progress" on the back when it makes such miscalculated gestures to a potential mainstream audience, one whose tastes it either underestimates or refuses to challenge. We're at the end of an era in which the most prominent representation of queers in media was via straight actors giving interviews about what it's like to play gay, reality-TV minstrels teaching heteros to be trendy consumers, and Sean Hayes. One would think the stage, in particular the nonprofit stage, could be immune to such uptight nonsense.
Little Dog's most rudimentary moral—so simple it borders on crude—is that fear of same-sex intimacy is, at its core, absurd. About Face in recent years has taken bold artistic strides—who else in Chicago would have tackled the strange, dynamic Gertrude Stein musical Loving Repeating, or the understated Mary Zimmerman solo work Monsieur Proust?— and has played male nudity for laughs, as it did in Take Me Out. But intimate nudity is something different.
And, apparently, not so easy to laugh away.
ADDENDUM
After this story ran online as written above, Eric Rosen asked to speak to us on the record. In Rosen's version, the initial communication between him and Beane before the play's opening went differently. According to Rosen, he initially requested Beane allow the scene to be performed without nudity, and was confident that they had reached an agreement. He was so confident, in fact, that About Face requested Beane's presence at the opening.
"The first time I knew he was unhappy about it was intermission on opening night, which we invited him to, and paid for him to attend," Rosen said. (The scene in question takes place in Act I.)
Rosen says he's assuming full responsibility for the controversy. "If I had understood the situation more clearly, I would have done things differently. And that's why I've apologized," Rosen said.
Despite his apology, though, the briefs remain intact. Rosen claims that due to pending legal concerns, he can't explain why the nudity was not reinstated. (As we noted in the article, Actor's Equity would have no problem with the decision to add nudity, even if were it made this late in the game. This means the decision is coming from parties affiliated with the production, not the actors' union.) As for his directorial rationale for excluding it at all, Rosen explained that he finds the idea of two naked gay men playing a love scene while flaccid too incredible to be believed. "This is an issue that's [difficult] to talk about," he allows.
But Rosen, who in a few months will leave Chicago to assume the reigns of Kansas City Repertory, took umbrage with our assessment that the choice not to use nudity had commercial or conservative motivations. "About Face loses money on every play we do. We put the 'non' in 'nonprofit'. On this production we're going to lose about $100,000," Rosen claims. "I would argue that if we had commercial interests, you would probably see a lot more plays with a lot more naked flesh in them." (Few producers from Florenz Ziegfeld to Roger Corman would disagree.)
And Rosen justly argues that he's run a playwright-friendly organization during his tenure. Of the forty-plus productions About Face has mounted in its 12-year legacy, the company has only produced five plays that were previously produced, a claim few Chicago theaters can make.
At the end of the day, Beane threatened to shut down Rosen's show for ignoring his request, Dramatists Play Service backed him up, and Rosen's own attorneys advised him that a public mea culpa was appropriate. But the director's motivation was not about money. When you're losing a hundred grand just to produce satire, even the little dog—whose only expenses are bones—isn't laughing all the way to the bank.
The Little Dog Laughed finishes its run on Feb 17 at Center on Halsted.