16 Chicago theater shows to see in November
Come to the 'Fun Home,' revisit Austen's Bennets and more to see onstage in November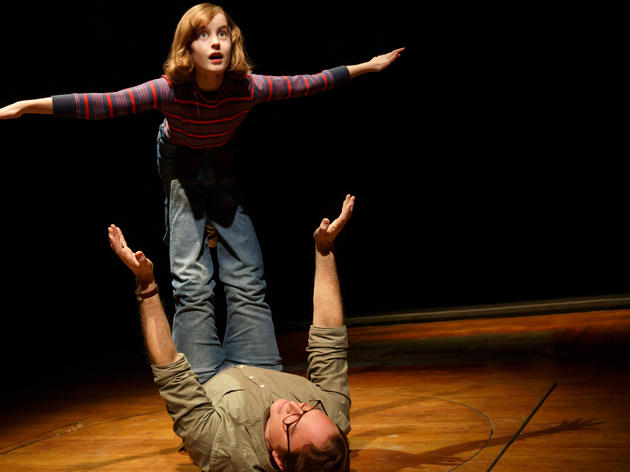 So now you've seen the 2016 Tony Award winner for best musical. Okay, odds are you haven't yet, but some Chicagoans have. Don't stop entering that Hamilton lottery, but also don't miss Hamilton's equally exquisite predecessor: Fun Home, the 2015 Tony winner based on Alison Bechdel's memoir, hits town for just two short weeks. It's not all that you should mark your calendar for this month, either—there's a slew of world premieres on tap, from The Magic Play to Give It All Back, and enticing acting matchups including but not limited to Mary Beth Fisher and James Vincent Meredith in Roz and Ray to Kate Fry and Sandra Marquez in Electra. Truly, November theater is a bounty to give thanks for.
November theater picks
A single mother and housekeeper in a luxury hotel must decide what kind of compromises she's willing to make for the opportunity to move up into management in this new play by Erika Sheffer (Russian Transport). Yasen Peyankov directs.
Read more
Andrew Hinderaker's new work, co-commissioned by the Goodman and New York's Roundabout Theatre Company, has a young magician putting on a show right after being dumped, with his personal life bleeding onto the stage. Actor and magician Brett Schneider stars, with direction by Halena Kays.
Read more
Gary Griffin directs the Chicago premiere of British playwright Mike Bartlett's acclaimed verse play about the future reign of England's current Prince Charles.
Read more
Mary Beth Fisher and James Vincent Meredith make their Victory Gardens debuts in a new play by Karen Hartman, staged by VG artistic director Chay Yew. Hartman's play centers on a father fighting for care for his hemophiliac sons, and a doctor who shows up with a seeming miracle cure.
Read more
Playwrights Lauren Gunderson and Margot Melcon pen a new sequel to Jane Austen's Pride and Prejudice, imagining a Christmastide happy ending for neglected middle sister Mary Bennet. Jessica Thebus directs Northlight's world premiere.
Read more
The Hypocrites and adapter Andra Velis Simon conjure up an alternate take on the Cinderella story, taking elements from the French-Spanish composer Pauline Viardot-García's 1904 operetta Cendrillon and other works. Director Sean Graney stages the show in the freewheeling, family-friendly style of the Hypocrites' Gilbert & Sullivan repertoire.
Read more
About Face Theatre stages a reimagined production of Doug Wright's play, based on the real life of Charlotte von Mahlsdorf, an East German transgender woman who survived both the Nazi and Communist regimes. The piece had a developmental production at About Face in 2002 before going on to Off Broadway and Broadway runs. Originally written as a solo play, I Am My Own Wife won Wright the 2004 Tony Award and Pulitzer Prize. About Face's new staging, helmed by artistic director Andrew Volkoff, features transgender actor Delia Kropp and three additional actors.
Read more
Harvey Weinstein's first outing as a Broadway producer, this musical based on the movie of the same name about Peter Pan author J.M. Barrie and the Llewelyn Davies family who inspired him, was shut out at the Tony nominations but somehow got to be featured on the broadcast two years in a row. It flies in to the Cadillac Palace with two weeks' worth of pixie dust.
Read more
Holed up in a Paris hotel room, a Bob Dylanesque musician contemplates acoustic versus electric in Calamity West's 1960s-set new work. Marti Lyons directs for Sideshow Theatre Company.
Read more
Angela Ingersoll plays the actor and singer Judy Garland in this piece by British playwright Peter Quilter, which traces Garland's final comeback attempt in 1968. The play includes performances of some of Garland's best-known songs, including "Over the Rainbow." Porchlight Music Theatre artistic director Michael Weber helms the Chicago premiere.
Read more
Griffin Theatre Company's season opens with a rare revival of Maxwell Anderson's 1935 drama. Jonathan Berry helms the play about a son trying to clear his father's name of murder; inspired by the Sacco and Vanzetti case, Winterset was the first winner of the New York Drama Critic's Circle award for best play.
Read more
British playwright Debbie Tucker Green's 2003 debut, about isolated and eavesdropping neighbors, gets its U.S. premiere in a co-production between Halcyon Theatre and the Blind Owl, directed by the latter company's artistic director Azar Kazemi.
Read more
The knee whack that shook the 1994 Winter Olympics is the basis for this dark musical comedy by Elizabeth Searle and Michael Teoli. Too soon? Amanda Horvath and Courtney Mack skate into the title roles in Underscore Theatre Company's Chicago premiere.
Read more