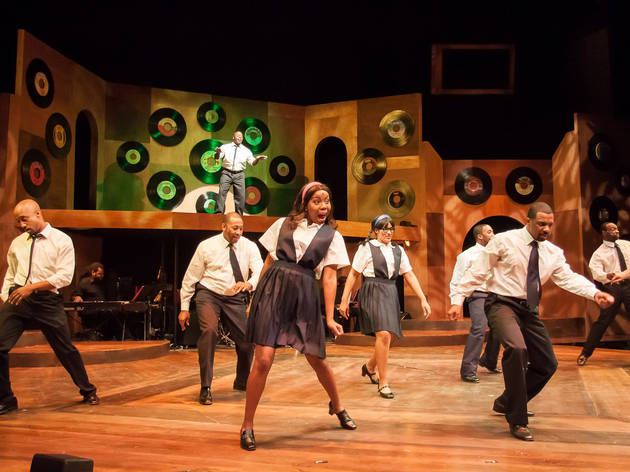 1/6
Photograph: Danny Nicholas
Chicago's Golden Soul at Black Ensemble Theater
2/6
Photograph: Danny Nicholas
Alanna Taylor as Etta James in Chicago's Golden Soul at Black Ensemble Theater
3/6
Photograph: Danny Nicholas
Lawrence Williams performing "Summertime" in Chicago's Golden Soul at Black Ensemble Theater
4/6
Photograph: Danny Nicholas
Rob Love, Cecil Jones, Brian Nelson, Lawrence Williams and David L. Simmons as the Impressions in Chicago's Golden Soul at Black Ensemble Theater
5/6
Photograph: Danny Nicholas
Brian Nelson as Alvin Cash in Chicago's Golden Soul at Black Ensemble Theater
6/6
Photograph: Danny Nicholas
Chi-Lites medley in Chicago's Golden Soul at Black Ensemble Theater
Black Ensemble Theater. Written and directed by Jackie Taylor. With ensemble cast. 2hrs 25mins; one intermission.
Theater review by Kris Vire
It's fitting that Jackie Taylor's new revue, covering the '60s soul output of Chicago record labels like Vee-Jay, Chess, One-der-ful and Constellation, is running in repertory with her bio-musical It's All-Right to Have a Good Time: The Story of Curtis Mayfield. The Impressions front man plays nearly as prominent a role in the timeline of Chicago's Golden Soul as in his own life story, from reverent descriptions of his guitar work's influence on the Chicago sound to his founding of Curtom Records.

Yet Mayfield's just one of maybe two dozen artists represented, including the likes of Betty Everett, Major Lance, Ruby Andrews, the Chi-Lites and the Five Stairsteps. Black Ensemble's musicians and an impressive cast of ten perform the hell out of numbers like Mitty Collier's "I Had a Talk With My Man Last Night" and Jackie Ross's "Selfish One." Alanna Taylor lives up to the challenge of channeling Etta James's "At Last," while Lawrence Williams serves up an electrifying version of Billy Stewart's cover of the Gershwins' "Summertime."

Taylor gives the performers some banter to help contextualize the music in its hometown setting, noting that Collier got her start "at a talent show at the old Regal Theatre on 47th," or that Ross had sung as a soloist in Syl Johnson's band. Just about every Chicago native represented gets his or her high school name-checked. Taylor makes a compelling case for Chicago as a hotbed of '60s soul equal to Detroit, even if many of the artists here found fame more fleeting. More than once, Taylor has her actors tell us to look this next artist up online when we get home. You will.