Children's theater and family-friendly plays in Chicago
Stage shows for tots, tweens and families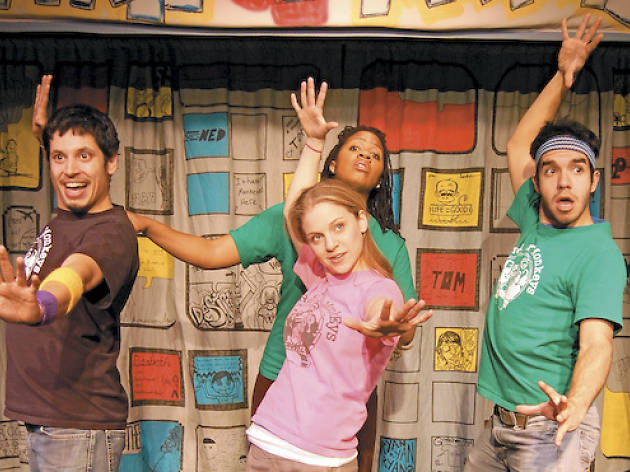 Chicago is a theater town, and stage shows meant for kids and families are as robust as the grown-up offerings. Some companies, like Chicago Children's Theatre and Emerald City Theatre, dedicate their whole missions to entertaining and educating little ones; others, like Chicago Shakespeare Theater and Lifeline Theatre, make chldren's theater part of a varied programming mix. With so many options, it's never to early to get kids invested in the arts.
Children's shows in Chicago
Three classic stories by children's author Eric Carle are brought to life through music, visual effects and puppetry in this production from Mermaid Theatre of Nova Scotia, last seen here in 2012.
Book now
Read more
Bella must pierce the Beast's furry armor to see the man inside in Chicago Kids Company's original (read: not the Disney version) musical staging of the classic fairy tale.
Book now
Read more
Want to look cool to your favorite pipsqueak (and adult friends, too)? Introduce them to Barrel of Monkeys' joyously long-running public show. The troupe conducts writing workshops with CPS grade school students by day, then transforms the kids' stories into hilarious or heartfelt skits and songs, performed with abandon by a spirited ensemble.
Book now
Read more
There's something different about Sophia, the new duck at school, in Chicago Kids Company's bilingual (Spanish and English) musical update of the Hans Christian Andersen tale.
Book now
Read more
The animated animals of Central Park Zoo come to life in this stage musical based on the DreamWorks film, with a book by Kevin Del Aguila (Altar Boyz) and original songs by George Noriega and Joel Someillan. Madagascar continues Chicago Shakespeare Theater's tradition of familiar, family-friendly entertainment for summer visitors to Navy Pier.
Book now
Read more
Steppenwolf opens its teen-oriented Steppenwolf for Young Adults series with Arthur Miller's McCarthyism allegory about the Salem witch trials. Jonathan Berry directs.
Book now
Read more
Join Jack and Jill on this interactive journey through the world of nursery rhymes in Emerald City Theatre's new show geared for the 5-and-under set.
Book now
Read more