Church and Pullman, WA at Red Tape Theatre | Theater review
A pair of one-acts by experimental button-pusher Young Jean Lee takes on self-help and religion.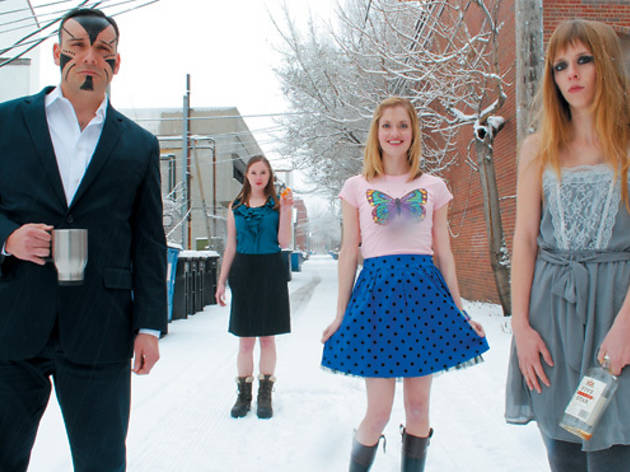 Experimental playwright and director Lee isn't shy about taking on big themes, but she is sly about it. In her collagelike The Shipment, seen last year at the MCA, she addressed minstrelsy and the African-American experience; in the earlier Songs of the Dragons Flying to Heaven, she did something similar for Asian-Americans. Red Tape, the first Chicago company to mount a new production of Lee's work, pairs two one-acts that approach their own kinds of performativity: self-help and religious services.
Pullman (2005), the seminar send-up, comes first on the bill, but you'd be forgiven for mistaking it for Church. Three unnamed figures (played by Amanda Drinkall Reader, Meghan Reardon and Austin Oie) present sometimes complementary, sometimes competing speeches on advice for living. "I know how to live," says Reader, though she keeps losing the thread of her rambling presentation; Reardon and Oie jump in with more fanciful promises of heaven, unicorns and rainbows made of otters, but they too get confused and dark: "There is a bad thing inside you, and you don't even know it."
Church, first produced in 2007, takes on Christianity more directly and more sympathetically. Here we're in a spot-on re-creation of a church rec room (scenic designer Michael Mroch clearly knows his stuff), being addressed by four visiting reverends (Janeane Bowlware, Carrie Drapac, Angela Alise Johnson and Robert L. Oakes) who offer prayers, sermons and song. The tone of the praise service is exactly right even as its content veers into absurdist territory, with one character testifying in hallucinatory detail about her substance-abusing past and another warning of the danger of mummies. Like Pullman's cast, Church's performers play their roles with deadpan conviction. In both pieces, Lee argues (tongue in or out of cheek) for a degree of selfishness: The way to live is the way that makes you and those around you happy. Palmer's confident direction gets the feel of Lee's work: challenging, curious, free of artifice and utterly disarming.