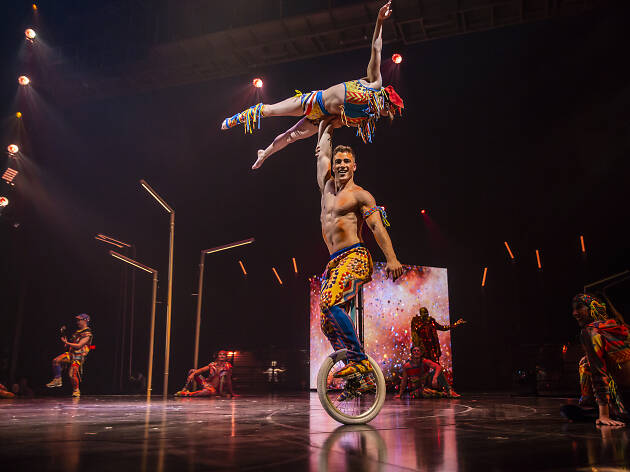 Time Out says
Theater review by Alex Huntsberger
In its newest show, the French Canadian megatroupe Cirque du Soleil once again delivers the spine-tingling spectacle that is its raison d'être. Strung together by a gossamer-thin plot, Volta incorporates street-style sports like BMX riding and double dutch jump rope alongside traditional circus arts; its themes include smartphone addiction, reality shows and the search for belonging. Set in a quasi-dystopian futuristic society, Volta opens with a reality show hosted by the Max Headroom–esque Mr. Wow. One of the show's contestants gets laughed out the door for his anime-style blue hairdo. Soon enough, this young man joins up with a band of plucky street performers whose Day-Glo outfits, designed Zady Golco, signal their natural free-spiritedness. Amongst other feats of derring-do, they perform a stunning sequence using a marvelous machine called a Trampowall.
Directed by Bastien Alexandre, the action that unfolds in Cirque's signature tent—currently parked next to Soldier Field—feels fresh and spontaneous, as though it were discovering itself anew at every performance. While the quotidian offscreen life of Mr. Wow provides charming clown material, the rest of the Volta builds to an X Games–worthy BMX spectacular; yet in a show that has a finely honed sense of how to go bigger and better, one performer does an entire aerial routine suspended only by her hair, proving that sometimes the simplest choices can be the most effective. And M83's Anthony Gonzalez's lush, synthesizer-heavy score pairs ideally with the jaw-dropping acrobatics to create genuine emotional uplift. Audiences come to Cirque du Soleil to gape at the possibilities of the human body, but there's something in Volta's perfect balance of pomp and ingenuity that touches the soul as well.
Soldier Field South Parking Lot. Written and Directed by Bastien Alexandre. With ensemble cast. Running time: 2hrs 15 mins. One intermission.
Details
Users say