Clybourne Park at Steppenwolf Theatre Company | Theater review
Bruce Norris's wicked satire takes aim at the way we talk about race in America.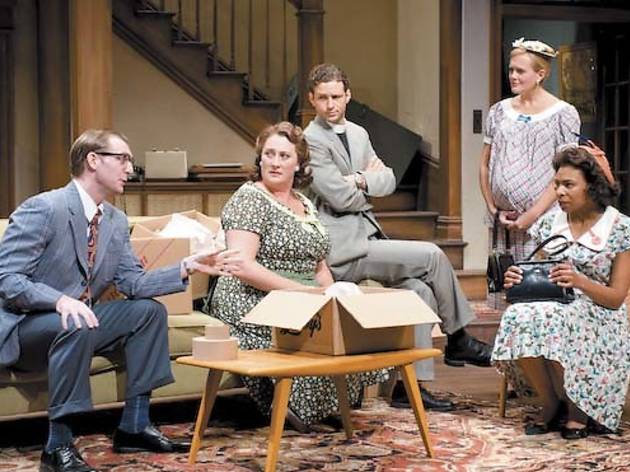 Borrowing a character and a street address from Lorraine Hansberry's A Raisin in the Sun, Bruce Norris's wicked satire takes aim at the way we talk about race in America. In Raisin, the black Youngers are visited by a Karl Lindner, who tries to talk the family out of moving into his all-white neighborhood. Set in 1959, the year of Raisin's Broadway debut, Norris's first act sees Lindner (Cliff Chamberlain) returning defeated and desperate to the Youngers' destination, 406 Clybourne Street.
Here the playwright colors in the back story of the fictional Clybourne Park, revealing why its previous owners, middle-aged couple Russ and Bev (John Judd and Kirsten Fitzgerald), are willing to sell so cheap. Karl, accompanied by his hugely pregnant wife (Stephanie Childers), makes a last-ditch effort to change their minds. Also present are the unctuous neighborhood minister (Brendan Marshall-Rashid) and Bev's black housekeeper (Karen Aldridge) and her husband (James Vincent Meredith), who get roped into Karl's specious argument.
The second act jumps ahead 50 years. Clybourne Park is now a longtime black neighborhood that's primed for gentrification. White couple Steve and Lindsey (Chamberlain and Childers), who want to tear down the abandoned 406 Clybourne and rebuild, negotiate with neighborhood association reps Lena and Kevin (Aldridge and Meredith), who have concerns about honoring the neighborhood's legacy.
As deftly as Norris traffics in the polite, mannered bigotry of the 1950s, it should be no surprise he seems to take greater pleasure in skewering the well-meaning post-racialism of 2009, which quickly devolves into ugly recriminations. He's particularly adept at the verbal tactics we use to shield ourselves from uncomfortable topics, as characters stutteringly finish each other's clichés.
Todd Rosenthal's set undergoes an impressive transformation at intermission, as do the members of Amy Morton's first-rate cast. Norris carefully threads connections between the acts, entertainingly demonstrating there's nothing new under the sun.