Completeness at Theater Wit | Theater review
Itamar Moses ponders theories of love in this sexy, brainy romcom.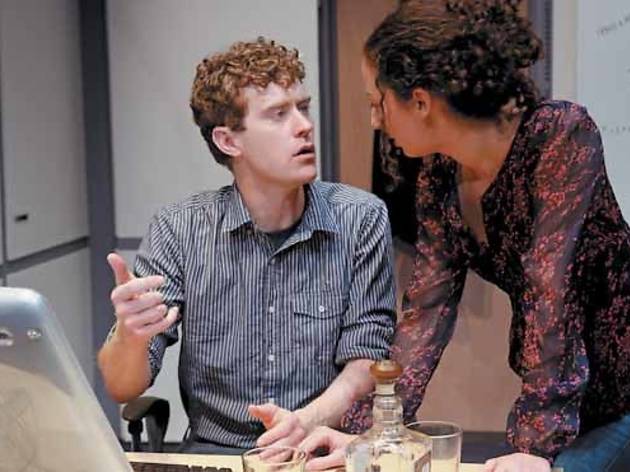 If you don't find math and science sexy, Completeness might change your mind. Itamar Moses's academic romcom, which premiered in 2011 at California's South Coast Rep, deftly blends relationships with research. Elliott (Matt Holzfeind) and Molly (Kristina Valada-Viars) are graduate students at the same college; he's in computer science, she's molecular biology. When the two meet-cute in a campus computer lab, Elliott offers to build Molly an algorithm to help refine her data for a research project. Clearly, love is in the air. Yet Elliott suffers from a fear of commitment, and a bad breakup has left Molly constantly looking for an escape hatch. Can computer code or genetic code break the code of compatibility?
Moses has found a terrific analogy, even if he does pound the nail hard: "Is there really a way to know up front for sure?" Molly asks Elliott about the viability of her data but, just as surely, about the viability of their new relationship. There isn't, of course. Theories can only be tested, never proven, and as Elliott demonstrates via a famously unsolvable math problem, the number of paths they could take is exponentially too large to count. (Rae Gray and Andrew Jessop nicely embody a number of other fish in the sea.) Jeremy Wechsler's smart, handsome staging, with a sleek set by Joe Schermoly and video design by Michael Stanfill that each hold a number of surprises, rides the line between sensual and cerebral. Meanwhile, the charismatic Holzfeind and Valada-Viars parlay higher math and genome mapping into persuasive pillow talk, demonstrating proficiency in yet another scientific discipline: chemistry.