Concerning Strange Devices from the Distant West at TimeLine Theatre Company | Theater review
Naomi Iizuka's multiple story lines, connected by the act of photography, aren't the picture of clarity in TimeLine's production.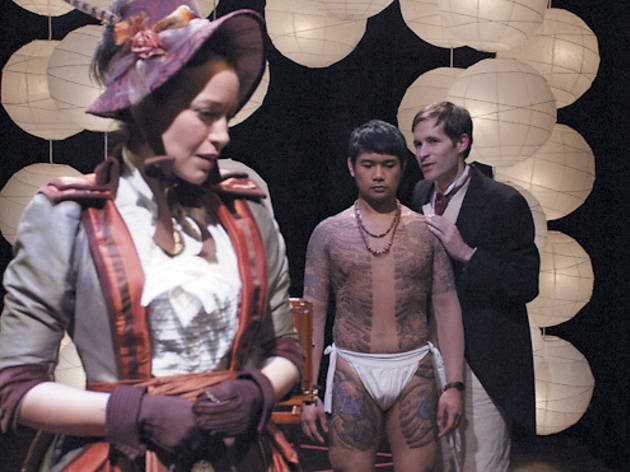 On one side of Brian Sidney Bembridge's set for Naomi Iizuka's 2010 drama, an assortment of disconnected triangles serves as a surface for projections. The jumble accurately represents a fractured script. Looking to history to explain current social and political issues is TimeLine's M.O., but this play lacks a rational through-line. Iizuka tries to connect two stories—one in 1877 Japan, the other in present-day Japan—via photography, a link she stretches beyond its breaking point.
In the past, a gay photographer (Michael McKeogh) takes pictures of a tattooed rickshaw driver (Kroydell Galima) and a British noblewoman (Rebecca Spence) dressed as a geisha. These sluggish, expository scenes present information but don't really develop the characters; the return of these 19th-century figures at the play's end feels tacked on.
The middle section follows a closeted art teacher (McKeogh) who buys forged Meiji-era photos, playing his own con with a camera hidden inside his wedding ring. What begins with engaging, witty dialogue quickly devolves into a far-fetched muddle of double crosses and blackmail, depicted with increasingly exaggerated performances. Lisa Portes's staging includes transitions in which Tiffany Villarin slowly moves across the stage while removing items of clothing. Perhaps it's meant to be seductive, but it reads as a silly effort to spice up a flagging production.