Crime Scene: A Chicago Anthology | Theater review
Collaboraction turns interviews and online comments into an earnest, anguished outcry in a devised piece about Chicago violence.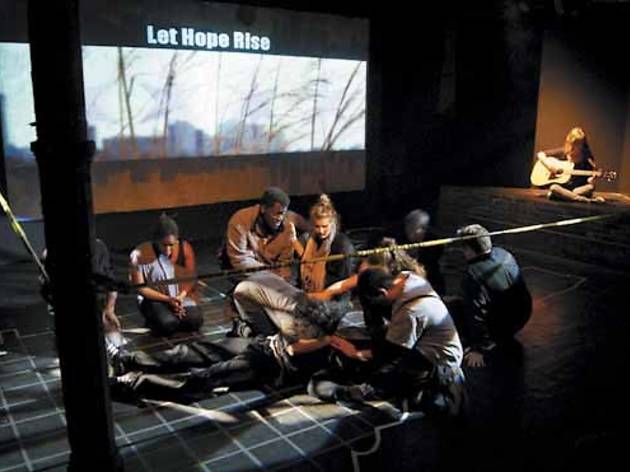 After a year in which the number of homicides exceeded 500, Chicago is off to another bloody start: 43 people were killed in January alone. In choral passages based on interviews and online comments, the cast of Collaboraction's documentary-theater piece rehearses the familiar litany of proposed explanations for violent crime: gangs, guns, drugs, rap music, video games. But director Anthony Moseley and his cast of 12 are less interested in assigning blame than in presenting an anguished look at the effects of violence and issuing an earnest call to action.
Interspersed with the choral passages and related vignettes are scenes depicting three high-profile cases: the shooting of 12-year-old Orlando Patterson, whose gunman mistook him for someone else; the murder of fledgling rapper Joseph "Lil JoJo" Coleman after a Twitter feud; and the attack on Natasha McShane, an Irish exchange student beaten with a baseball bat as she was leaving a bar. The impact of these stories is blunted in Collaboraction's show, however, by dialogue that's as flat and melodramatic as a typical skit in any middle-school assembly.
Far more affecting are the straightforward outpourings of grief, as when we see a mother howling over a fallen son and the ensemble sings an original song (by Victoria Blade) with the prayer-like refrain, "Let hope rise on the streets of Chicago." Equally poignant but also inspirational is a scene based on a career-day visit paid by cast member Lisandra Tena to the Cook County Juvenile Detention Center. Tena movingly demonstrates how she turned her own violent childhood into art.