Crooked at Rivendell Theatre Ensemble | Theater review
Rae Gray acts out as a precocious, troubled teen in Catherine Trieschmann's involving drama.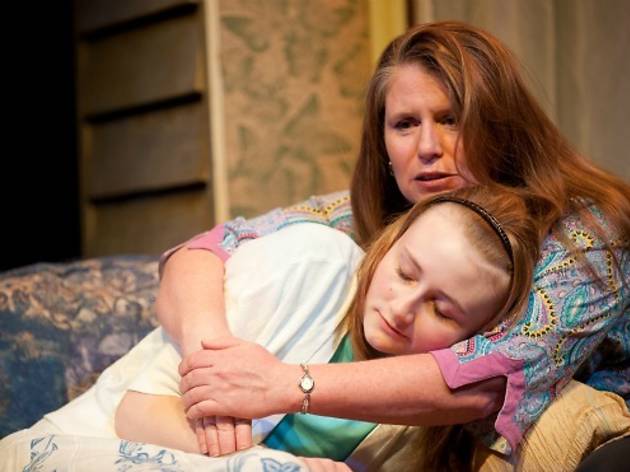 Laney's a precocious 14-year-old writer whose stories are prone to gruesome twists. She's newly arrived in Oxford, Mississippi, with her mother, Elise, a progressive social worker returning to the house where she grew up. Laney alternates between seeking her mother's approval and resenting her for the events that brought them here—and that left Laney with emotional scars manifested in perpetually wrenched back muscles. In befriending Maribel, the sweet, slightly dim-witted and unquestioning daughter of an evangelical preacher, Laney finds a new way of lashing out at a mother with atheist sensibilities.
Catherine Trieschmann's incisive 2005 work spreads its sympathies evenly among its three characters. Though one suspects Elise's worldview is closest to her own, the playwright shows empathy for religion's appeal, and gives Elise flaws of her own. Sharp-witted young actor Rae Gray finds the gradations behind Laney's mercurial mood swings and casual falsehoods. When she declares to her mother that she's both saved and gay, a "holiness lesbian," Gray imbues the assertion with teenage momentousness. Tara Mallen is equally terrific as the loving but flailing Elise, afraid to acknowledge what she recognizes in Laney's erratic behavior. Hannah Gomez plays the tricky role of troubled Maribel a bit flatly; she and director Sandy Shinner haven't yet fully solved Maribel's actions in Trieschmann's thorny, sudden ending.