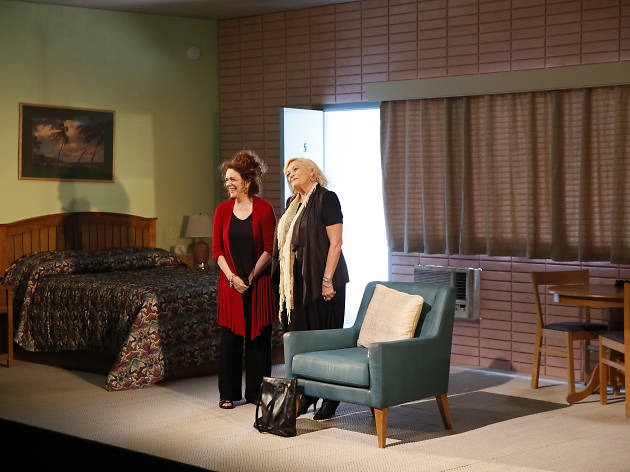 Time Out says
Theater review by Alex Huntsberger
Lucas Hnath's plays have a consistent strain of theatrical invention: From Isaac's Eye to The Christians to A Doll's House, Part 2, he always has a surprise in store. Dana H., his astounding new work at the Goodman Theatre, certainly fits that mold. For one thing, it's not exactly a play: It's a series of recordings made by theater artist Steve Cosson in conversation with Hnath's mother, Dana Higginbotham, during which she recounts her 1997 abduction by a mental patient and the five months she subsequently spent in captivity. Hnath has pieced these fragments into a 75-minute narrative. But instead of reading the transcripts as she might in a conventional docudrama, actor Deirdre O'Connell lip-syncs to the original recordings. While her beautiful performance enhances the telling of Dana's story, there is no doubt whose voice is being heard.
The tale Dana tells is harrowing. In 1997, she was kidnapped by Jim, a former patient from her work as a psych-ward chaplain. The pair spent five months on highways and back roads between North Carolina and Florida, as Jim carried out brutal work for the Aryan Brotherhood and Dana dreamed of escape. After her abduction, Dana's memory of the events becomes fractured; one horrifying day bleeds into the next. But while the events remain fuzzy—and somehow get fuzzier with every detail she adds—their effect comes through with awful clarity. Dana tells her story matter-of-factly, and the cumulative weight of her trauma grows and grows, with no catharsis in sight. When the play's release finally occurs, it's not Dana who delivers it—it's Hnath, in a moment so maximalist that it threatened, for me, to undercut the power of her testimony. But I had grown so tense during the play's first 30 minutes that I'd started to feel lightheaded, so this may be like reaching an oasis in the desert and complaining that it's too wet.
Directed by Les Waters and seated in a nondescript chair in the middle of a dingy pink-walled motel room (designed by Andrew Boyce), O'Connell is so natural that you almost forget she isn't the one speaking—that this is a strange theatrical seance and not a normal solo performance. But normalcy wouldn't do for this story; it is a thing that Dana has lost. Dana H. opens and closes with talk of her hospice work shepherding patients from this life to the next—a journey that mirrors her own. Having travelled to the underworld, Dana finds she can never quite return to the living again.
Goodman Theatre. By Lucas Hnath. Adapted from interviews conducted by Steve Cosson. Directed by Les Waters. With Deirdre O'Connell. Running time: 75mins. No intermission.
Details
Users say