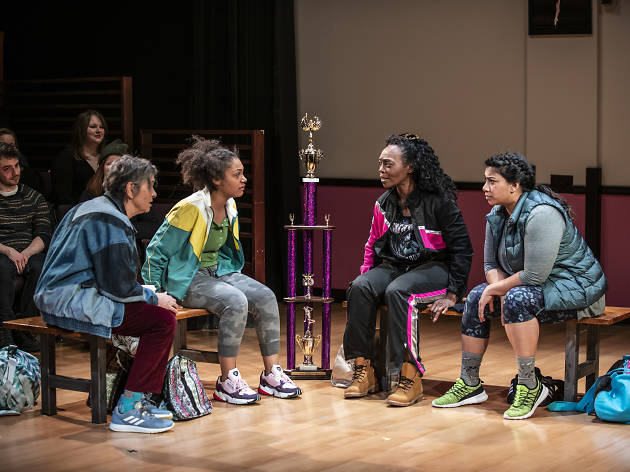 Time Out says
Theater review by Alex Huntsberger
The competitive preteen dancers in Clare Barron's Dance Nation have more on their minds than just making the Nationals in Tampa: They are interested in sex, power, friendship, their bodies and their place in the world. Barron has taken a premise from the Bring it On playbook and used it to create a work that is far more complicated and beguiling. A 2019 Pulitzer finalist, Dance Nation is a thrilling, theatrically daring, utterly singular night of theater that has more in common with Our Town than with issue plays, small-town mockumentaries or realist stories of any sort. Its biggest stylistic swing is a matter of casting: The troupe members, six girls and one boy, are played by adults from across the age spectrum. Adolescence is tumultuous but fleeting, and there's no better reminder of that than watching grown men and women—burdened with the knowledge of what comes after—try to wrestle it to a draw.
Director and choreographer Lee Sunday Evans, who also helmed the show in New York, delivers a stunning production in the Steppenwolf Upstairs Theatre. Caroline Neff and Karen Rodriguez star as Zuzu and Amina, two friends and dance troupe members from East Liverpool, Indiana, whose differing paths provide the play's narrative spine. Zuzu (Neff) loves dancing but lacks talent, while Amina (Rodriguez) is a budding star and favorite of their coach, the morosely cruel Dance Teacher Pat (Tim Hopper). As the two girls battle for the lead solo in a Ghandi-themed dance routine—Dance Nation is often hilarious—they enter a space where their dreams and future paths collide. The other girls and the lone male student, Luke (Torrey Hanson), are more focused on issues outside of the quest for Nationals. Ashlee (Shanésia Davis) delivers a show-stopping monologue about her dreams for utter world domination, a vulgar teenage power fantasy that doubles as a beautiful expression of femine might and self-discovery.
Despite its frequent theatrical gestures, Dance Nation doesn't distance itself from its subjects; instead, Barron toggles between wide shots and extreme close-ups. There is a performative aspect to these girls' lives—they are rehearsing new identities for each other, for us and for themselves—that is emphasized in Arnulfo Maldonado's gymnasium set. But the play also burrows deep into the psyches of its characters. It's almost impossible to predict where Dance Nation is going next; a scene that features a brutal act of self-harm, for instance, begets a gloriously strange vampiric dance number. The more you think you know about the play and about these girls, the more they will surprise you.
Steppenwolf Theatre Company. By Clare Barron. Directed by Lee Sunday Evans. With ensemble cast. Running time: 1hr 55mins. No intermission.
Details
Users say