David Pasquesi of improv duo TJ and Dave stars in God of Carnage at the Goodman Theatre
Pasquesi talks about moving between improv and scripted theater and training with Del Close.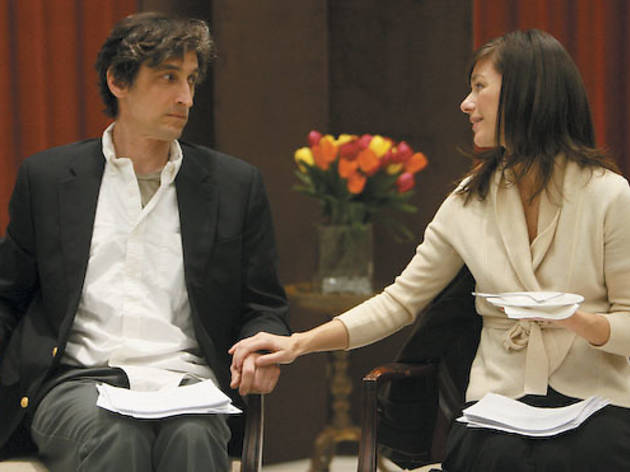 Every Wednesday night, more or less, for the last nine years, David Pasquesi has come up with a new play, in tandem with longtime partner TJ Jagodowski. TJ and Dave's extended run on the iO stage has been a mecca for improvisers and fans of the form alike. As he's done before, though, the lanky comedian is about to submit to the straitjacket of scripted drama: In the Goodman Theatre's Chicago debut of God of Carnage, Yasmina Reza's farcical comedy about dueling couples, Pasquesi plays Alan, the bullying corporate lawyer portrayed on Broadway by Jeff Daniels.
"TJ always says, 'When you're doing a scripted play, all the words you might say are wrong except one.' So it's harder to get right," Pasquesi observes, perched on the large white couch that dominates the Carnage set in the Goodman's rehearsal room. He's especially grappling with learning lines delivered into Alan's omnipresent cell phone: "Words unrelated to an actual, physical human being I'm finding difficult."
Memorization aside, the 50-year-old Lake Bluff native sees a lot of common ground between the two theatrical forms. "Just paying attention, keeping it in the here and now: That's the only thing you're doing in improvising, and I think that carries over," he says.
And it's a misconception to think that improvisation is a matter of total freedom. "Everything's available to me until you, as my partner, declare something," Pasquesi explains. "With this play, I just have more time in rehearsal to make sure I'm not contradicting anything that's already established."
The actor may have had the best initiation possible into improv's bedrock principles: At the suggestion of Bill Murray, whose brother Joel was Pasquesi's classmate at Loyola in the early '80s, he sought out Del Close. His studies with the improv guru led the former philosophy major away from law school plans. "Del was the only acting training that I ever had," he explains. "Every day of my life I'm thinking about lessons I learned from him." The two worked together in the first scripted show Pasquesi performed in: Remains Theatre's 1991 production of The Chicago Conspiracy Trial, based on the 1968 transcripts, with Pasquesi playing Abbie Hoffman and Close as David Dellinger.
Since then, Pasquesi's shown up on some of the city's most illustrious stages, often spouting the Chicago vernacular of David Mamet; he was Ricky Roma in Steppenwolf's 2001 Glengarry Glen Ross (an "extraordinary" performance, proclaimed Richard Christiansen) and appeared at the Goodman in 2006's Romance.
He doesn't see a bright dividing line between such work and TJ and Dave. Parts of Glengarry, he says, "are just straight-up vaudeville, just comedy." And his straight theater work bleeds into the improv shows: "Those Mamet rhythms absolutely affected what I was doing in Wrigleyville."
"He might have been repeating himself and swearing a lot," suggests a slightly skeptical Jagodowski about that period. Although Pasquesi's partner starts our phone conversation with, "I can't wait to open up on that son of a bitch," he's soon singing his praises. "I've never met a better listener," he says. Jagodowski cites Pasquesi's awe-inspiring attention to detail, describing how he can set down an imaginary soda can in the first two minutes of their show and come back to it 45 minutes later, registering that it's gotten warm.
Pasquesi's also built up a Chicago-centric film résumé, scoring parts in several Harold Ramis movies and Jeff Garlin's I Want Someone to Eat Cheese With. With Tracy Letts, who occasionally fills in on TJ and Dave, he cowrote Cop Show, a Web-distributed short; HBO recently signed Letts and Pasquesi to write a comedy pilot based on the film.
At the heart of all his creative output remains the practice of improv: "Personally, I'm trying to do the exact same things I was trying to do 25 years ago," he says. "When I get that right, I'll move on."
Currently in previews, God of Carnage opens Monday 14.