Death and Harry Houdini at the House Theatre of Chicago | Theater review
The House makes magic with a remount of the show that first established its aesthetic.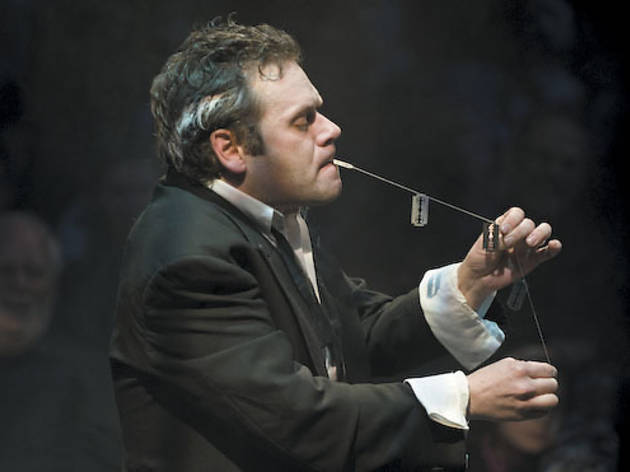 Marking the company's tenth season, the House revisits its inaugural show, an episodic biography of the early 20th century's most famous escape artist and illusionist. Nathan Allen's script was first staged by the nascent troupe in a modest and little-seen 2001 production at the Live Bait Theater. An expanded 2003 remount at the Viaduct, which followed the company's 2002 breakout The Terrible Tragedy of Peter Pan, helped cement the House's status as a cause célèbre among the city's critical establishment.
The latest remount, with the budget bumped up by an order of magnitude, makes an ideal refresher course on the elements that excited the House's early audiences: high energy and lack of artifice in a loose, buzzy blend of traditional storytelling, music and spectacle. In this iteration, Allen's script begins with a ringmaster (Johnny Arena) explicating the circumstances of Houdini's early life before the man himself (Dennis Watkins) enters the space—hanging upside down from a winch in a straitjacket, from which he proceeds to extricate himself.
Allen's script could delve deeper into Houdini's psyche; instead, he lands on the single metaphor of the man's obsession with defying death and holds on tight. Watkins, a top-notch magician, re-creates a number of illusions both classic—the passing of Houdini's father is represented by Death sawing the man in half—and unique, as in the astonishing Water Torture Cell escape. The combination of Allen's and Watkins's skills, direction and misdirection makes for a thrilling ride.