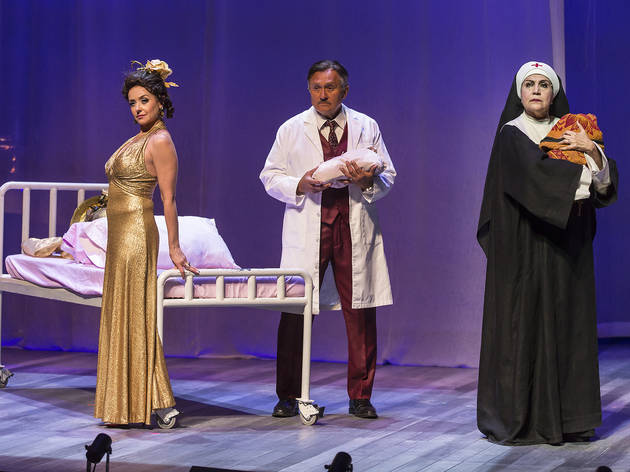 1/7
2/7
3/7
4/7
5/7
6/7
7/7
Karen Zacarías's telenovela-inspired comedy follows two girls switched at birth into very different circumstances.
Karen Zacarías's new comedy, premiering at the Goodman in a co-production with South Coast Repertory in Costa Mesa, California (where this production was seen last fall), employs the over-the-top vocabulary of the telenovela. And unlike other Latinx stage stories for which that comparison is sometimes lazily trotted out by critics, here Zacarías is explicitly paying tribute to the Spanish-language soap opera, with a plot teeming with TV tropes and twists.
What's perhaps most interesting about Zacarías's project is the subtle case she builds that telenovelas' soapy plotting isn't inherently lower culture than classical theater. Indeed, Destiny of Desire's hyperconvoluted plot—which we don't have space to fully explicate, but begins with babies switched at birth and ends with a double wedding, with plenty of intrigue, mistaken identities and almost-incest in between—has clear echoes of a number of Shakespeare's comedies, with a strong shout-out to The Winter's Tale in its denouement.
Less recognizable is the world of Destiny of Desire itself, and I don't mean the fictional wealth center of Bellarica, Mexico. Zacarías and director José Luis Valenzuela go to great lengths to show us their mechanics, with the cast dropping in and out of character and focusing lighting instruments, providing sound effects and brandishing title cards in full view.
The setting is described as "an abandoned theater in Chicago" (as it was "an abandoned theater in Orange County" at South Coast Rep), but the identity, collective or individual, of the metatheatrical actors performing the soap-within-the-play remains an open question. And the question is exacerbated by odd interludes when an off-duty performer steps up to a standing mic to quote presumably real-life statistics related to what's just happened in the plot—numbers on gambling addiction in the United States, say, or the number of married women surveyed who say they'd have an affair if they could guarantee they wouldn't get caught.
Both the provenance and the point of these PSAs remain a puzzlement, at least as far as their place in the play. These devices recede in Act II, as the craziness of the plot ramps up and the deft and appealing ensemble settles into the comedy. Perhaps this fourth-wall-breaking is, too, meant to echo that of playwrights past—to suggest, then, that this "low" form can have as much art to enhance as the stuff that endures.
Goodman Theatre. By Karen Zacarías. Directed by José Luis Valenzuela. With ensemble cast. Running time: 2hrs 30mins; one intermission.