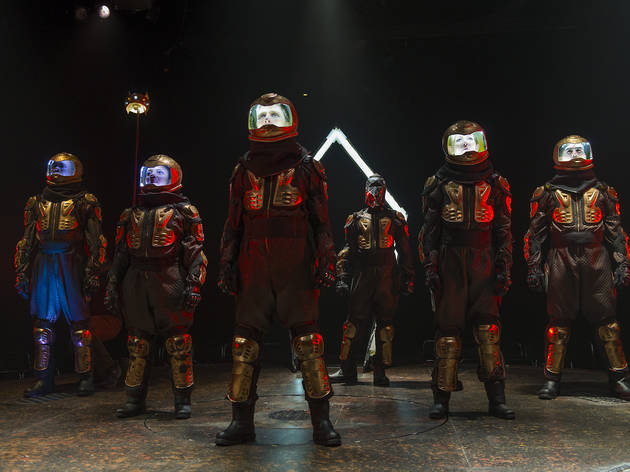 1/9
Photograph: Michael Brosilow
Diamond Dogs at the House Theatre of Chicago
2/9
Photograph: Michael Brosilow
Diamond Dogs at the House Theatre of Chicago
3/9
Photograph: Michael Brosilow
Diamond Dogs at the House Theatre of Chicago
4/9
Photograph: Michael Brosilow
Diamond Dogs at the House Theatre of Chicago
5/9
Photograph: Michael Brosilow
Diamond Dogs at the House Theatre of Chicago
6/9
Photograph: Michael Brosilow
Diamond Dogs at the House Theatre of Chicago
7/9
Photograph: Michael Brosilow
Diamond Dogs at the House Theatre of Chicago
8/9
Photograph: Michael Brosilow
Diamond Dogs at the House Theatre of Chicago
9/9
Photograph: Michael Brosilow
Diamond Dogs at the House Theatre of Chicago
This future-set story relies on ugly tropes best left in the past.
Set in a distant future, in an even more distant star system, Diamond Dogs (adapted by the playwriting collective Althos Low from science fiction author Alistair Reynolds's novella) opens on a disgraced scientist named Swift (John Henry Roberts). He's standing in a darkened tomb and intoning the story of his aristocrat parents' death at the hands of a shady, quasi-governmental institute. That this long, info-dumpy story—the first of many to come—ends up having little to do with the rest of the play that follows it is telling.
Suddenly, so suddenly in fact that it's really quite awkward, Swift is interrupted by old friend Roland Childe (Chris Hainsworth), long thought dead in the same incident that killed Swift's parents; instead, Childe pops out of the darkness, still quite alive and with an offer to make. On the surface of a distant planet sits a mysterious, alien tower, and Childe wants Swift to help him get to the top of it—which, given the tower's penchant for murdering all who enter it, is a bigger ask than it might seem like initially. Swift readily says yes.
He's not the only person that Childe has brought into the fold. Also along for the ride are Swift's ex-wife Celestine (Katherine Keberlein), a brilliant mathematician, the memory of whom he's had suppressed, and the creepy, robo-domed Trintignant (Joey Steakley), who can best be summed up as the Dr. Mengele of cybernetics. (There are two other crew members, both characters of color, whose retrograde portrayals require their own paragraph.) The team arrives at the tower, enters a chamber at its base, and quickly find that their progress depends on their solving a series of increasingly complex… math puzzles.
As they continue solving puzzle after puzzle after puzzle after puzzle, most of which are practically gibberish to the layman, Diamond Dogs can begin to feel like the world's darkest episode of Magic School Bus, one where every wrong answer leads to a severed limb—or worse—and whose Miss Frizzle is a stone-cold psychopath. Childe is quite literally the devil from the outset, but as he and Swift strip away more and more of their humanity in order to complete their arbitrary mission, it becomes clear that the play finds both of them repulsive.
And yet therein lies the problem. Because the show's message—that spoiled rich white dudes are dangerous narcissists, not at all to be trusted—is at odds with its methods, which betray a deep fascination with just how far down that narcissism goes. And this preoccupation creates a kind of negative space that traps the play's two characters of color. The "funny and outspoken" hacker, Hirz (Elana Elyce), and the "noble, reserved" captain, Forqueray (Abu Ansari), are given little extra thought. They are cut from the same, stereotypical cloth, one that has long been frayed beyond repair. That they are also the mission's first, and most tossed-off, casualties, is as disappointing as it is inevitable.
Even Keberlein's impossibly intelligent Celestine doesn't, in the end, amount to much more than a tough-love interest for Roberts's undeserving "hero." It's unclear whether Reynolds, Althos Low or director Nathan Allen understand just how insulting her devotion to him really is.
On the slightly more positive side of the ledger, the show's effects and general design are impressive by typical storefront standards. And even those don't really measure up, because the House's audiences are used to that. They do mise en scene better than any company in this town that doesn't have a Regional Tony (and even better than some of the ones that do).
And by those standards, the show's aesthetics disappoint. For all the scenes that present flying drones (puppeteer Lindsey Dorcus), robot arms, light-up space helmets and actual death lasers, there are also too many moments in which the characters all stand staring at some make-believe thing—a projection, a 3-D math display, a giant murder tower—while the audience is left to stare only at empty air. It's a case of half-realized characters, living in a half-realized world, acting out a half-realized story, all adding to a half-realized, very disappointing show.
The House Theatre of Chicago. By Alastair Reynolds. Adapted by Althos Low. Directed by Nathan Allen. With Abu Ansari, Lindsey Dorcus, Elana Elyce, Chris Hainsworth, Katherine Keberlein, John Henry Roberts, Joey Steakley. Running time: 2hrs 20mins; one intermission.