Director Henry Wishcamper joins Goodman Theatre's artistic collective
The Yale alum moved to Chicago from New York to take on the new title, which he kicks off by helming Jon Robin Baitz's Other Desert Cities.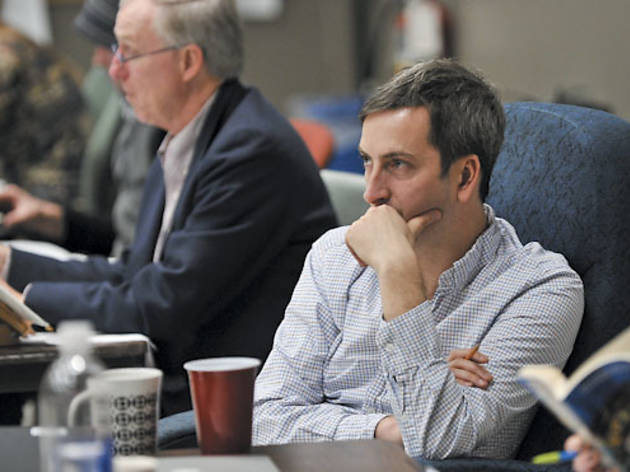 On a sunny December morning before rehearsals get under way, director Henry Wishcamper sits down with me in the Goodman Theatre's VIP Lounge to address a few burning questions. For instance: What does "artistic associate" mean, exactly?
Wishcamper, 40, became the Goodman's latest artistic associate in August, after the theater announced he would helm his third Goodman production: the Chicago premiere of Jon Robin Baitz's Pulitzer finalist Other Desert Cities, starting previews this week. The nine members of the theater's artistic collective include Goodman artistic director Robert Falls, Brian Dennehy, Regina Taylor and Mary Zimmerman. "Everybody's job is completely different," Wishcamper says, "and everybody's agreement is completely different."
For Wishcamper, the title meant establishing close ties to an institution, as well as relocating his family—wife Jenny Mannis, a costume designer, and their two toddlers—from New York, where he'd spent the last 15 years, to a South Loop apartment in June. "Bob [Falls] and Roche [Schulfer, Goodman's executive director] were like, 'You can do this job and live in New York, and we'll ask you to do stuff when you're here,' " he says. "But I really wanted to be here and sort of learn how this place functions. And we have young kids now, so there's something attractive in having this stability that isn't possible in New York."
The director, with salt-and-pepper hair and boyish features, says he hopes to focus his energy on developing and producing new work at the Goodman. Yet "it's not a full-time job, which is one of the things that's sort of amazing about it," says Wishcamper, who plans to continue freelancing in Chicago, New York and elsewhere.
Wishcamper met Falls as his assistant director on the 2006 Broadway production of Shining City. "He became a friend and a mentor," the Yale alum says, "and pretty much gave me my first job as a director, which was doing Talking Pictures," part of the Goodman's 2008 Horton Foote festival. The following year, Wishcamper directed his own adaptation of the Marx Brothers piece Animal Crackers at the theater.
He had another Chicago connection in Anna D. Shapiro, whom he assisted on the Broadway transfer of August: Osage County after having worked with her at Manhattan Theatre Club. "In some ways, no show has needed an assistant less," he says with a laugh.
Baitz's living-room drama may seem a far remove from a Marx Brothers farce, but the Maine native explains, "I like a really wide variety of work. I think that's one of the reasons Bob makes so much sense to me as a mentor, because he does wildly different things," Wishcamper says.
"So, yes, Animal Crackers couldn't really be more different from Other Desert Cities, which in its own way couldn't be more different from Horton Foote. But in all of them, the primary storytelling device is the human beings on the stage."
That affinity for live performance was cemented early on, when Tony Montanaro—"America's most famous mime," Wishcamper wryly notes—moved to Maine in the 1970s and started a school. "People came from around the world to central Maine to study mime and circus arts, and a lot of them stayed," Wishcamper recalls. The self-dubbed New Vaudevillians regularly performed at festivals and community events. "And I just was from the age of five totally obsessed. So I knew from a really early age that's what I want to do, in some way—that exchange of energy with an audience."
Other Desert Cities starts previews Saturday 12.